Track costs of purchases, expenses, subcontracting¶
Vue d'ensemble¶
Grâce à la comptabilité analytique, nous pouvons suivre les coûts des achats, des dépenses et de la sous-traitance dans le module de comptabilité.
Nous allons prendre l'exemple suivant. Nous avons vendu une mission de consultance pour un client. Il s'agit d'une mission tout compris, ce qui signifie qu'aucun coût supplémentaire ne peut être ajouté à celle-ci. Nous aimerions toutefois suivre quels coûts ont été liés à cette mission car nous devons payer les achats, les notes de frais et les coûts de sous-traitance liés au projet.
Configuration¶
Les modules suivants doivent être installés pour suivre les coûts. Entrez dans le module Aapplication et installez les applications suivantes :
Notez que les fonctionnalités fournies par ces applications nous permettent seulement le suivi des coûts. Nous ne pourrions pas refacturer automatiquement ces coûts à nos clients. Pour suivre et refacturer les coûts vous devez également installer l'application Gestion des ventes.

Activer la Comptabilité Analytique¶
La prochaine étape est d'activer la comptabilité analytique. Dans l'application de Comptabilité, sélectionnez

et cochez la Comptabilité Analytique.
De plus, faites défiler vers le bas et cocher l'option Comptabilité analytique pour les achats.

N'oubliez pas de sauvegarder vos modifications
Créer un compte analytique.¶
Tout d'abord, vous devez créer un compte analytique sur lequel vous pouvez pointer toutes vos dépenses. Entrez dans l'application de Comptabilité, sélectionnez

. Créez en un nouveau. Dans cet exemple, nous l'appellerons « mission de consultation » pour notre client Smith&Co.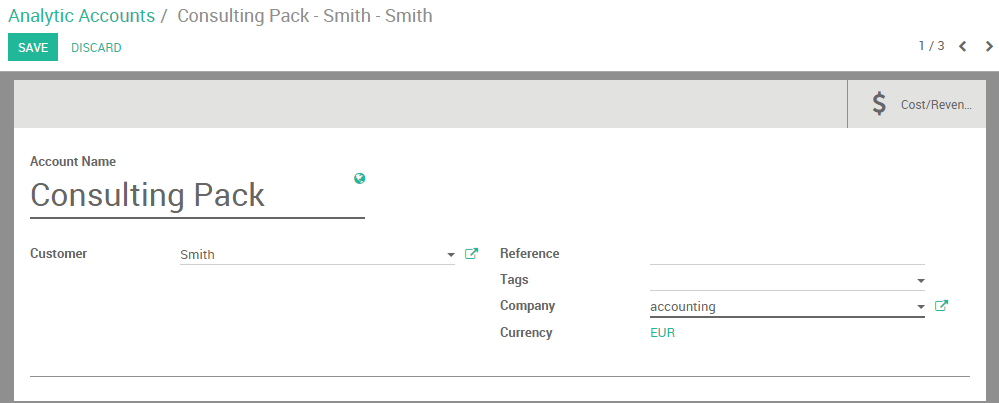 Nous allons affecter tous nos coûts à ce compte les suivre.
Enregistrer une dépense¶
Nous commençons en enregistrant une dépense. Notre technicien informatique a dû prendre un train pour aller voir notre client. Il a payé son billet lui-même.
Créer un article de note de frais¶
Nous devons d'abord créer un article de note de frais. Entrez dans le module Notes de frais, Cliquez sur . Créez un nouvel article appelé Billet de train et fixez le prix à 15,50 euros. Assurez-vous que la case Peut être inséré dans une note de frais est cochée.

Enregistrer la dépense¶
Entrez dans le module de Notes de frais, cliquez sur

. Sélectionnez l'article billet de train et affectez-le au compte analytique vu ci-dessus.

Soumettez-le au gestionnaire et attendez que le gestionnaire l'approuve et comptabilise la pièce.
Créer une commande d'achat liée au compte analytique¶
Article acheté¶
We also need to buy a software for our customers. In the purchase app create a purchase order for the software product. Within the line we can link the product's cost with the analytical account. Specify the order line and select the correct analytical account. Confirm the sale.

Acceptez la livraison et saisissez la facture. Une fois la facture saisie, le prix de revient (champ Prix d'achat) sera affecté au compte analytique.
Sous-traitance¶
Le module d'achat peut être utilisé de la même manière que celle vue précédemment pour gérer de la sous-traitance. Si nous achetons un service à une autre entreprise, nous pouvons refacturer ce coût en reliant la ligne de commande d'achat au compte analyse concerné. Nous devons juste créer l'article approprié.
Suivre les coûts en comptabilité¶
Maintenant tout est comptabilisé et affecté au compte analytique. Il suffit de l'ouvrir pour vérifier les coûts liés à ce compte.

Entrez dans le module Comptabilité, cliquez sur

.

Selectionnez « Mision de conseil - Smith » et cliquez sur le bouton coût et recette pour avoir une vue d'ensemble de tous les coûts liés à ce compte.

Note
Si vous souhaitez avoir également le chiffre d'affaires vous devez facturer la Mission de conseil par le menu Factures clients, et affecter la ligne de facture à ce même compte analytique.
Edit on GitHub