Communiquez efficacement à l'aide des canaux¶
Vous pouvez utiliser des canaux pour organiser des discussions entre des équipes individuelles, des services, des projets ou tout autre groupe nécessitant une communication régulière. De cette façon, vous gardez tout le monde au courant des derniers événements.
Canaux publics et privés¶
Un canal Public peut être vu par tout le monde, tandis qu'un canal Privé n'est visible que par les utilisateurs qui y sont invités.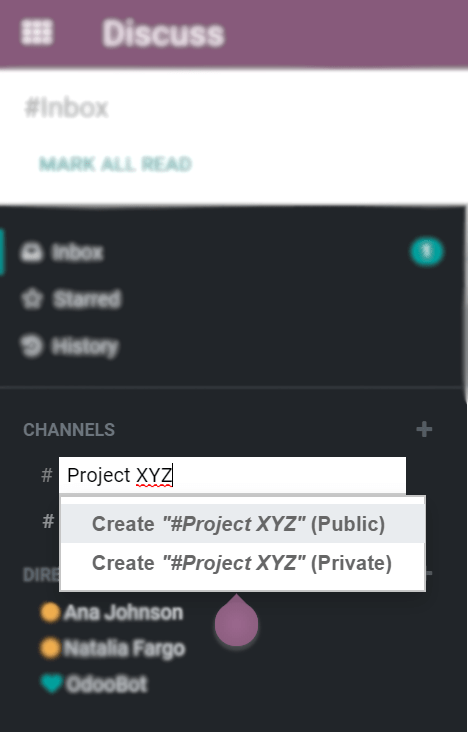 Astuce
Il est mieux d'utiliser un canal public lorsque de nombreux employés ont besoin d'accéder à des informations (telles que les annonces de l'entreprise), alors qu'un canal privé peut être utilisé chaque fois que les informations doivent être limitées à des groupes spécifiques (comme un service spécifique).
Options de configuration¶
Vous pouvez configurer le nom, la description, l'alias de l'adresse email et la confidentialité d'un canal en cliquant sur l'icône Paramètres du canal dans la barre latérale.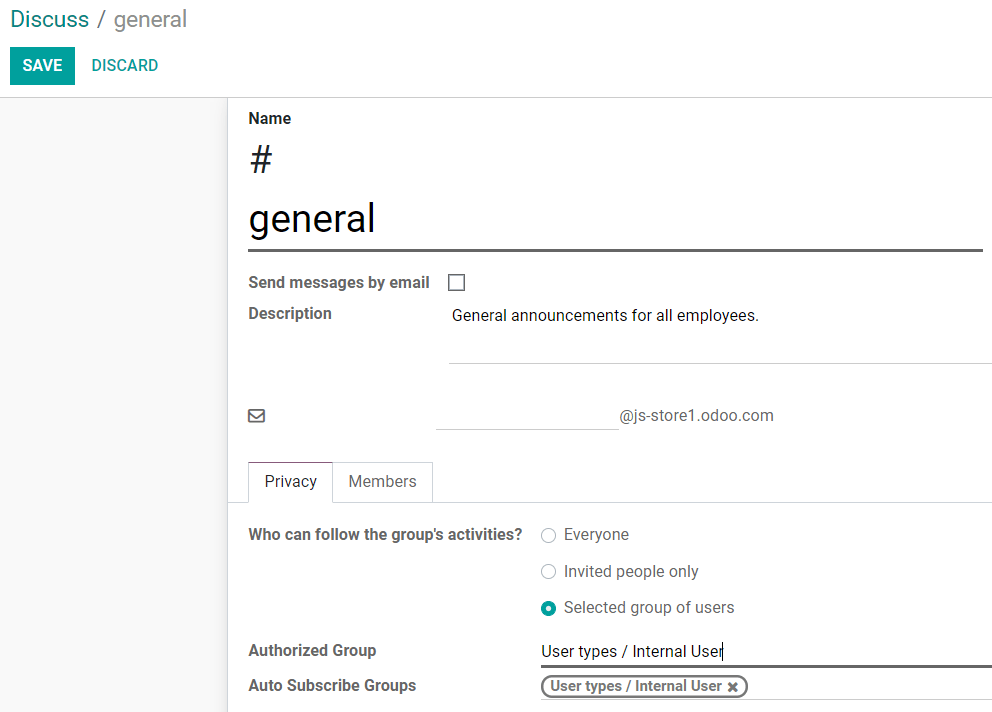 Confidentialité et membres¶
Changing Who can follow the group's activities? allows you to control which groups can have access to the channel. Note that allowing Everyone to follow a private channel lets other users view and join it, as they would a public one.
If you choose Invited people only, go to the Members tab to add your members, or, go to Discuss' main page, select the channel and click on Invite.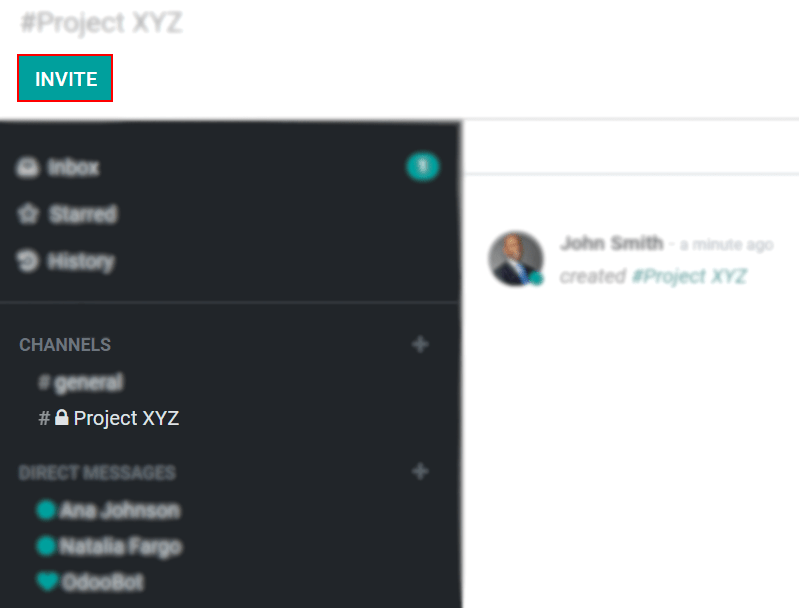 For Selected group of users, the option Auto Subscribe Groups automatically add its members as followers. In other words, while Authorized Groups limits which users can access the channel, Auto Subscribe Groups automatically adds the user as a member as long as they are part of the group.
Use a channel as a mailing list¶
Choosing to Send messages by email configures the channel to behave as a mailing list.
Enabling this option allows you to Moderate this channel, meaning that messages will need to be approved before being sent.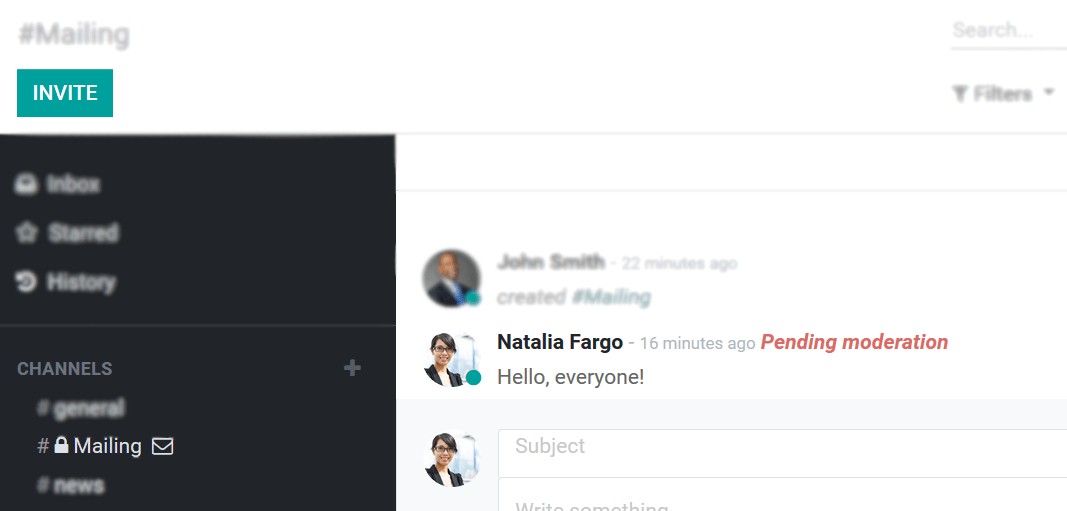 Under the Moderation tab choose as many moderators as you need, and if you would like them to receive an Automatic notification.
Mark Send guidelines to new subscribers to automatically send instructions to newcomers.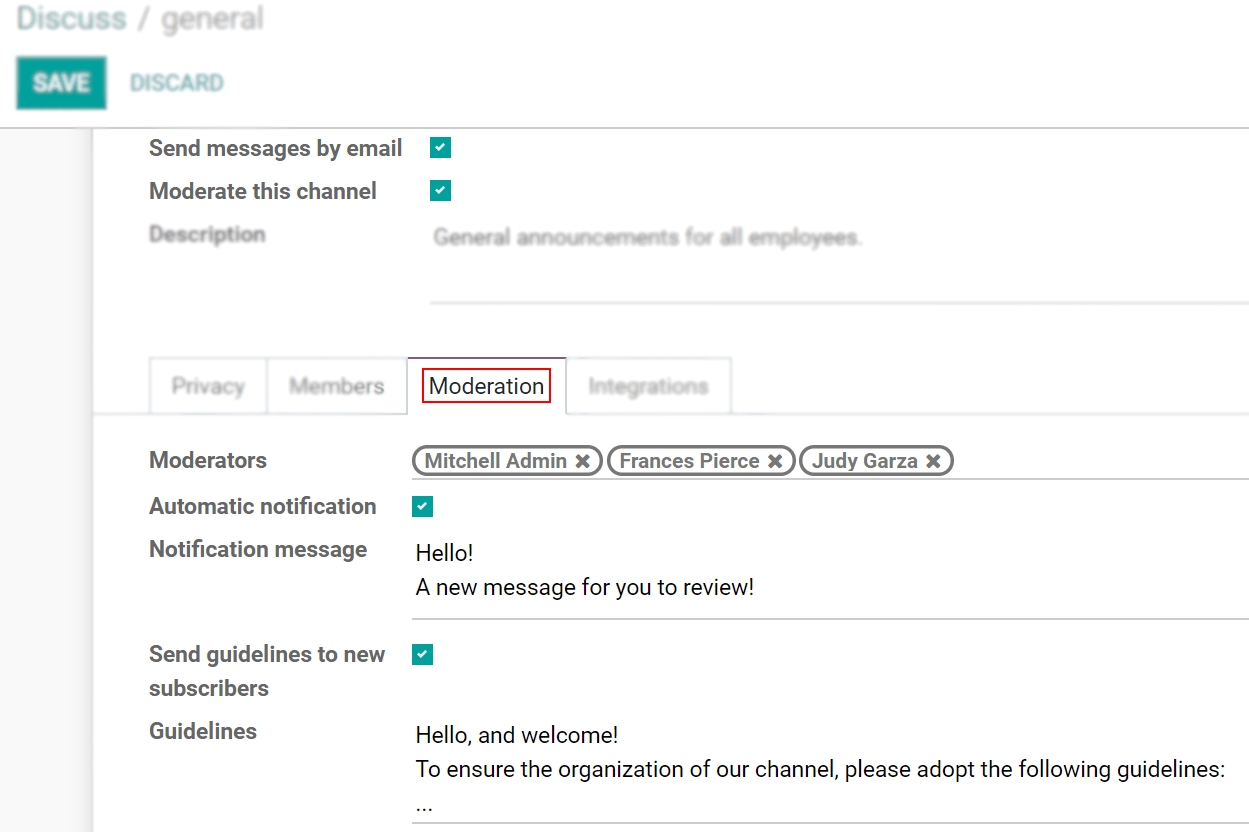 Les modérateurs peuvent: Accepter, Rejeter, Ignorer, Toujours autoriser ou Interdire les messages.
Once a channel is moderated, the menu Ban List allows you to add email addresses per moderated channel to auto-ban them from sending messages.
Barre de recherche rapide¶
Une fois qu'au moins 20 canaux, messages directs et conversations de chat en direct (si le module est installé sur votre base de données), sont épinglés dans la barre latérale, une barre Recherche rapide… s'affiche. C'est un moyen intelligent de filtrer les conversations et de trouver rapidement celle dont vous avez besoin.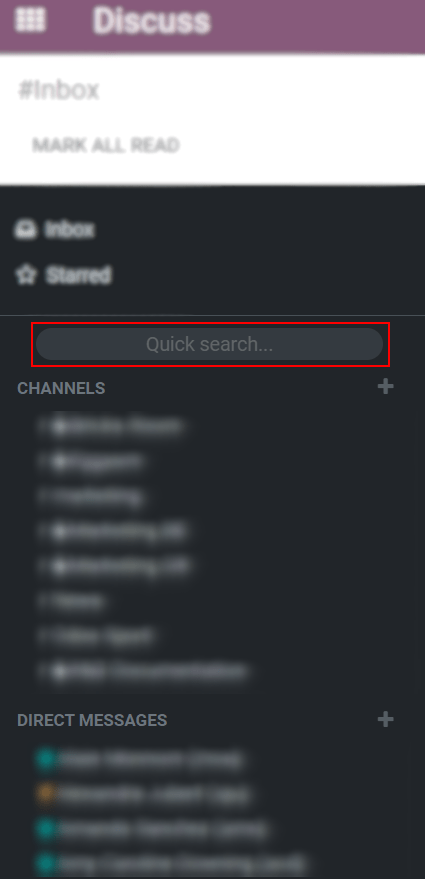 Trouvez des canaux¶
Cliquez sur Canaux (dans la barre latérale), parcourez la liste des canaux publics et rejoignez-les ou quittez-les depuis un seul écran.
Apply filters criteria and save it for later use. The search function accepts wildcards by using the underscore character (_) to represent a single character.

Edit on GitHub