Enregistrer les taux de change des paiements¶
Vue d'ensemble¶
Any company doing international trade faces the case where the payments are in a different currency.
After receiving their payments, you have the option to convert the amount into your company currency. Multi currency payment implies rates fluctuations. The rate differences are automatically recorded by Odoo.
Activer multi-devises¶
Dans le module Comptabilité, Aller à Autoriser devises multiples, puis cliquez sur Appliquer.

et cochez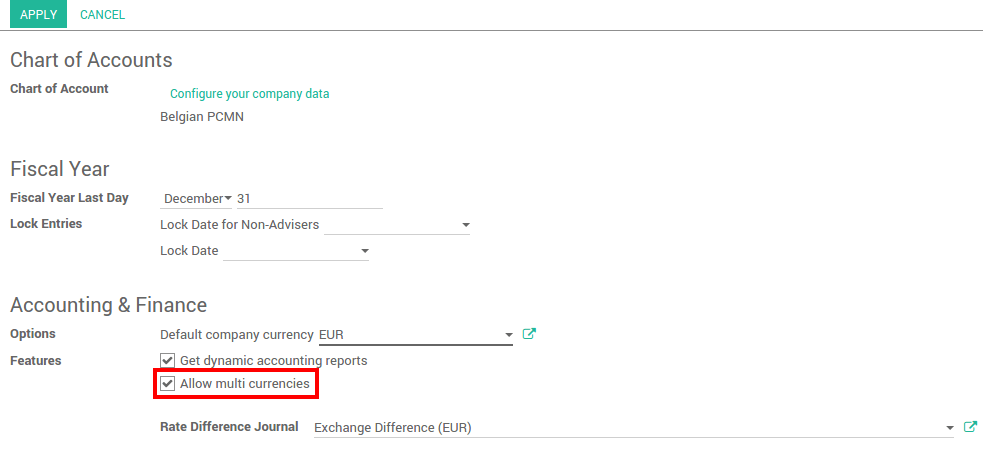 Configurez les taux de change dans

. Saisissez le taux et assurez-vous que la monnaie est active.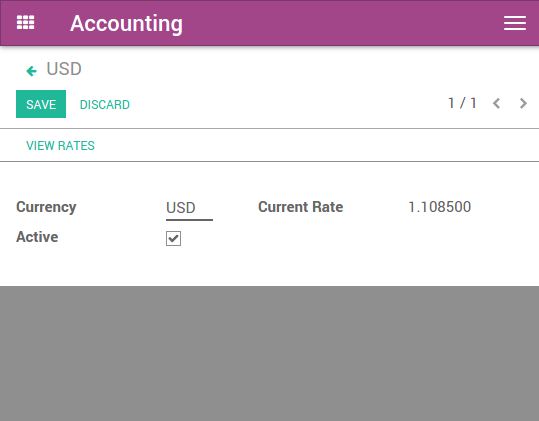 Dans ce document, la devise de base est Euro et nous enregistrerons les paiements en Dollars.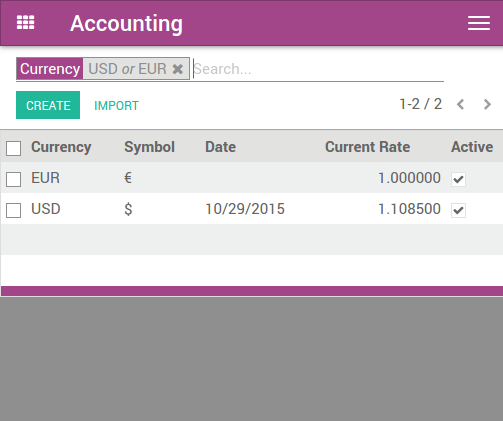 Astuce
Vous pouvez récupérer automatiquement les taux de change auprès de la Banque Centrale Européenne ou de Yahoo. Lisez le document : Odoo's multi-currency system.
Configurer votre journal¶
Afin d'enregistrer les paiements dans d'autres devises, vous devez supprimer la contrainte de devise sur le journal. Allez dans l'application de Comptabilité, cliquez sur Plus sur le journal, puis sur Configuration.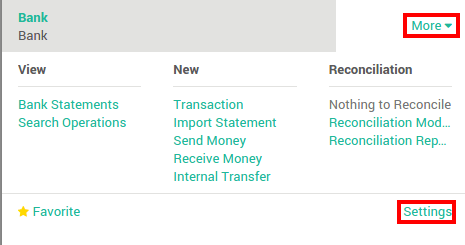 Vérifiez si le champ Devise est vide ou dans la devise étrangère dans laquelle vous enregistrerez les paiements. Si une devise est définie, cela signifie que vous ne pouvez enregistrer les paiements que dans cette devise.

Enregistrer un paiement dans une autre devise¶
Dans l'application de Comptabilité, aller à . Enregistrez le paiement et indiquez qu'il a été réalisé dans la devise étrangère. Puis cliquez sur Confirmer.

La pièce comptable a été comptabilisée mais pas attribuée.

Revenez à votre facture (Ajouter pour attribuer le paiement.

) et cliquez sur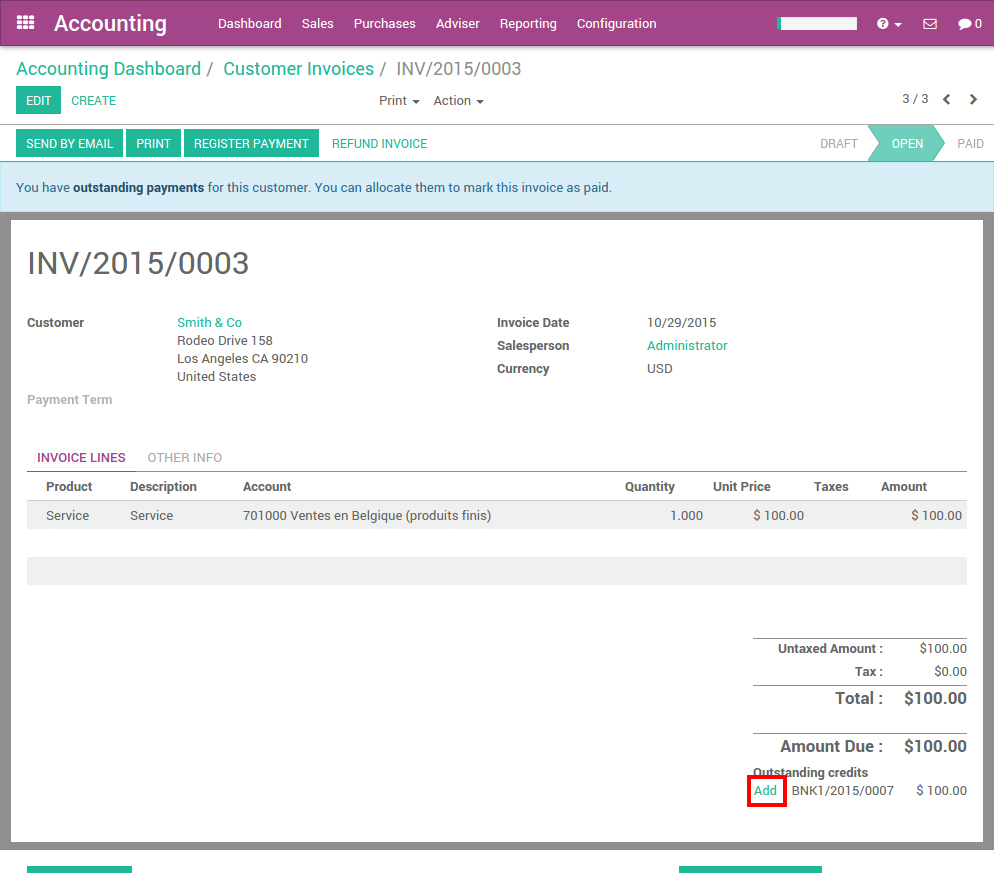 Enregistrer un relevé bancaire dans une autre devise¶
Créez ou importez le relevé bancaire de votre paiement. Le Montant est dans la devise de la société. Il y a deux champs complémentaires, le Montant devise, qui est le montant qui a été effectivement payé et la Devise dans laquelle il a été payé.

Lors du rapprochement, Odoo fera correspondre directement le paiement avec la bonne Facture. Vous obtiendrez le prix de la facture dans la devise de la facture et le montant dans la devise de votre entreprise.

Vérifier les écarts de change¶
Aller à Écarts de change. Tous les écarts de change y sont comptabilisés.

et chercher les pièces

Astuce
Le Journal des Écarts de Change peut être modifié dans la configuration de la comptabilité.
Avertissement
In order for an exchange difference entry to be created automatically, the corresponding invoices and payments need to be fully reconciled. This means the invoices are fully paid and the payments are fully spent on invoices. If you partially pay 3 invoices from 2 payments, and the last invoice still has an amount due, there will be no exchange difference entry for any of them until that final amount is paid.
Edit on GitHub