How to use Google Spreadsheet in Addition to my Data?¶
Create custom dashboards in Google Spreadsheet that retrieves data directly from Odoo using spreadsheet formula. You can use it to create sales commission plans, budgets, project forecasts, etc. Formulas are written in Python but programming skills are not required.
Configuration¶
From the General Settings, active Google Drive and Google Spreadsheet. The options Authorization Code and Get Authorization Code are now available.

Now, link your Google account with Odoo going to

.
Créer une nouvelle feuille de calcul¶
From the CRM app, for example, go to Favorites and click on Add to Google Spreadsheet.

Une nouvelle feuille de calcul sera automatiquement créée dans votre Google Drive.
Note
When you opening this new file, a second sheet is created automatically by Odoo with a tutorial/documentation on How to use Google Spreadsheet.
Lier une feuille de calcul avec Odoo¶
À partir de ce nouveau fichier, configurez votre base de données.
Allez dans :menuselection: Odoo --> Paramètres du serveur --> Nom de la base de données --> Nom d'utilisateur --> Mot de passe.

Applications¶
You have 2 different formulas of using Google Spreadsheet in Odoo: retrieve data and retrieve grouped sums.
Avertissement
Google Drive limits the execution time of scripts; if the data you requested takes too long to be delivered, you might get an error. There is no specific size limit, since the time for Odoo to respond depends on several factors - although reading data regarding several thousand records is usually fine.
Retrieve Data¶
La formule théorique est = oe_browse (table;columns;filters;orderby:limit). Utilisez-la si vous souhaitez afficher les informations sans les regrouper (ex: chaque commande client dans la base de données).
Find some the arguments in the table below.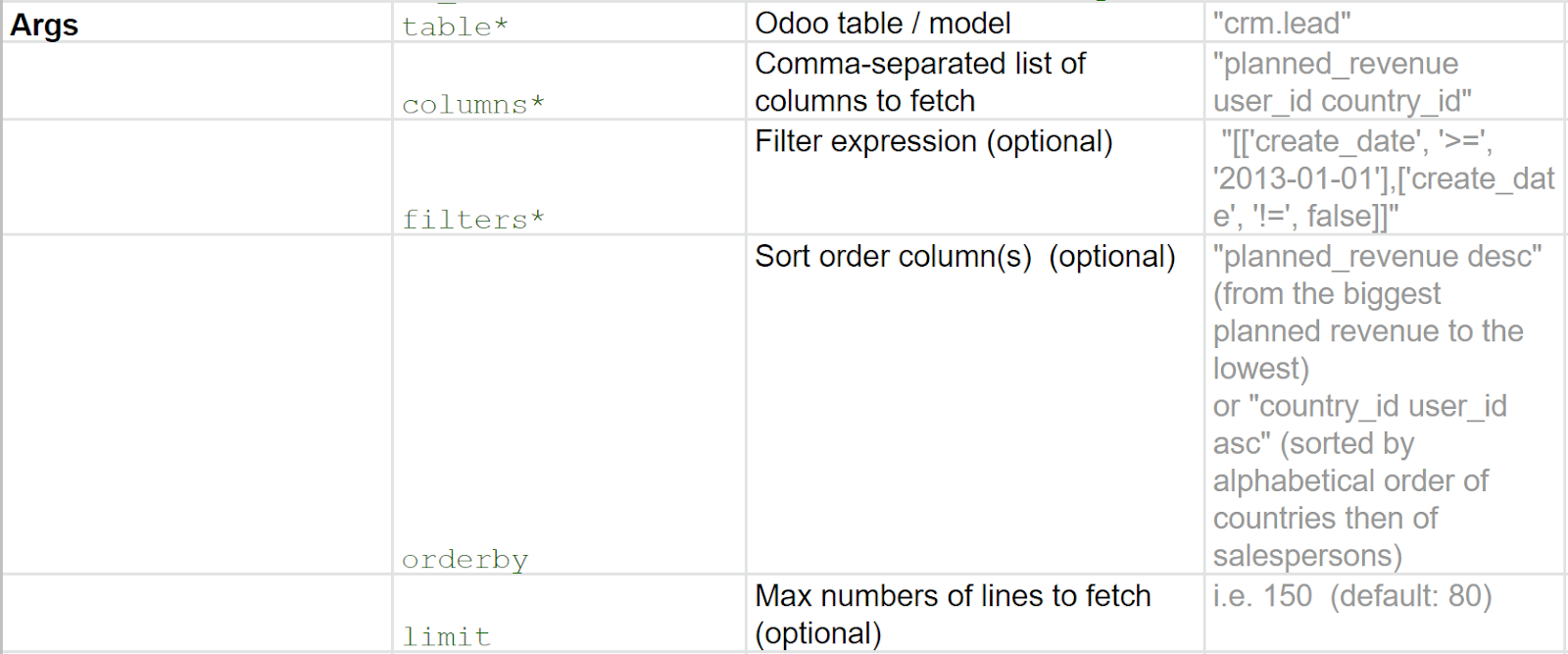 Retrieve Grouped Sums¶
La formule théorique est = oe_read_group (table;columns;group_by;filters;orderby:limit). Utilisez-la lorsque vous souhaitez afficher une somme de données (ex: total facturé).
Trouvez quelques arguments dans le tableau ci-dessous.

Autres utilisations¶
Mix Odoo data with spreadsheet data, add traditional formulas, and create Dynamic Tabled and Graphs.
Edit on GitHub