De la Facture Client à l'Encaissement¶
Odoo prend en charge plusieurs méthodes de facturation et de paiement, de sorte que vous pouvez choisir et utiliser celles qui correspondent à votre entreprise. Que vous vouliez n'accepter qu'un paiement par facture, ou traiter un paiement couvrant plusieurs factures, et en octroyant des remises pour paiements anticipés, vous pouvez le faire avec efficacité et précision.
De la Facture Brouillon au Compte de Résultats¶
Si nous regardons vers la fin d'un scénario typique «commande-encaissement», après que les marchandises ont été expédiées, vous devez : émettre une facture; recevoir le paiement; déposer le paiement à la banque; vous assurez que la facture client est fermée; vérifier si les clients ne sont pas en retard sur les paiements; et enfin présenter vos revenus sur le Compte de Résultats et montrer la diminution des actifs sur le Bilan.
Dans la plupart des pays, la facturation se produit lorsque une obligation contractuelle est respectée. Si vous expédiez une boîte à un client, vous avez respecté les termes du contrat et vous pouvez facturer. Si votre fournisseur vous envoie un colis, il a respecté les termes du contrat et il peut vous facturer. Par conséquent, les termes du contrat sont respectés lorsque la boîte se déplace vers ou depuis le camion. Pour satisfaire cela, Odoo permet la création de ce qu'on appelle une Facture Brouillon par le personnel de l'entrepôt.
Création d'une facture¶
Les factures brouillon peuvent être générées manuellement à partir d'autres documents tels que les commandes, les bons de commande, etc. Vous pouvez aussi créer directement une facture brouillon si vous le souhaitez.
Une facture client doit contenir toutes les informations nécessaires afin qu'il puisse payer les marchandises et les services commandés et livrés. Elle doit également inclure d'autres informations nécessaires pour payer la facture d'une manière opportune et précise.
Factures brouillon¶
Le système génère des factures qui sont initialement à l'état Brouillon. Tant que ces factures
ne sont pas validées, elles ont pas d'impact comptable au sein du système. Il n'y a rien pour empêcher les utilisateurs de créer leurs propres factures brouillon.
Créez une facture client avec les informations suivantes :
Client : Agrolait

Article : iMac

Quantité : 1

Prix unitaire : 100

Taxes : TVA 15%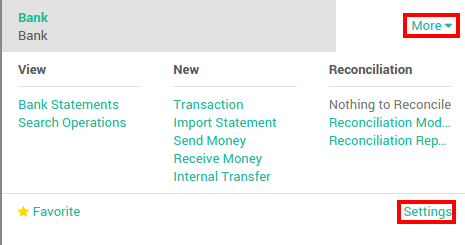 Le document est composé de 3 parties :
L'entête de la facture, avec les informations sur le client,

le corps principal de la facture, avec des lignes de factures détaillées,

le bas de la page, avec des détails sur les taxes, et les totaux.
Factures Ouvertes ou Pro-forma¶
An invoice will usually include the quantity and the price of goods and/or services, the date, any parties involved, the unique invoice number, and any tax information.
« Valider » la facture lorsque vous êtes prêt à l'approuver. La facture passe alors de l'état Brouillon à l'état Ouverte.
Lorsque vous avez validé une facture, Odoo lui donne un numéro unique à partir d'une séquence définie, et modifiable.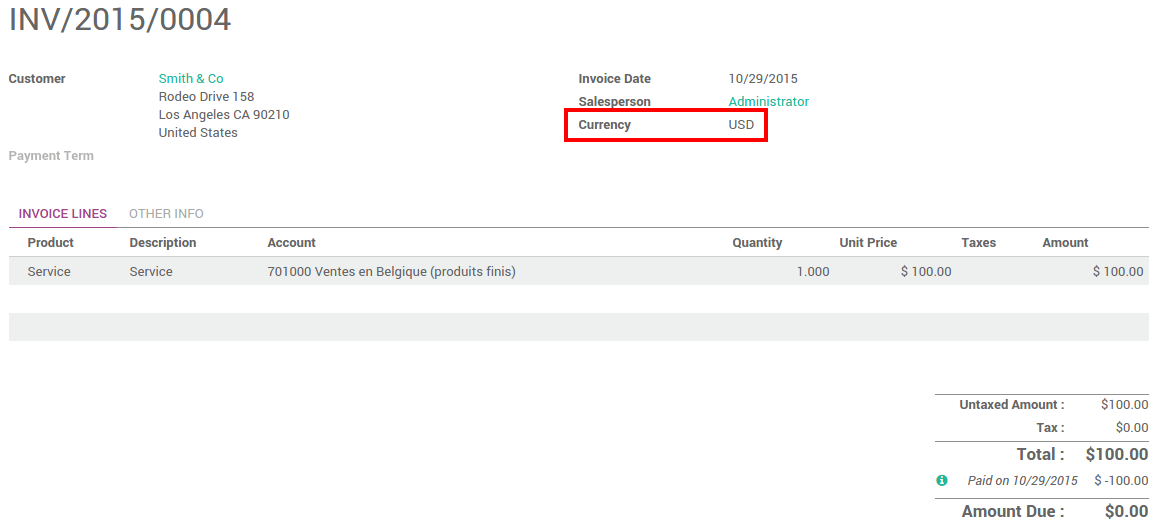 Les écritures comptables correspondant à cette facture sont générées automatiquement lorsque vous validez la facture. Vous pouvez en voir les détails en cliquant sur la pièce comptable dans l'onglet « Autres informations ».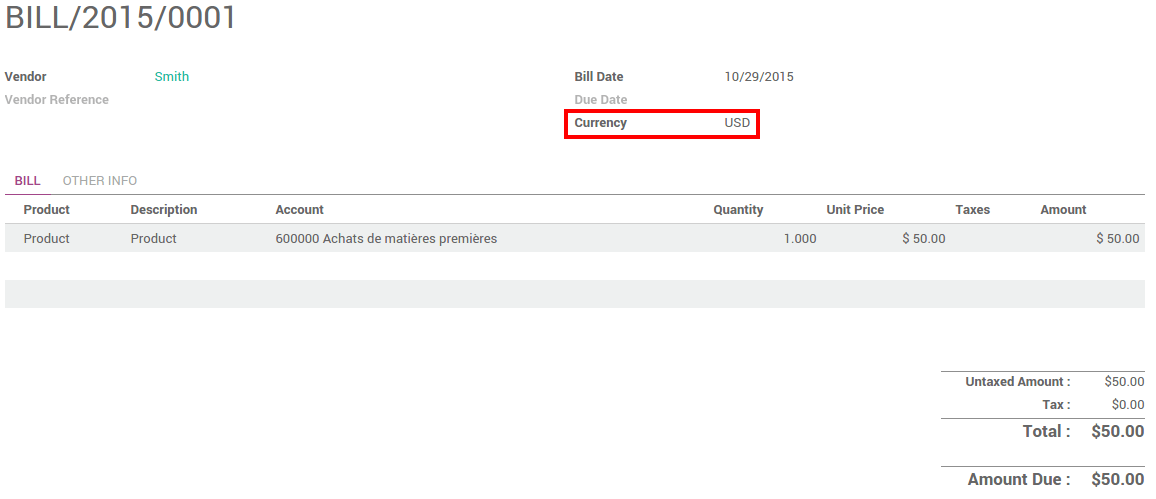 Envoyer la facture au client¶
Après validation de la facture du client, vous pouvez l'envoyer directement au client via la fonctionnalité « Envoyer par email ».

Une pièce comptable typique générée à partir d'une facture validée ressemblera à ce qui suit :
| Compte | Tiers | Date d'échéance | Débit | Crédit |
| --- | --- | --- | --- | --- |
| Comptes Débiteurs | Agrolait | 07/01/2015 | 115 | |
| Taxes | Agrolait | | | 15 |
| Ventes | | | | 100 |
Paiement¶
Dans Odoo, une facture est considérée comme payée lorsque la pièce comptable associée a été rapprochée avec les pièces de paiement. S'il n'y a pas eu de rapprochement, la facture restera dans l'état Ouverte jusqu'à vous avez enregistré le paiement.
Une pièce comptable typique générée par un paiement ressemblera à ceci :
| Compte | Tiers | Date d'échéance | Débit | Crédit |
| --- | --- | --- | --- | --- |
| Banque | Agrolait | | 115 | |
| Comptes Débiteurs | Agrolait | | | 115 |
Recevoir un paiement partiel par le relevé bancaire¶
Vous pouvez saisir manuellement vos relevés bancaires dans Odoo, ou vous pouvez les importer depuis un fichier csv ou d'autres formats prédéfinis selon les pays.
Créer un relevé bancaire depuis le tableau de bord de la comptabilité, dans le journal approprié, et entrez un montant de $100.
Lettrer¶
Maintenant, nous allons rapprocher!

Vous pouvez maintenant passer sur chaque transaction et la rapprocher, ou effecter un rapprochement en masse avec les instructions ci-dessous.
Après le rapprochement des écritures de la feuille, la facture correspondante affichera alors « Vous avez des paiements en suspens pour ce client. Vous pouvez les rapprocher pour payer cette facture. »

Appliquer le paiement. Ci-dessous, vous pouvez voir que le paiement a été ajouté à la facture.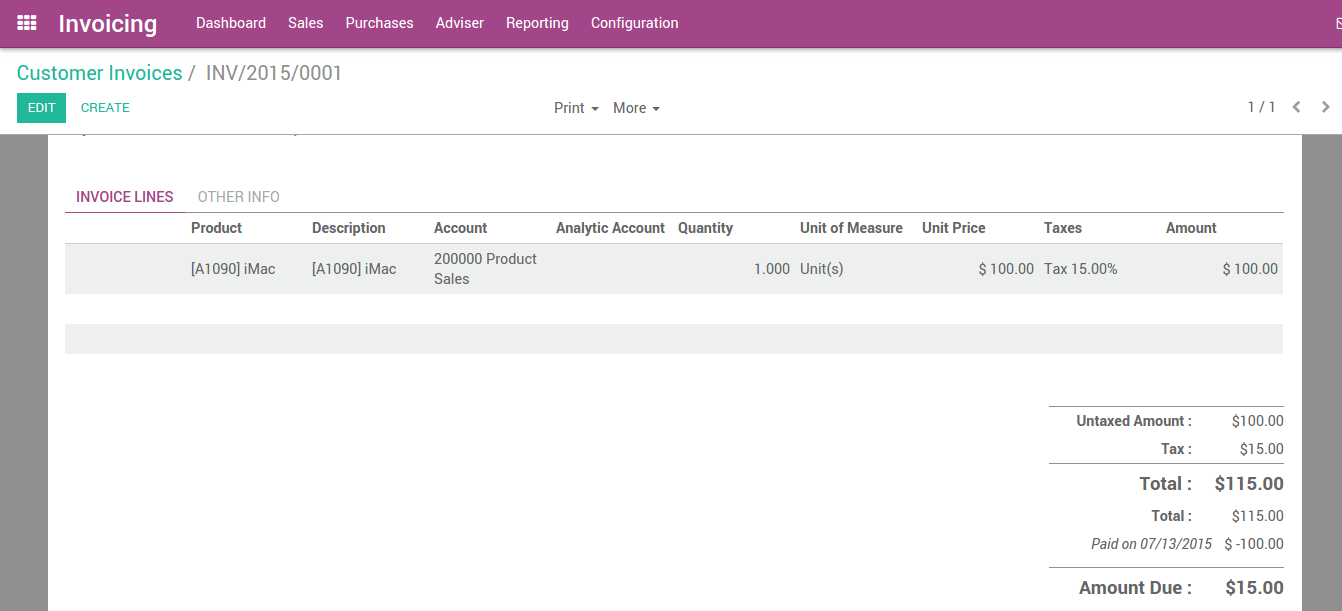 Suivi du Paiement¶
Il y a une tendance croissante des clients à payer leurs factures de plus en plus tard. Par conséquent, les encaisseurs doivent faire des efforts pour recueillir l'argent, et pour le recueillir plus rapidement.
Odoo va vous aider à définir votre méthode de suivi. Pour rappeler aux clients de payer leurs factures impayées, vous pouvez définir des actions différentes en fonction de la sévérité de retard du client. Ces actions sont regroupées en niveaux de suivi qui sont déclenchés lorsque la date d'échéance de la facture a dépassé un certain nombre de jours. S'il y a d'autres factures en souffrance pour le même client, la actions de la facture la plus en retard seront exécutées.
En allant à la fiche client, dans les «paiements en souffrance », vous verrez le message de suivi et toutes les factures en souffrance.

Balance agée client :¶
Le balance agée client sera un outil clé supplémentaire pour l'encaisseur pour comprendre les problèmes de crédit à la clientèle, et pour prioriser leur travail.
Utilisez la balance agée pour déterminer quels clients sont en retard et commencer vos efforts de collecte.
Compte de résultat¶
Le Compte de Résultat affiche les détails de vos revenus et de vos dépenses. En fin de compte, cela vous donne une image claire de votre résultat net. Il est parfois appelé la « Déclaration de Revenu » ou « État des Revenus et Dépenses ».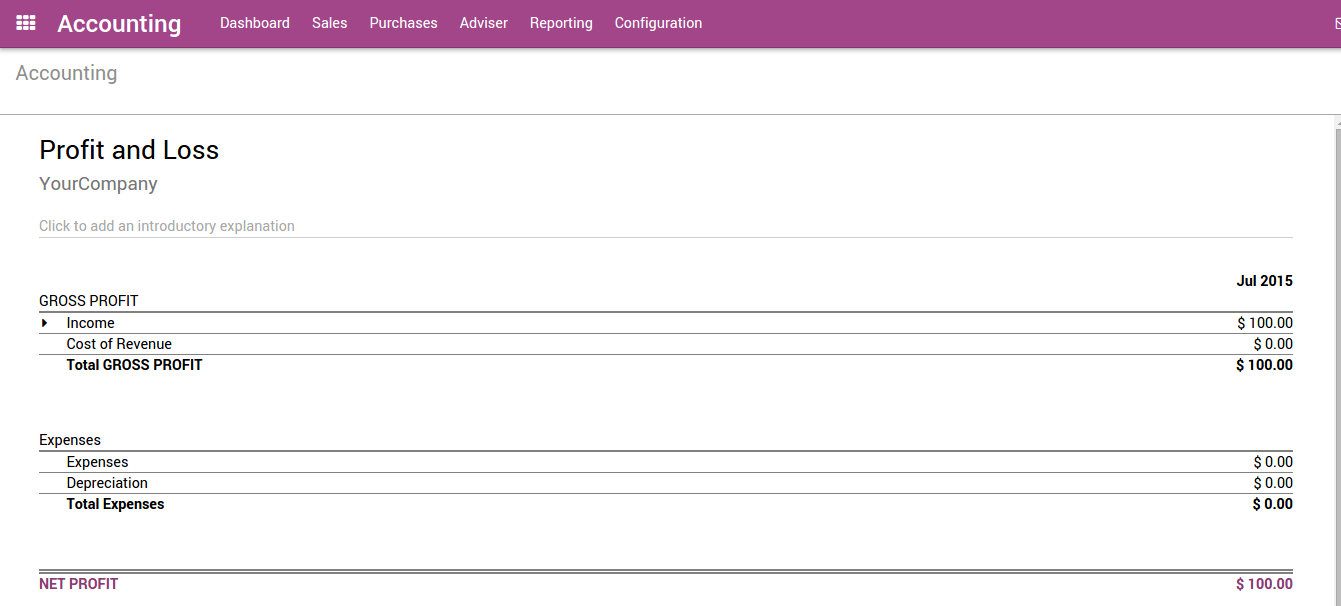 Bilan¶
The balance sheet summarizes your company's liabilities, assets and equity at a specific moment in time.
Par exemple, si vous gérez votre inventaire selon la méthode de l'inventaire permanent, vous devriez obtenir une diminution du compte «Actifs Circulants» une fois que le matériel a été expédié au client.
Edit on GitHub