Payer par Chèques¶
Quand vous décidez de payer une facture fournisseur, vous pouvez choisir de payer par chèque. Ainsi, à la fin de la journée, le responsable peut imprimer tous les chèques par lot. Enfin, le processus de rapprochement bancaire fera correspondre les chèques que vous avez envoyés aux fournisseurs avec les relevés bancaires réels.
installer le module requis¶
l'impression
Note
Selon votre pays et le plan comptable que vous utilisez, ces modules peuvent être installés par défaut. (exemple: les utilisateurs des États-Unis n'ont rien à installer, c'est configuré par défaut).
Activer la méthode de paiment par chèque¶
Afin de permettre les paiements par chéque, vous devez activer le mode de paiement sur les journaux des banques concernées. Depuis le tableau de bord de la Comptabilité (l'écran que vous obtenez lorsque vous entrez dans l'application de Comptabilité), dans votre compte bancaire cliquez sur Méthodes de paiement, cochez Chèques.

. Dans le champ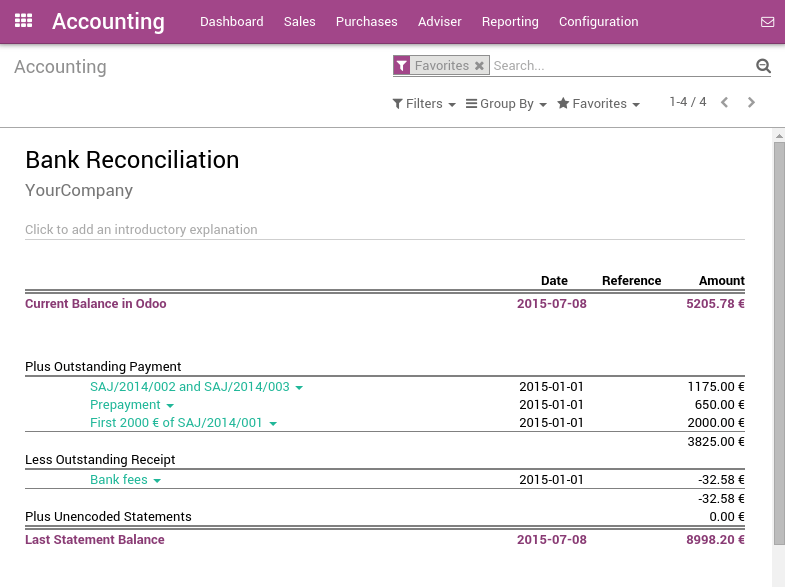 Pré-imprimés de chèques compatibles pour l'impression des chèques¶
États Unis¶
Pour les États-Unis, Odoo prend en charge par défaut les formats de chèques suivants :
QuickBooks® & Quicken®: chèque en haut, talons au milieu et en bas

Peachtree® : chèque au milieu, talons en haut et en bas

ADP®: chèque en bas, et talons en haut
Il est également possible de définir votre propre format de chèque à travers les personnalisations.
Payer un fournisseur par chèque¶
Le paiement d'un fournisseur par chèque se fait en trois étapes :
l'enregistrement du paiement que vous souhaitez faire sur la facture

L'impression des chèques par lots pour tous les paiements enregistrés

rapprochement bancaire
Enregistrer un paiement par chèque¶
To register a payment on a bill, open any supplier bill from the menu Payment Method to Check and validate the payment dialog.

. Once the supplier bill is validated, you can register a payment. Set the

Imprimer des chèques¶
Dans le tableau de bord de Comptabilité, sur votre compte bancaire, vous devriez voir un lien « X chèques à imprimer ». Cliquez sur ce lien et vous obtiendrez la liste de tous les chèques qui ne sont pas encore imprimés. Depuis cet écran, vous pouvez imprimer tous les chèques d'un coup ou les examiner un par un.
Si vous voulez vérifier chaque paiement un par un avant d'imprimer le chèque, ouvrez le paiement et cliquez sur Imprimer le chèque si vous l'acceptez. Une boîte de dialogue vous demandera le numéro du chèque. Il vous propose automatiquement le numéro suivant, mais vous pouvez le changer s'il ne correspond pas à votre prochain numéro de chèque.
Pour imprimer tous les chèques d'un coup, sélectionnez tous les paiements de la liste et sélectionnez ensuite Imprimer –> Chèques dans le menu « Imprimer » en haut.

Reconcile bank statements¶
Once you process your bank statement, when the check is credited from your bank account, Odoo will propose you automatically to match it with the payment. This will mark the payment as Reconciled.
Astuce
To review checks that have not been credited, open the list of payments and filter on the Sent state. Review those payments that have a date more than 2 weeks ago.
Tout payer par chèque¶
Vous pouvez enregistrer un paiement qui n'est pas lié à une facture fournisseur. Pour ce faire, utilisez le menu du haut

. Enregistrez votre paiement et sélectionnez une méthode de paiement par chèque.

Si vous payez une facture fournisseur spécifique, saisissez la référence de la facture dans le champ Mémo.
Une fois que votre paiement par chèque est enregistré, n'oubliez pas de le Confirmer. Une fois confirmé, vous pouvez utiliser Imprimer chèque directement ou suivre la méthode précédente pour imprimer les chèques par lot :
Edit on GitHub