Odoo's multi-currency system¶
Vue d'ensemble¶
Choisir d'utiliser l'option multidevises dans Odoo vous permettra d'envoyer des factures, des devis et des bons de commande, ou de recevoir des factures et des paiements dans des devises autres que la vôtre. Avec le mode multidevises, vous pouvez également créer des comptes bancaires dans d'autres devises et obtenir des rapports sur vos activités en devises étrangères.
Activer le mode multidevises¶
Dans le module Comptabilité, Aller à Autoriser devises multiples, puis cliquez sur Appliquer.

et cochez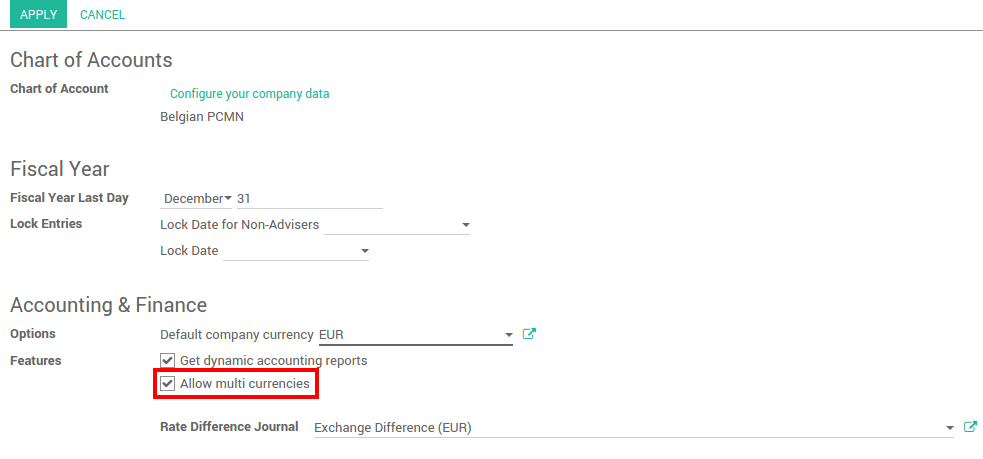 Journal de taux de change¶
Le Journal des Écarts de Change enregistre les différences entre l'enregistrement du paiement et le montant prévu. Par exemple, si un paiement est versé 1 mois après que la facture ait été émise, le taux de change a probablement changé. La fluctuation implique une certaine perte ou un certain gain qui est enregistré par Odoo.
Vous pouvez le changer dans la configuration :

Afficher ou modifier le taux utilisé¶
Vous pouvez configurer manuellement les taux de change dans

. Ouvrez les devises que vous souhaitez utiliser dans Odoo et modifiez-les. Assurez-vous que la devise est active.

Cliquez sur Voir les Taux pour l'éditer et voir l'historique :

Cliquez sur Créer pour ajouter le taux. Indiquez la date et le taux. Cliquez sur Sauvegarder lorsque vous avez terminé.
Taux de change courant¶
Par défaut, les devises doivent être mises à jour manuellement. Mais vous pouvez les synchroniser avec Yahoo <https://finance.yahoo.com/currency-converter/> __ ou la Banque Centrale Européenne <http://www.ecb.europa.eu> __. Dans , aller à la section Taux de change courant.
Choisissez l'Unité de l'intervalle : Manuellement, Quotidien, Hebdomadaire ou Mensuel. Vous pouvez toujours forcer la mise à jour en cliquant sur Mettre à jour immédiatement. Sélectionnez le Fournisseur du service, et vous êtes prêt !

Note
Seules les devises actives sont mises à jour
Configurer votre plan comptable¶
Dans l'application de Comptabilité, allez à

. Sur chaque compte, vous pouvez définir la Devise du compte. Cela va forcer tous les mouvements de ce compte à utiliser la monnaie définie pour ce compte.

Si vous le laissez vide, cela signifie qu'il peut utiliser toutes les devises qui sont Actives.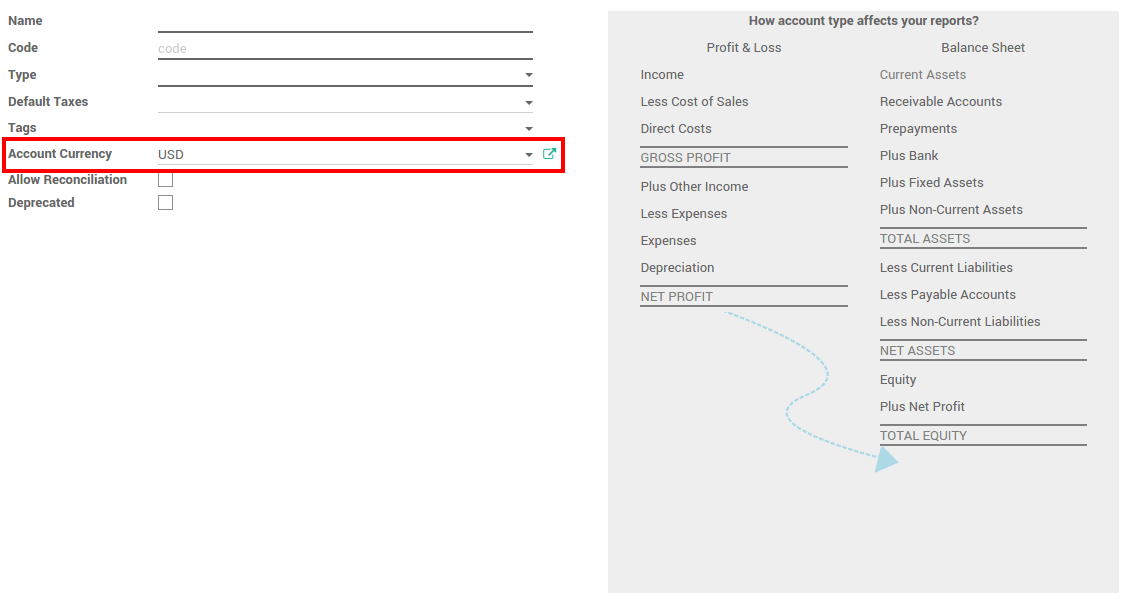 Configurer vos journaux¶
Afin d'enregistrer les paiements dans d'autres devises, vous devez supprimer la contrainte de devise sur le journal. Allez dans l'application de Comptabilité, cliquez sur Plus sur le journal, puis sur Configuration.
Vérifiez si le champ devise est vide ou dans la devise étrangère dans laquelle vous enregistrerez les paiements. Si une devise est définie, cela signifie que vous ne pouvez enregistrer les paiements que dans cette devise.

Comment fonctionne le mode multidevises d'Odoo?¶
Maintenant que vous travaillez dans un environnement multidevises, tous les écritures seront liées à une monnaie, nationale ou étrangère.
Commandes et factures client¶
Vous êtes maintenant en mesure de définir une autre devise que celle de votre entreprise sur vos commandes et factures client. La devise est définie pour l'ensemble du document.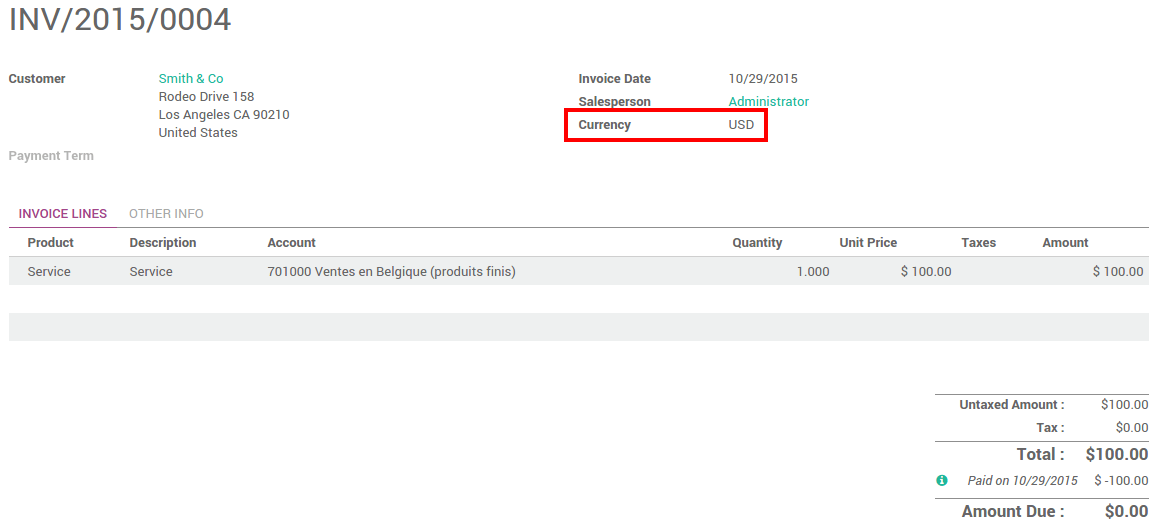 Bons de commande et factures fournisseurs¶
Vous êtes maintenant en mesure de définir une autre devise que celle de votre entreprise sur vos commandes et factures fournisseur. La devise est définie pour l'ensemble du document.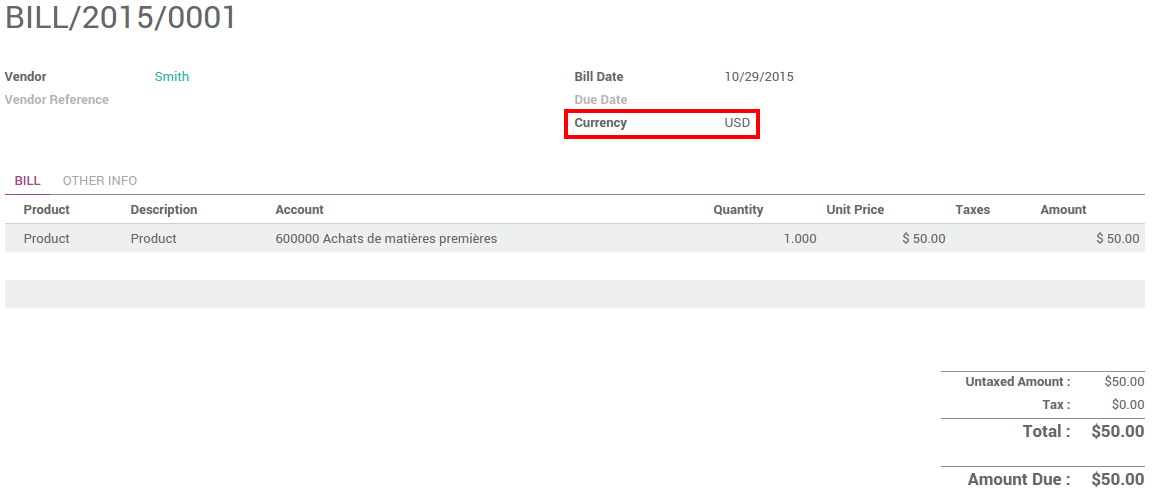 Enregistrements de paiement¶
Dans l'application comptabilité, allez à

. Enregistre" le paiement et définir la devise.

Relevés bancaires¶
Lors de la création ou de l'importation des relevés bancaires, le montant est dans la devise de la société. Mais il y a maintenant deux champs complémentaires, le montant qui a été effectivement payé et la devise dans laquelle il a été payé.

Lors du rapprochement, Odoo fera correspondre directement le paiement avec la bonne Facture. Vous obtiendrez le prix de la facture dans la devise de la facture et le montant dans la devise de votre entreprise.
Journal de taux de change¶
Aller à

et chercher les pièces Écarts de change. Tous les écarts de change y sont comptabilisés.

Avertissement
In order for an exchange difference entry to be created automatically, the corresponding invoices and payments need to be fully reconciled. This means the invoices are fully paid and the payments are fully spent on invoices. If you partially pay 3 invoices from 2 payments, and the last invoice still has an amount due, there will be no exchange difference entry for any of them until that final amount is paid.
Edit on GitHub