In-App Purchase (IAP)¶
In-App Purchases (IAP) gives access to additional services through Odoo. For instance, it allows you to send SMS Text Messages or to send Invoices by post directly from my database.
Achetez des crédits¶
Chaque service de l'IAP repose sur des crédits prépayés pour fonctionner et a sa propre tarification. Pour consulter votre solde actuel ou pour recharger votre compte, allez dans la rubrique

.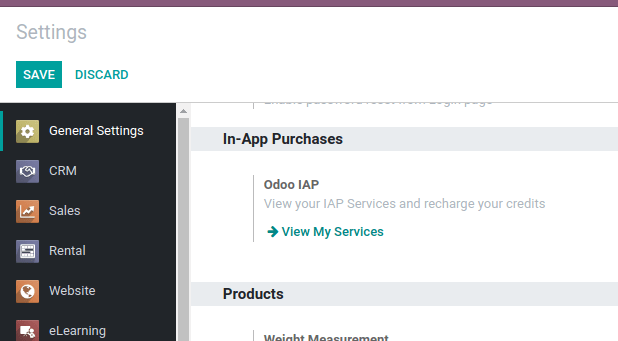 Astuce
Si je suis sur Odoo Online (SAAS) et que j'ai la version Entreprise, je bénéficie de crédits gratuits pour tester les fonctionnalités IAP.
Comptes IAP¶
Credits to use IAP services are stored on IAP accounts, which are specific to each service and database. By default, IAP accounts are common to all companies, but can be restricted to specific ones. Activate the developer mode, then go to .

Portail IAP¶
Le portail IAP est une plateforme regroupant mes services IAP. Il est accessible à partir de

. Là, je peux consulter mon solde actuel, recharger mes crédits, revoir ma consommation et définir un rappel lorsque les crédits sont faibles.

Recevoir une notification lorsque les crédits sont bas¶
Pour être averti lorsque qu'il faudra recharger mes crédits, je dois aller sur mon Portail IAP via

, dérouler un service et cocher l'option Recevoir une notification de seuil d'alerte. Ensuite, je dois fournir un nombre minimum de crédits et d'adresses email. Désormais, chaque fois que la limite sera atteinte, un rappel automatique me sera envoyé par email !

Services IAP disponibles¶
Différents services sont disponibles selon le type d'hébergement de votre base de données :
Odoo en ligne (SAAS) : seuls les services IAP fournis pra Odoo peuvent être utilisés (c'est-à-dire les fonctions SMS, Snailmail, Reveal et Partner Autocomplete).

Odoo.sh et Odoo Entreprise (sur site): les services fournis par Odoo et par les applications tierces peuvent être utilisés.
Proposer mes propres services¶
I am more than welcome to offer my own IAP services through Odoo Apps! It is the perfect opportunity to get recurring revenue for an ongoing service use rather than — and possibly instead of — a sole initial purchase. Please, find more information at: In-App Purchase.
Edit on GitHub