Pay avec SEPA¶
SEPA, the Single Euro Payments Area, is a payment-integration initiative of the European union for simplification of bank transfers denominated in EURO. SEPA allows you to send payment orders to your bank to automate bank wire transfer.
Le SEPA est pris en charge par les banques des 28 États membres de l'UE ainsi que par l'Islande, la Norvège, la Suisse, Andorre, Monaco et Saint-Marin.
With Odoo, once you decide to pay a vendor, you can select to pay the bill with SEPA. Then, at the end of the day, the manager can generate the SEPA file containing all bank wire transfers and send it to the bank.
By default,the file follows the SEPA Credit Transfer "pain.001.001.03" specifications. This is a well-defined standard that makes consensus among banks. However, according to the country set on your company, another format can be used : "pain.001.001.03.ch.02" for Switzerland and "pain.001.003.03" for Germany.
Une fois que les paiements sont traités par votre banque, vous pouvez importer directement le relevé de compte à l'intérieur Odoo. Le processus de rapprochement bancaire fera parfaitement correspondre les ordres SEPA que vous avez envoyés à votre banque aux relevés bancaires réels.
installer le module requis¶
Pour payer les fournisseurs avec SEPA, vous devez installer le module Transfert de crédit SEPA. Ce module gère le processus de création des fichiers SEPA basé sur les paiements Odoo.
Note
Selon votre pays et le plan comptable que vous utilisez, ce module peut être installé par défaut.
Activer les méthodes de paiement SEPA sur les banques¶
Afin de permettre les paiements par SEPA, vous devez activer le mode de paiement sur les journaux des banques concernées. Depuis le tableau de bord de la Comptabilité (l'écran que vous obtenez lorsque vous entrez dans l'application de Comptabilité), cliquez sur « Plus » sur votre compte bancaire et sélectionnez l'option « Configuration ».
Pour activer SEPA, cliquez sur l'onglet Paramètres avancés et, dans les Méthodes de paiement dans la section Divers, cochez la case Sepa Credit Transfer.
Assurez-vous d'indiquer le numéro de compte IBAN (le numéro de compte national ne fonctionnera pas avec SEPA) et le BIC (code d'identification de banque) dans votre journal de banque.
Note
Par défaut, les paiements que vous envoyez avec SEPA utiliseront le nom de votre entreprise comme nom d'émetteur. C'est ce qui apparaîtra sur le relevé bancaire du destinataire dans le champ Payé par. Vous pouvez le personnaliser dans les « Données de votre société », dans l'onglet Configuration, sous la section SEPA.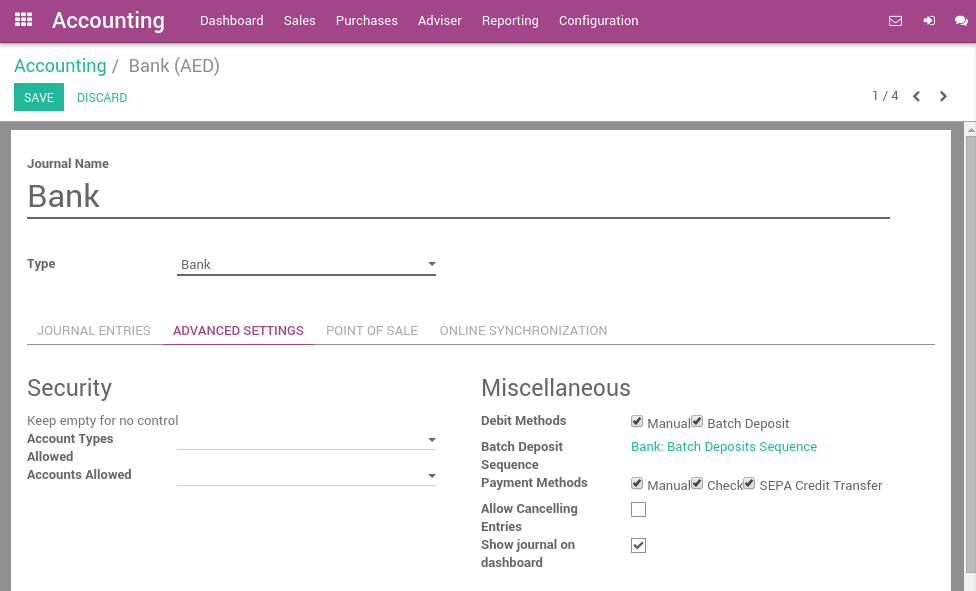 Enregistrez vos paiements¶
Vous pouvez enregistrer un paiement qui n'est pas lié à une facture fournisseur. Pour ce faire, utilisez le menu du haut

. Enregistrez votre paiement et sélectionnez une méthode de paiement par Sepa Credit Transfer.

If it's the first time you pay this vendor, you will have to fill in the Recipient Bank Account field with, at least, the bank name, IBAN and BIC (Bank Identifier Code). Odoo will automatically verify the IBAN format.

Pour les paiements futurs à ce fournisseur, Odoo vous proposera automatiquement le compte bancaire, mais vous serez en mesure d'en sélectionner un autre ou d'en créer un nouveau.

Si vous payez une facture fournisseur spécifique, saisissez la référence de la facture dans le champ mémo.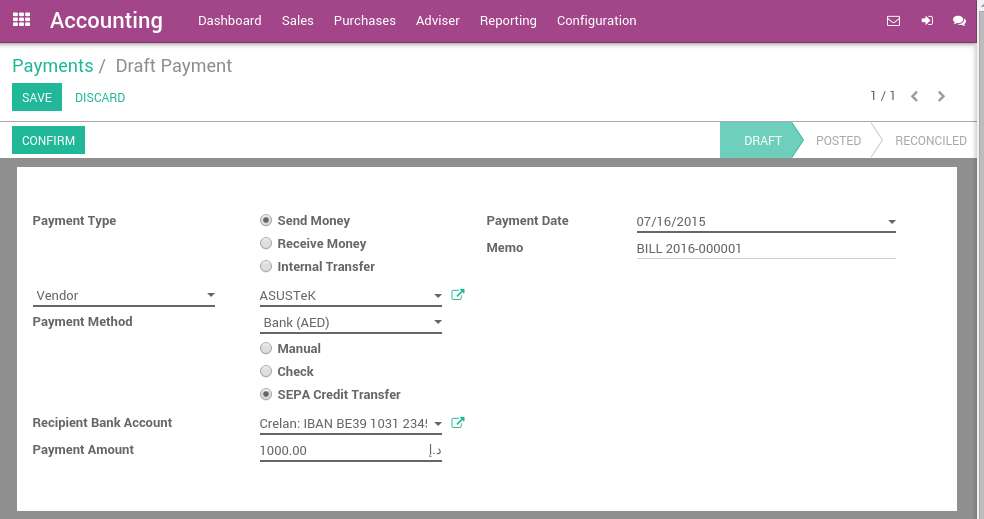 Une fois que votre paiement est enregistré, n'oubliez pas de le confirmer. Vous pouvez également payer les factures fournisseurs directement depuis la facture à l'aide du bouton Enregistrer le paiement en haut d'une facture fournisseur. Le formulaire est le même, mais le paiement est directement lié à la facture et sera automatiquement rapprochée avec elle.
Générer des fichiers SEPA¶
À partir du tableau de bord de votre Comptabilité, vous devriez voir s'il y a des fichiers SEPA à générer pour chaque compte bancaire.

Cliquez sur le lien pour vérifier tous les paiements qui sont prêts à ête transférés par SEPA. Ensuite, sélectionnez tous les paiements que vous souhaitez envoyer (ou cochez la case en haut pour sélectionner tous les paiements à la fois) et cliquez sur

.

La banque refuse mon fichier SEPA¶
Ask your bank if they support the SEPA Credit Transfer specification (the SEPA pain version depends on the country set on your company). If they don't, or cannot provide relevant information, please forward the error message to your Odoo partner.
Il n'y a pas de Bank Identifier Code enregistré pour le compte bancaire …¶
Pour envoyer un paiement SEPA, le destinataire doit être identifié par un code IBAN et un code BIC valides. Si ce message apparaît, vous avez probablement enregistré un code IBAN pour le partenaire que vous payez, mais oublié de remplir le champ BIC.
Edit on GitHub