Utilisateurs et fonctionnalités¶
En tant qu'administrateur de votre base de données, vous êtes responsable de son utilisation. Cela inclut les Applications que vous installez, ainsi que le nombre d'utilisateurs qui les utilisent.
Odoo est beaucoup de choses (ERP, CMS, CRM application, site de eCommerce,etc…) mais ce n'est pas un smartphone. Vous devez faire preuve de prudence lorsque vous ajouter/supprimez des fonctionnalités (en particulier les applications) à votre base de données, car cela pourrait influer sur le montant de votre abonnement de manière significative (ou vous faire passer d'un compte gratuit à un payant sur notre plate-forme en ligne).
This section contains some information as to how you can manage your Odoo instances. Before carrying any of these procedures, we strongly advise to test them on a duplicate of your database first. That way, if something goes wrong, your day-to-day business is not impacted.
Note
Vous pouvez trouver des instruction sur la manière de dupliquer vos bases de données à la fois pour les installations en ligne et sur site.
Note
If you have questions about the content of this section or if you encounter an issue while carrying out these procedures, please contact us through our support form.
Désactivation d'Utilisateurs¶
Note
Assurez-vous que vous disposez des permissions suffisantes si vous voulez changer le statut de l'un de vos utilisateurs.
Sur votre instance Odoo, cliquez sur Paramètres. Vous verrez apparaître une section reprenant les utilisateurs actifs de votre base de données. Cliquez sur Gérer les utilisateurs.
Vous verrez alors la liste de vos utilisateurs.
Note
Le filtre pré-sélectionné Utilisateurs Internes montre vos utilisateurs payants (pas les Utilisateurs du Portail qui sont gratuits). Si vous supprimez ce filtre, vous obtiendrez tous les utilisateurs (les payants et ceux du portail)
Dans votre liste d'utilisateurs cliquez sur l'utilisateur que vous souhaitez désactiver. Une fois sur le formulaire utilisateur, cliquez sur le menu de la liste déroulante Action, puis cliquez sur Archiver.
L'utilisateur est maintenant désactivé.
Danger
Ne désactivez jamais l'utilisateur principal (admin)
Désinstallation d'Applications¶
Avertissement
Assurez-vous d'abord de tester ce que vous allez faire sur une duplication <duplicate_online>` de votre base de données avant de faire des modifications (surtout l'installation/désinstallation d'applications).
Dans votre instance Odoo cliquez sur Configuration; dans ce module, vous verrez le nombre d'applications que vous avez installées. Cliquez sur Parcourir les applications pour accéder à la liste des applications.
Dans le tableau de bord de vos applications, vous verrez toutes les icônes de vos applications. Cliquez sur l'application que vous souhaitez désinstaller. Puis, sur la fiche de l'application, cliquez sur Désinstaller.

Danger
Certaines applications ont des dépendances, comme Facturation, eCommerce, etc… Par conséquent, le système vous avertira pour vous informer de ce qui est sur le point d'être retiré. Si vous désinstallez votre application, toutes ses dépendances seront également désinstallées (et les données qu'elles contiennent vont disparaître également de façon irréversible). Si vous êtes sûr que vous voulez toujours la désinstaller, alors cliquez sur Confirmer.
Enfin, après avoir vérifié le message d'avertissement (le cas échéant), cliquez sur Confirmer.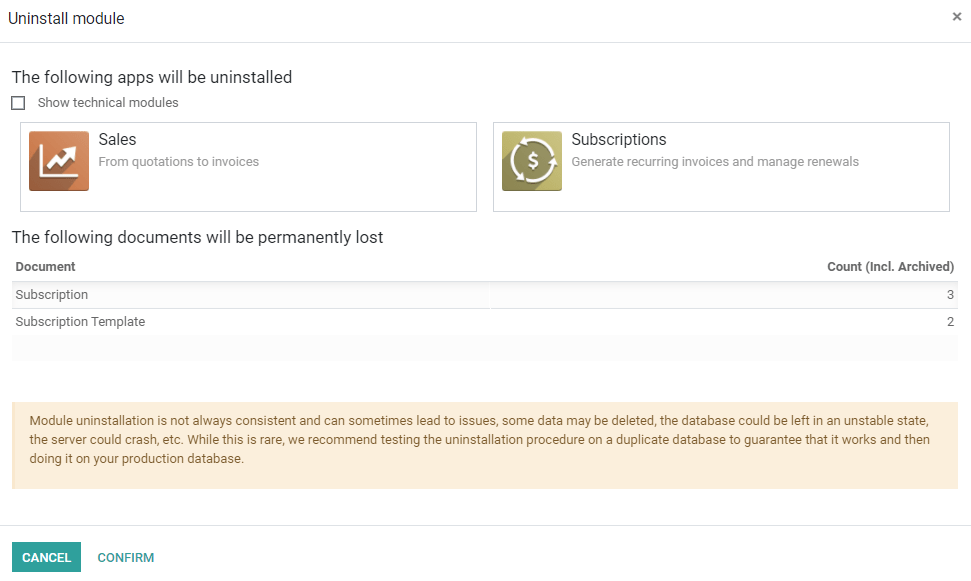 Vous avez terminé la désinstallation de votre application.
Bon à savoir¶
Désinstaller des applications, gérer les utilisateurs, etc… c'est à vous de le faire: personne mieux que vous ne peut savoir si les activités de votre entreprise sont interrompues. Si nous devions désinstaller des applications pour vous, nous ne serions jamais en mesure de dire si des données pertinentes ont été supprimées ou si l'une de vos activités a été interrompue, parce que nous ne savons pas comment vous travaillez et ne pouvons donc pas valider ce types d'opérations.

Les Applications Odoo ont des dépendances : cela signifie que vous devrez peut-être installer des modules que vous n'utilisez pas activement pour accéder à certaines fonctionnalités d'Odoo dont vous avez besoin. Par exemple, l'application Construction de site web est requise pour pouvoir montrer à vos clients des devis sur une page internet. Même si vous n'avez pas besoin du site Web lui-même, il est requis pour que la fonctionnalité Offres en ligne fonctionne correctement.

Tester toujours l'installation/la suppression d'application sur une copie (ou sur une base de données d'essai gratuit) : de cette façon, vous pouvez savoir quelles autres applications peuvent être nécessaires, etc… Cela évitera des surprises lors de la désinstallation ou lors de la réception de vos factures d'abonnement.
Activate the developer mode (debug mode)¶
The developer mode (or debug mode) gives you access to extra and advanced tools.
Via l'application Paramètres¶
Allez dans :menuselection: Paramètres -> Activer le mode développeur.
Note
Activate the developer mode (with assets) is used by developers; Activate the developer mode (with tests assets) is used by developers and testers.
Once activated, the Deactivate the developer mode option becomes available.
Through a browser extension¶
Allez dans les paramètres et extensions de votre navigateur web et recherchez Odoo Debug. Une fois l'extension installée, une nouvelle icône s'affichera sur votre barre d'outils.
For the Odoo Debug extension, a single click enables a normal version of the mode, while a double click enables it with assets. To deactivate it, use a single click.
Via l'URL¶
Dans l'URL, ajoutez ?debug=1 ou ?debug=true après web.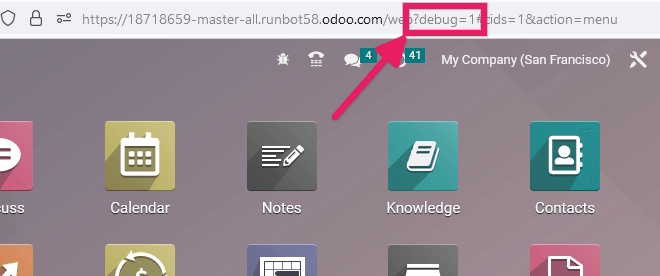 Astuce
Developers: type ?debug=assets and activate the mode with assets.
Locate the mode tools¶
Les outils du mode développeur sont accessibles à partir du bouton Ouvrir les outils de développement, situé sur l'en-tête de vos pages.
Mobile Push Notifications¶
Depuis Odoo 12.0 ou supérieure, plus aucune configuration n'est nécessaire pour activer les notifications « push » dans l'application mobile.

Allez simplement à Notifications push sont activées.

et assurez-vous que les
Edit on GitHub