Beoordelingen¶
Laat klanten hun ervaring met uw helpdeskteams beoordelen om uw geloofwaardigheid te versterken en hun vertrouwen te winnen. Beoordelingen kunnen ook de beslissing van een klant beïnvloeden en er is ruimte voor feedback die u kan helpen de kwaliteit van uw diensten te verbeteren.
Opgericht¶
Ga naar Beoordelingen op tickets in. De functie voegt automatisch een standaard e-mailsjabloon toe aan de niet-gevouwen afsluitende fase(s) van dat team.

en schakel

Om de e-mailsjabloon en de fase(s) die als afsluiting zijn ingesteld te bewerken, gaat u naar de Kanban-weergave van uw helpdeskteam en klikt u op Instellingen en vervolgens op Bewerk fase.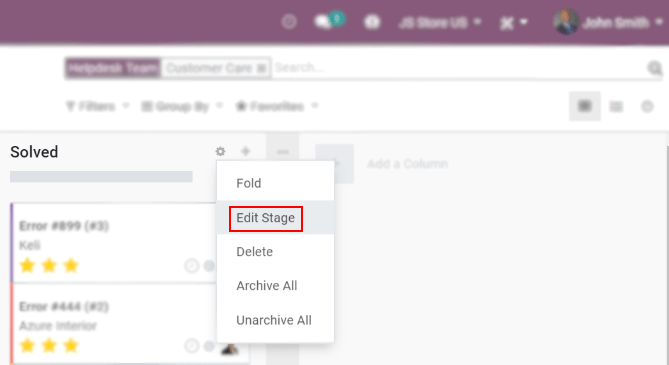 Nu, zodra een ticket de fase(n) bereikt die zijn aangeduid als de sluitingsfase, wordt er een e-mail naar de klant gestuurd.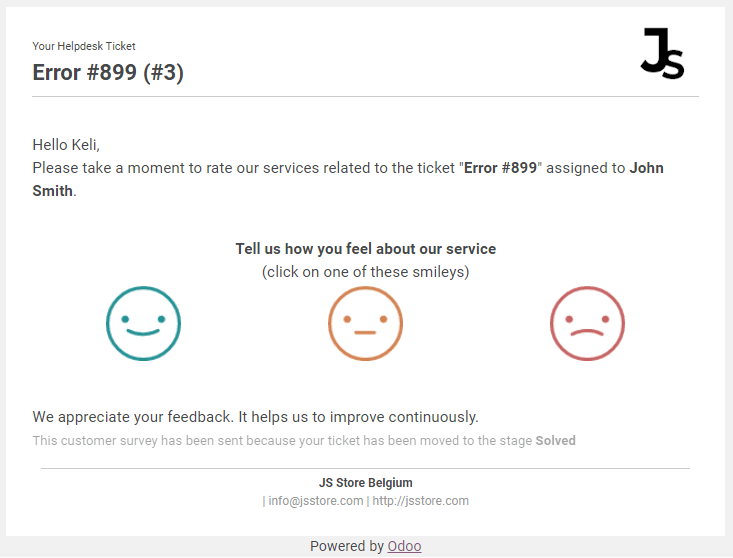 Ratings can be seen on the chatter of each ticket, under the See Customer Satisfaction link on the main dashboard, and through Reporting.
Edit on GitHub