Hoe geef ik portaal toegangsrechten aan mijn klanten?¶
Wat is portaal toegang/wie is een portaal gebruiker?¶
Portaaltoegang wordt gegeven aan een gebruiker die toegang nodig heeft tot de Odoo instantie, om bepaalde documenten of informatie in het systeem te kunnen bekijken.
Bijvoorbeeld een lange termijn klant die zijn offertes online moet kunnen zien
Een portaalgebruiker heeft alleen lees / kijkrechten. Hij of zij kan geen document wijzigen in het systeem.
Hoe geef ik portaal toegang aan mijn gebruikers¶
Vanuit de contact module¶
Selecteer het Contacten menu vanuit het hoofdmenu. Indien de contactpersoon nog niet is aangemaakt klikt u op de knop aanmaken om een nieuw contact aan te maken. Geef de contactgegevens in en klik op "opslaan".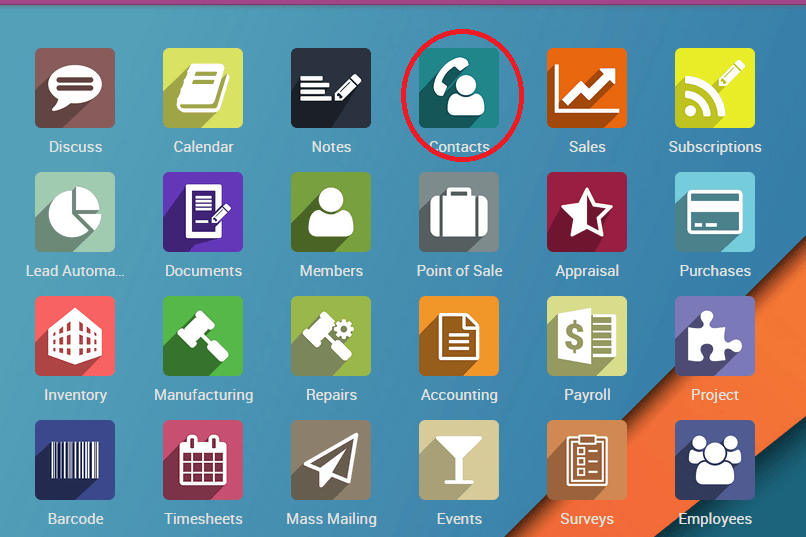 Kies een contact, klik op het Actie menu bovenaan in het midden van de interface vanuit de dropdown.
Selecteer portaal toegang beheer. Een pop up scherm zal verschijnen
Vul de login email ID in, vink het selectierondje aan onder In het portaal en voeg de inhoud toe die in de email toegevoegd moet worden in de tekstcontainer onderaan. Druk op Opslaan wanneer je klaar bent.
Een e-mail wordt verzonden naar het opgegeven e-mailadres, deze e-mail geeft aan dat de persoon nu een portaal gebruiker is op de instantie.
Edit on GitHub