Functies na verkoop¶
Naarmate uw bedrijf groeit, is het essentieel om de juiste tool te hebben om uw helpdeskteam te ondersteunen bij het eenvoudig en efficiënt registreren, volgen en beheren van problemen die worden gemeld. Met de Helpdesk-applicatie van Odoo kunt u creditnota's genereren, retouren, producten, reparaties beheren, coupons toekennen en zelfs interventies ter plaatse plannen vanaf de pagina van een ticket.
De aftersales-services instellen¶
Ga naar Refunds, Retouren, Coupons, Reparaties en Onsite Interventies.

en schakel de after sales opties in: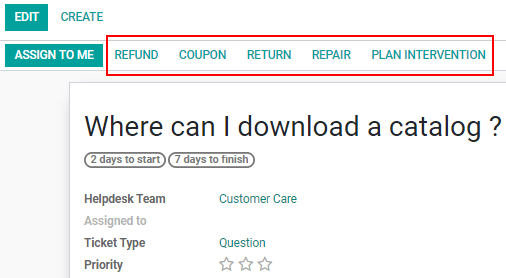 Genereer creditfacturen van tickets¶
U kunt een creditnota gebruiken om een klant terug te betalen of het verschuldigde bedrag aan te passen. Ga daarvoor naar je ticketpagina, klik op Refund en selecteer de bijbehorende Factuur. Door op Omkeren te klikken, wordt een creditnota gegenereerd en kunt u deze Posten terwijl u nog in de Helpdesk-app bent.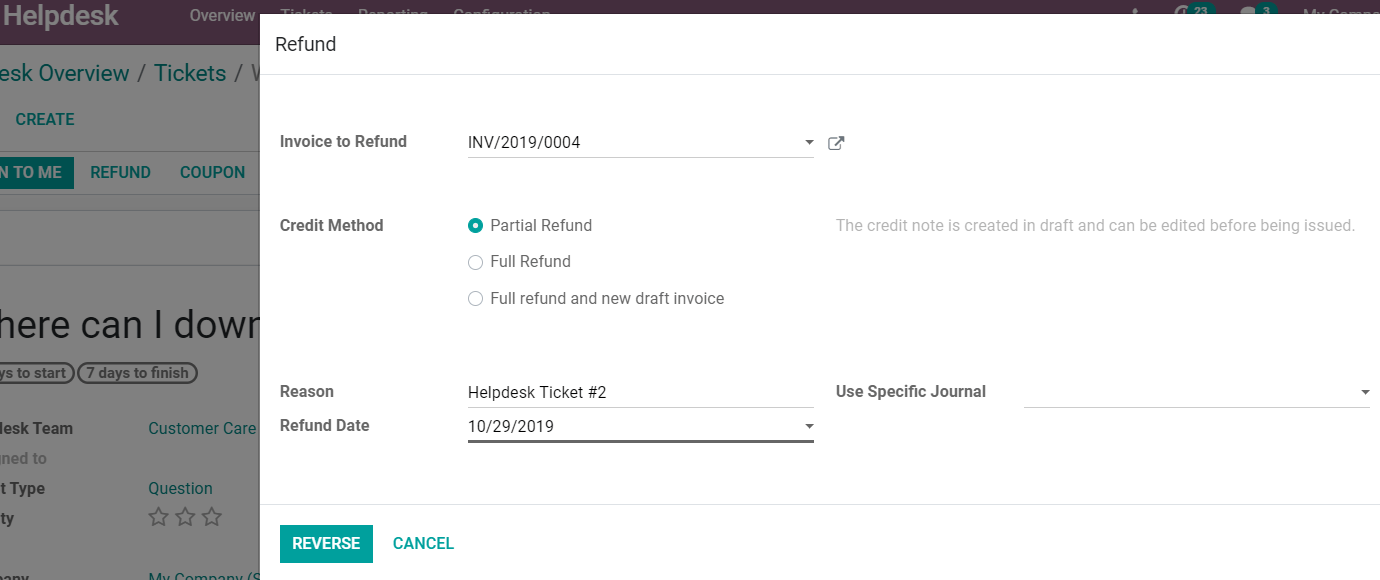 Sta productretouren toe op tickets¶
Het proces van een productretour van uw klant terug naar uw magazijn wordt in gang gezet wanneer u op de ticketpagina kiest voor de optie Retour.
Geef kortingsbonnen van tickets¶
Zorg er eerst voor dat uw Coupon Programma is gepland in de Sales of Website applicatie. Open vervolgens in Helpdesk uw ticket, klik op Coupon en kies het betreffende ticket.
Reparaties van tickets¶
Als u op de optie Reparatie klikt, wordt op uw ticketpagina een nieuw reparatieorderformulier weergegeven. Vul de benodigde informatie in en kies de volgende stap.
Plan interventies ter plaatse vanaf tickets¶
Klik op de ticketpagina op Interventie plannen en stel uw interventie ter plaatse op precies dezelfde manier in als in de Field Service-toepassing.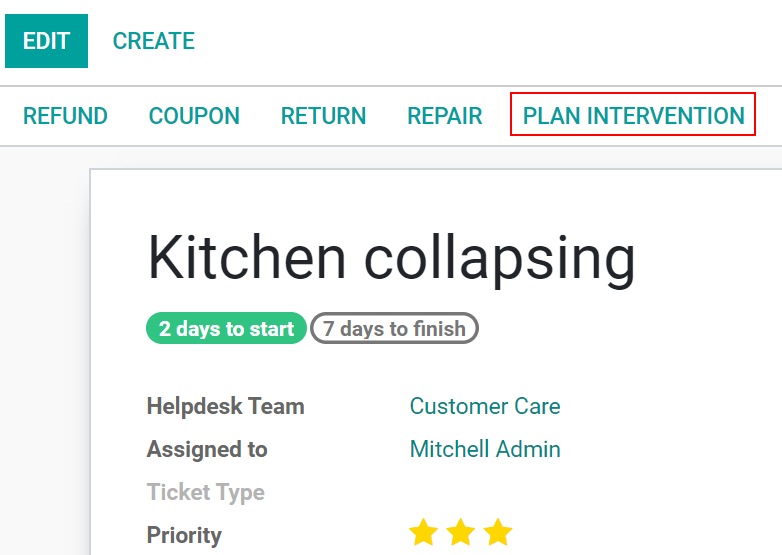 Edit on GitHub