Statistieken begrijpen¶
Statistieken zijn waarden die je helpen de voortgang te meten en kunnen een krachtige manier zijn om je medewerkers aan doelen te koppelen.
Wanneer je een workflow aanmaakt in Odoo, toont de visuele inhoud ervan al statistieken in een grafiekvorm en in cijfers.
Laten we van het onderstaande voorbeeld uitgaan: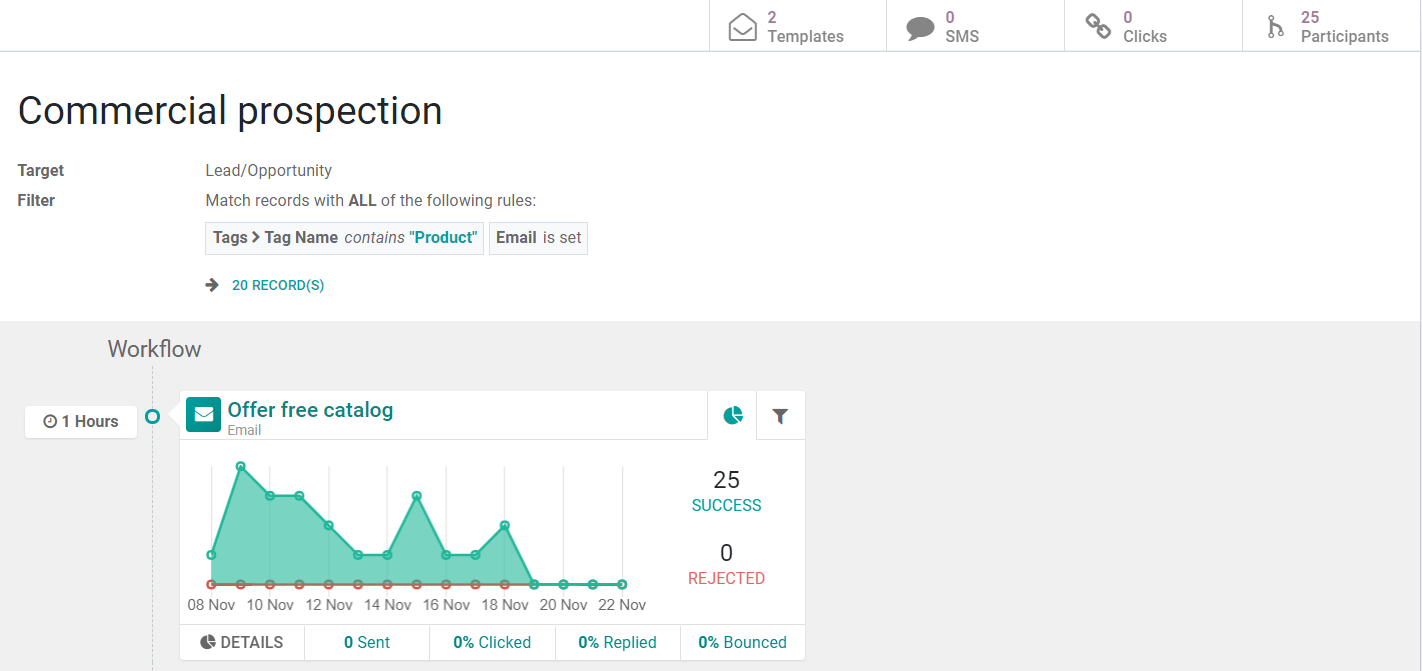 Het Target - zakelijk object - is Lead/Opportunity en is beperkt tot degenen waarvan de Tag Name de beschrijving "Product" bevat en een e-mailadres heeft.
In totaal voldoen 20 records aan de criteria.
Van die 20 records zijn er 25 deelnemers geworden, met andere woorden, ze voldeden aan de criteria.
Elke keer dat het systeem draait, nummers bijwerkt en acties activeert, kijkt het naar het Target-model en controleert of er nieuwe records zijn toegevoegd of gewijzigd, waardoor de stroom up-to-date blijft.
Notitie
Het filter hier wordt toegepast op alle activiteiten. Leads die de tag in de tussentijd verliezen, worden uitgesloten van latere activiteiten.
Records is een real-time getal, dus terwijl de workflow loopt, kunnen wijzigingen in opportunityrecords worden aangebracht - verwijderen, toevoegen, aanpassen - het aantal records bijwerken, maar het aantal deelnemers niet wijzigen, aangezien de statistiek zal niet kansen uitsluit die eerder als deelnemers zijn ingesteld. Er worden alleen nieuwe toegevoegd. Om deze reden kan het aantal Records verschillen van het aantal Deelnemers.
Tip
Je kunt ook filters laten toepassen op activiteiten afzonderlijk, onder Domein. Een handige functie om een afzonderlijk filter op te geven dat alleen wordt uitgevoerd als de records aan beide filters, de activiteit en het domein ervan voldoen.
Voorbeeld: voor een activiteit die een sms verzendt, kun je ervoor zorgen dat er een telefoonnummer is ingesteld om te voorkomen dat er een sms wordt geactiveerd die nooit zou worden verzonden en zou crashen.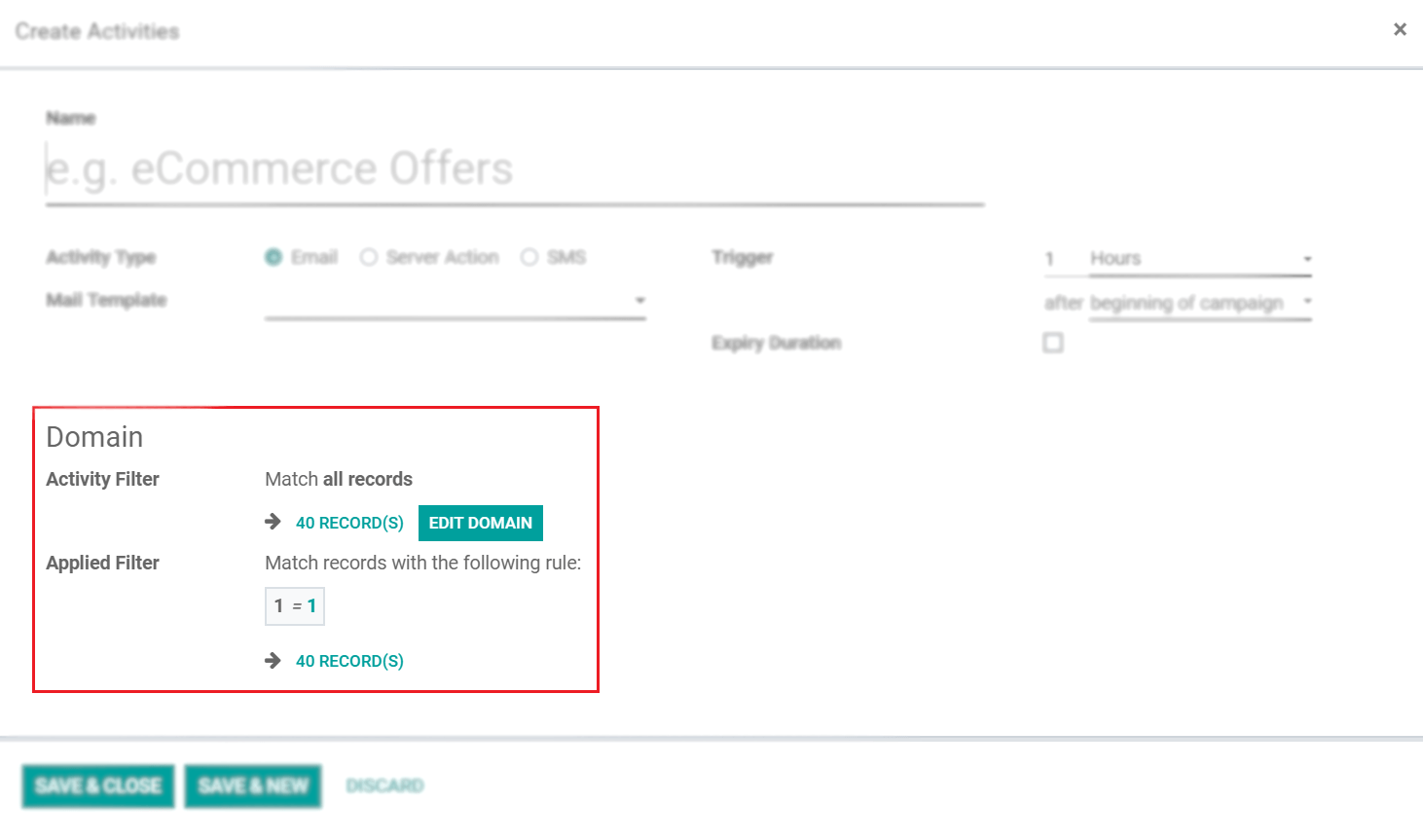 Succes is het aantal keren dat het zoeken naar deelnemers - die overeenkomen met de filter(s) van die activiteit - succesvol is uitgevoerd in verhouding tot het totaal aantal deelnemers.
Als een deelnemer niet aan de voorwaarden voldoet, wordt deze toegevoegd aan Geweigerd.
Door over de grafiek te bewegen, ziet u het aantal succesvolle en geweigerde deelnemers, per dag, voor de afgelopen 15 dagen.
Notitie
Elke keer dat een nieuw record wordt toegevoegd aan het Target-model, wordt het automatisch toegevoegd aan de workflow en wordt de workflow vanaf het begin gestart (bovenliggende actie).
Edit on GitHub