Manage prices for B2B (tax excluded) and B2C (tax included)¶
Wanneer u werkt met consumenten worden prijzen vaak uitgedrukt inclusief belastingen (bijvoorbeeld op de meeste e-commerce platformen). Maar, wanneer u werkt in een B2B omgeving onderhandelen bedrijven meestal over prijzen exclusief belastingen.
Odoo beheert beide usecases gemakkelijk, zolang u uw prijzen registreert op uw producten inclusief belastingen of exclusief belastingen, maar niet beide samen. Indien u alle prijzen inclusief belastingen beheert (of exclusief) kan u nog gemakkelijk een verkooporder maken met prijzen zonder belastingen (of inclusief): dat is gemakkelijk.
Deze documentatie is enkel voor deze specifieke usecase waar u twee referenties moet hebben voor de prijs (inclusief of exclusief belastingen), voor hetzelfde product. De reden van de complexiteit is omdat er geen symetrische relatie is met prijzen inclusief en prijzen exclusief belastingen, zoals getoond in deze usecase, in België met een belasting van 21%:
Uw e-commerce heeft een product aan 10€ (belastingen inbegrepen)

Dit is 8.26€ (zonder belastingen) en een belasting van 1.74€
Maar voor dezelfde uscase, indien u een prijs registreert zonder belastingen op het productformulier (8.26€), krijgt u een prijs met een inbegrepen belasting van 9.99€, omdat:
Dus, afhankelijk van hoe u uw prijzen registreert op het productformulier krijgt u verschillende resultaten voor de prijs inclusief belastingen en de prijs exclusief belastingen:
Exclusief belastingen: 8.26€ & 10.00€

Inclusief belastingen: 8.26€ & 9.99€
Notitie
Indien u 100 stuks koopt aan 10€ inclusief belastingen, wordt het nog complexer. U krijgt 1000€ (inclusief belastingen) = 826.45€ (prijs) + 173.55€ (belastingen). Wat totaal anders is dan een prijs per stuk van 8.26€ exclusief belastingen.
Deze documentatie legt u uit hoe u deze specifieke usecase moet afhandelen wanneer u twee prijzen moet afhandelen (inclusief en exclusief belastingen) op het productformulier binnen hetzelfde bedrijf.
Notitie
Wat betreft de financiën heeft u geen inkomsten meer bij het verkopen van uw product aan 10€ in plaats van 9.99€ (voor een 21% belasting), omdat uw inkomsten exact hetzelfde zijn aan 9.99€, enkel de belasting is 0.01€ hoger. Dus, als u een e-commerce heeft in België doe uw klant dan een plezier en stel uw prijs in op 9.99€ in plaats van 10€. Merk op dat dit niet van toepassing is op 20€ of 30€, of andere belastingen, of een hoeveelheid >1. U doet ook zichzelf een plezier aangezien u gemakkelijk alles kan beheren exclusief belastingen, wat minder fouten kan bevatten en gemakkelijker is voor uw verkoper.
Introductie¶
De beste manier om deze complexiteit te vermijden is om slechts één manier te gebruiken voor het beheren van uw prijzen en deze aan te houden: prijzen exclusief belastingen of inclusief belastingen. Definieer welke de standaard bewaarde optie is op het productformulier (op de standaard belasting gerelateerd aan het product), en laat Odoo de andere automatisch berekenen, gebaseerd op de prijslijst en fiscale positie. Onderhandel uw contracten met klanten hier naar. Dit werkt perfect out-of-the-box en u hoeft geen specifieke configuratie te doen.
Indien u dit niet kan doen en u echt moet onderhandelen over prijzen exclusief belastingen en voor andere klanten andere prijzen inclusief belastingen moet doen, moet u:
always store the default price tax excluded on the product form, and apply a tax (price excluded on the product form)

create a pricelist with prices in tax included, for specific customers

maak een fiscale positie die de belastingen wijzigt van exclusief naar inclusief

wijs beide de prijslijst en de fiscale positie toe aan klanten die willen profiteren van deze prijslijst en fiscale positie
Voor het doel van deze documentatie gebruiken we de bovenstaande case:
your product default sale price is 8.26€ tax excluded

but we want to sell it at 10€, tax included, in our shops or eCommerce website
Uw producten instellen¶
Your company must be configured with tax excluded by default. This is usually the default configuration, but you can check your Default Sale Tax from the menu of the Accounting application.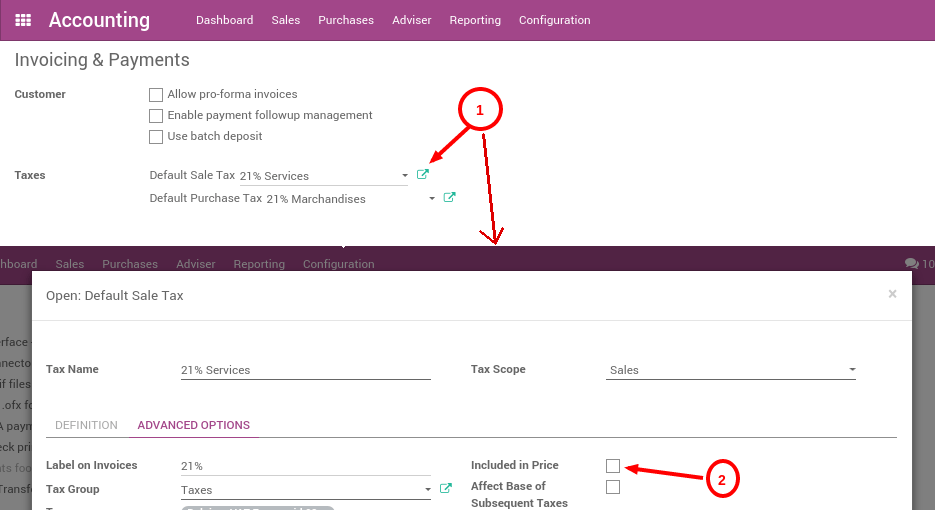 Eenmaal dit klaar is kan u een B2C prijslijst aanmaken. U kan de prijslijst optie activeren per klant vanuit het menu van de verkopen applicatie. Kies de optie verschillende prijzen per klantensegment.

Eenmaal dit klaar is maakt u een B2C prijslijst vanuit het

menu. Het is ook goed om de standaard prijslijst te hernoemen naar B2B om verwarring te vermijden.

Maak vervolgens een product aan voor 8.26€, met een belasting van 21% (gedefinieerd als belasting die niet inbegrepen is in de prijs) en stel een prijs in voor dit product van 10€ voor de B2C klant, vanuit het

menu vanuit de verkopen applicatie: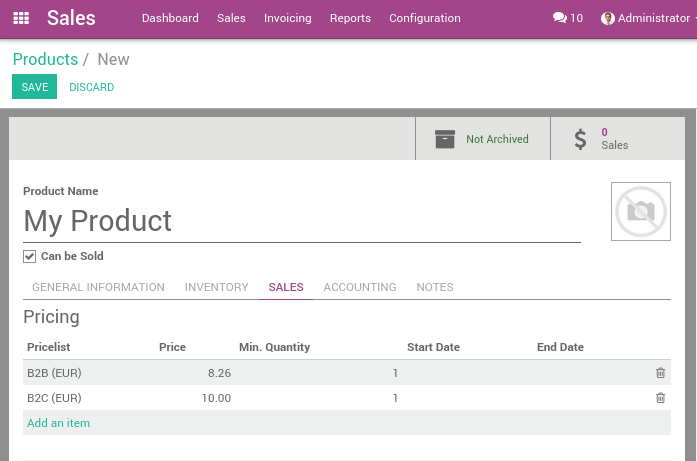 De B2C fiscale positie instellen¶
Maak een B2C fiscale positie aan vanuit de boekhouding applicatie vanuit dit menu:

. Deze fiscale positie moet linken naar de BTW 21% (prijs exclusief belastingen) met een BTW 21% (prijs inclusief belastingen)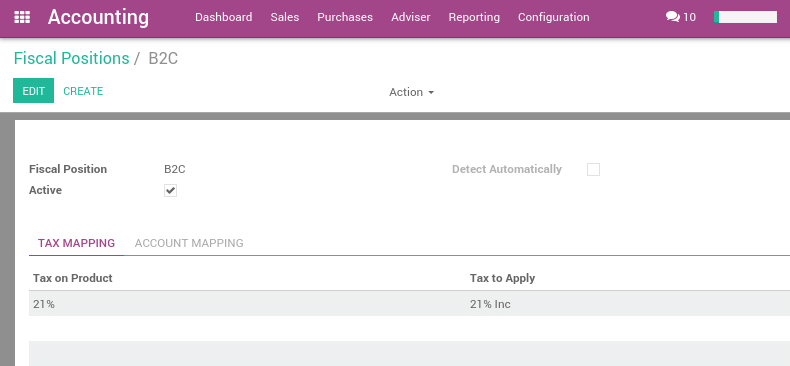 Test door een offerte aan te maken¶
Maak een offerte vanuit de verkopen applicatie via het

menu. U moet het volgende resultaat hebben: 8.26€ + 1.73€ = 9.99€.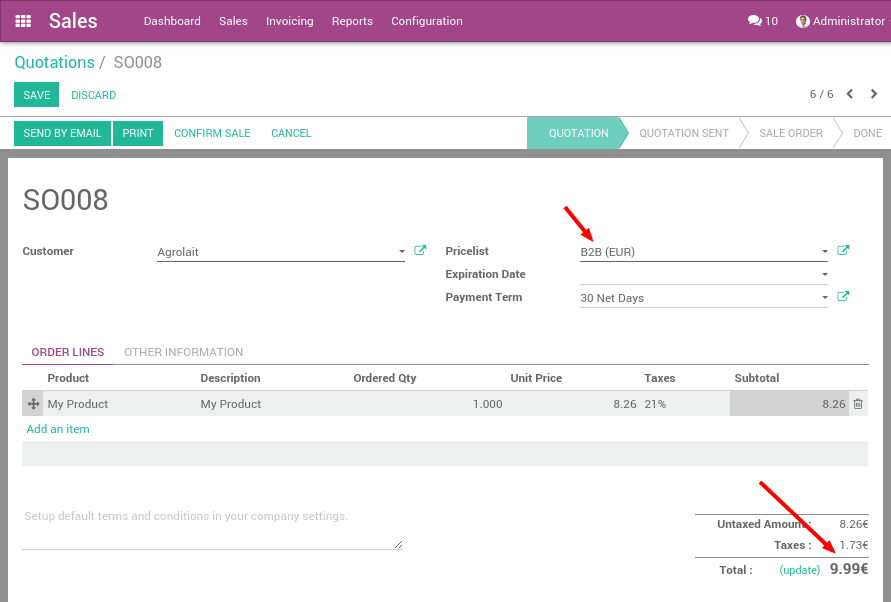 Maak dan een offerte aan maar wijzig de prijslijst naar B2C en de fiscale positie naar B2C op de offerte, voor u het product toevoegt. U zou het verwachte resultaat moeten krijgen, wat een totaalprijs van 10€ is voor de klant: 8.26€ + 1.74€ = 10.00€.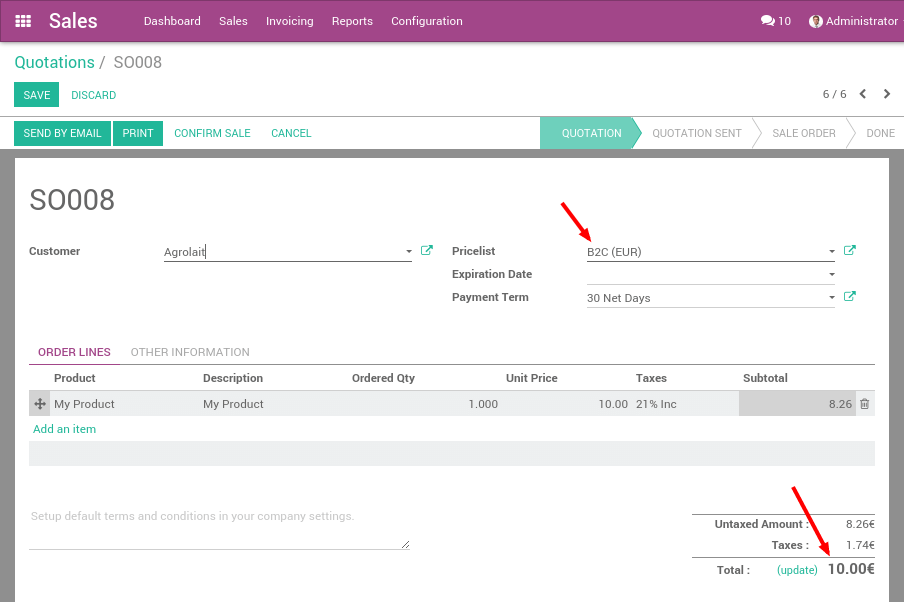 Dit is het verwachte gedrag van een klant voor uw winkel.
Vermijd het wijzigen van elk verkooporder¶
If you negotiate a contract with a customer, whether you negotiate tax included or tax excluded, you can set the pricelist and the fiscal position on the customer form so that it will be applied automatically at every sale of this customer.
De prijslijst is onder het Verkopen & Inkopen tabblad van het klantenformulier en de fiscale positie is in het boekhoud tabblad.
Merk op dat dit gevoelig is voor fouten: als u een fiscale positie instelt met belastingen inbegrepen in de prijzen maar u een prijslijst gebruikt waarin dit niet is inbegrepen krijgt u mogelijk foutieve berekende prijzen. Dat is waarom we meestal bedrijven aanbevelen om met slechts één prijsreferentie te werken.
Edit on GitHub