Hoe de correcte bevoorrading strategie te kiezen¶
Minimale voorraadregels en Maak op Order hebben soortgelijke gevolgen maar verschillende regels. Ze moeten worden gebruikt, afhankelijk van uw productie- en levering- strategieën.
Minimale stockregel¶
Minimum voorraadregels worden gebruikt om ervoor te zorgen dat u altijd het minimale aantal producten op voorraad heeft om uw producten te kunnen vervaardigen en / of te beantwoorden aan uw klantenbehoeften. Wanneer het voorraadniveau van een product het minimum bereikt, zal het systeem automatisch een inkooporder genereren met de hoeveelheid die nodig is om het maximale voorraadniveau te bereiken.
Maak op order¶
Met de functie Maak op Order wordt een aankooporder geactiveerd dat gelijk is aan het aantal bestelde producten. Het systeem zal de huidige voorraad ** niet ** controleren. Dit betekent dat een concept aankooporder wordt gegenereerd, ongeacht de beschikbare hoeveelheid.
Minimale stockregels¶
De Minimum voorraad regels configuratie is beschikbaar door de Voorraad module. In het Voorraadbeheer menu selecteer "Aanvulopdracht regels" in het drop down menu. Druk daar op "Aanmaken" om minimum en maximum stock waarden in te geven voor een bepaald product.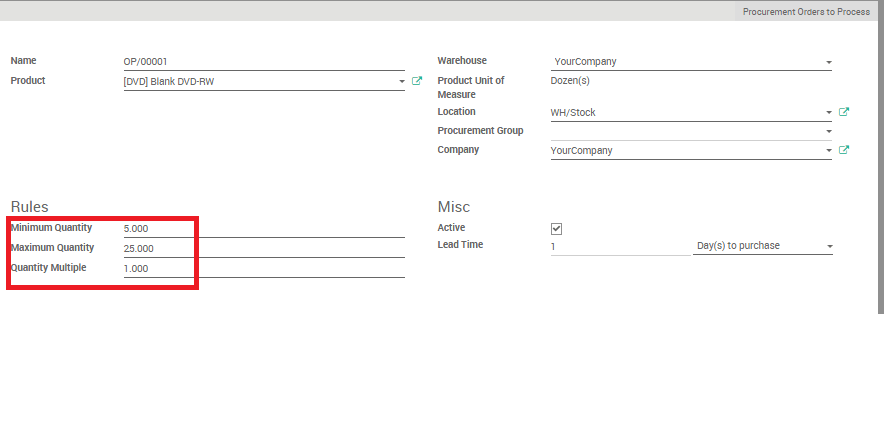 Notitie
Toon tooltips voor de velden minimale hoeveelheid, maximale hoeveelheid en meerdere hoeveelheden
Klik vervolgens op uw product om het gerelateerde productformulier en het "Voorraad submenu" te zien, vergeet geen leverancier aan te duiden.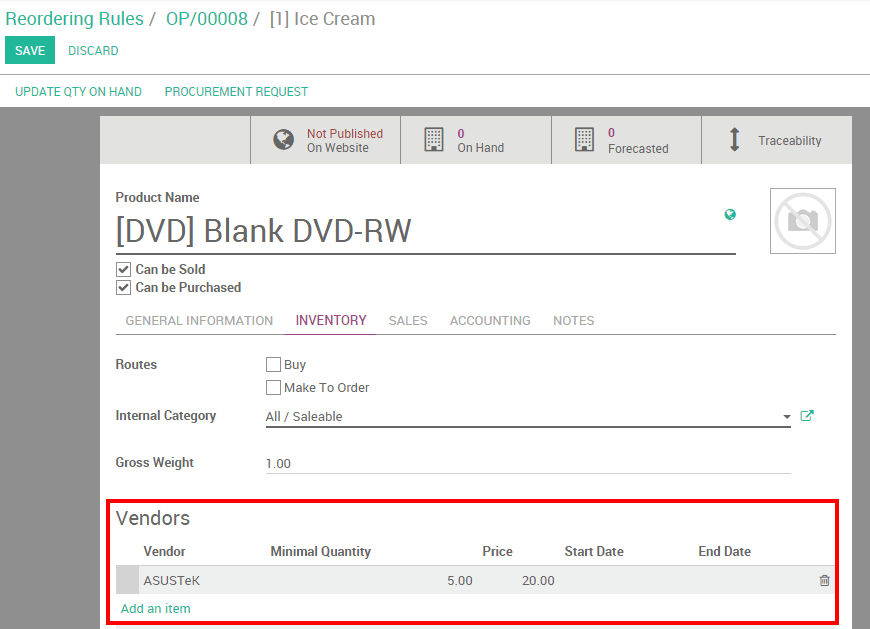 Tip
Vergeet niet het juiste soort product te selecteren. Een verbruik product kan niet gestockeerd worden en wordt dus niet gebruikt in de stock berekening.
Maak op order¶
The Make to Order configuration is available on your product form through your

(or any other module where products are available).

Klik in het product scherm onder Inventaris op "Maak op Order".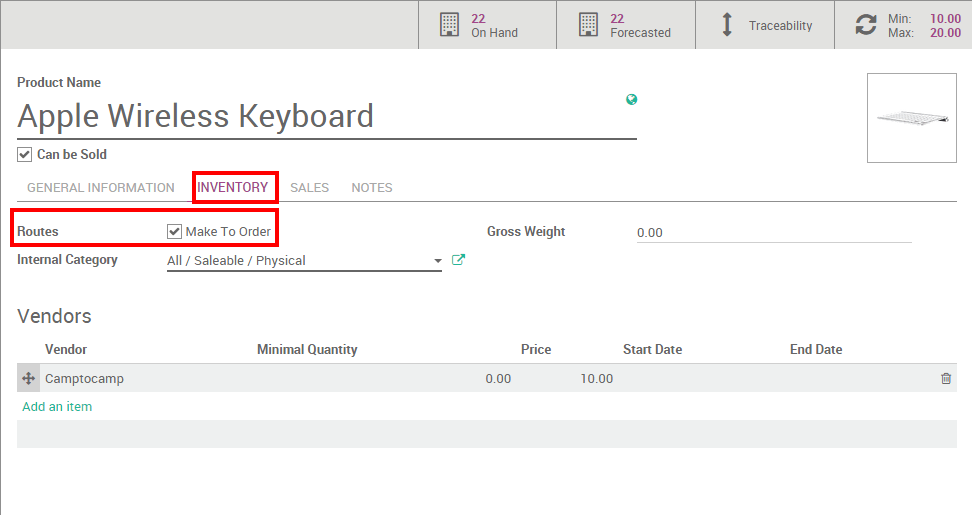 Kies tussen de twee opties¶
De keuze tussen de twee opties is dus afhankelijk van uw voorraadstrategie. Als u de voorkeur geeft aan een buffer en steeds een minimum aantal op voorraad wenst, moet de minimumvoorraadregel worden gebruikt. Als u uw voorraden alleen wenst aan te vullen als uw verkoop is bevestigd, is het beter om de Maak op order route te gebruiken.
Edit on GitHub