Factuurtijd besteed aan tickets (Prepaid Support Services)¶
De mogelijkheid hebben om met prepaid-ondersteuningsservices te werken, wat betekent dat een verkooporder en een bijbehorende factuur worden uitgegeven en, zodra de service is voltooid, u de bestede tijd kunt aftrekken. Odoo laat het gebeuren omdat de applicaties volledig geïntegreerd zijn, wat resulteert in snellere reacties op uw klantbehoeften.
Stap 1: Stel een helpdeskteam in¶
Ga naar Timesheet op Ticket en Time Reinvoicing.
, maak of bewerk een bestaand team, en activeer
Selecteer of maak een project aan onder Timesheet op Ticket. De geselecteerde/gecreëerde is degene waarop de werknemersrooster standaard is ingeschakeld. Het kan echter uiteindelijk op elk ticket worden gewijzigd.

Stap 2: Stel een dienst in¶
Ga naar Maateenheden in om optioneel uren (bijvoorbeeld) te kunnen kiezen als maateenheid van uw dienst.
en schakel
Ga dan naar Producttype in als Service.
, maak of bewerk een bestaande en stel het
Selecteer nu het facturatiebeheer dat u wilt hebben op het tabblad Verkoop. We raden de volgende configuratie aan: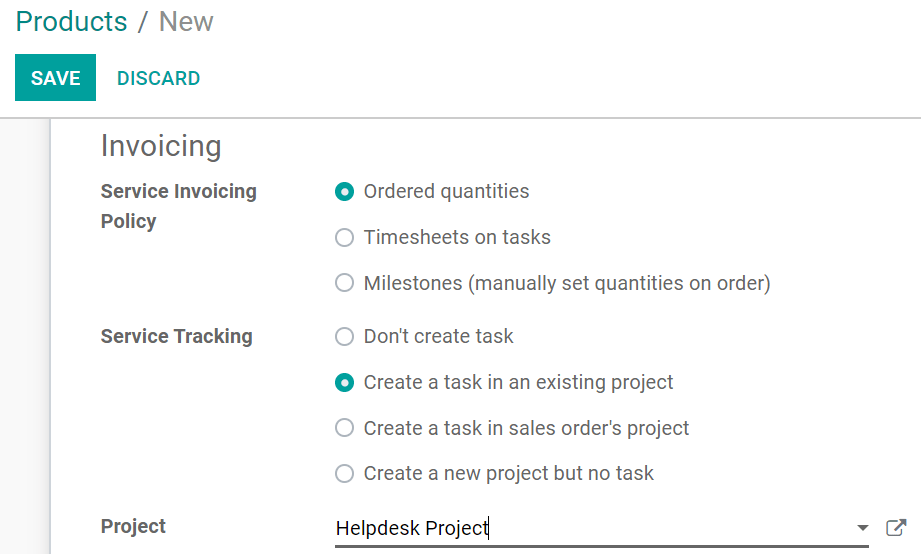 Deze configuratie zorgt ervoor dat de klant wordt gefactureerd op basis van het aantal uren dat is voorspeld in de verkooporder, wat betekent dat er geen rekening wordt gehouden met minder of extra uren. Het zorgt er ook voor dat elke keer dat een verkooporder wordt bevestigd, er een nieuwe taak wordt aangemaakt onder het juiste project, waardoor het proces wordt geautomatiseerd.
Tip
We raden aan om een specifiek project op te zetten, zoals voor dit stroomvoorbeeld is gedaan. Het belangrijkste om te onthouden is dat het verkooporderitem moet worden ingesteld op het bijbehorende project of de bijbehorende taak, om de tijd die aan een ticket is besteed, opnieuw te factureren.
Een factuur vooruitzien en tijd opnemen¶
Stap 1: Plaats een bestelling¶
Ga naar Bevestig de bestelling.

en maak er een aan voor het helpdesk-serviceproduct dat u eerder hebt ingesteld, met de klant die het ticket moet openen. Stel het aantal uren in dat nodig is om de klant te helpen en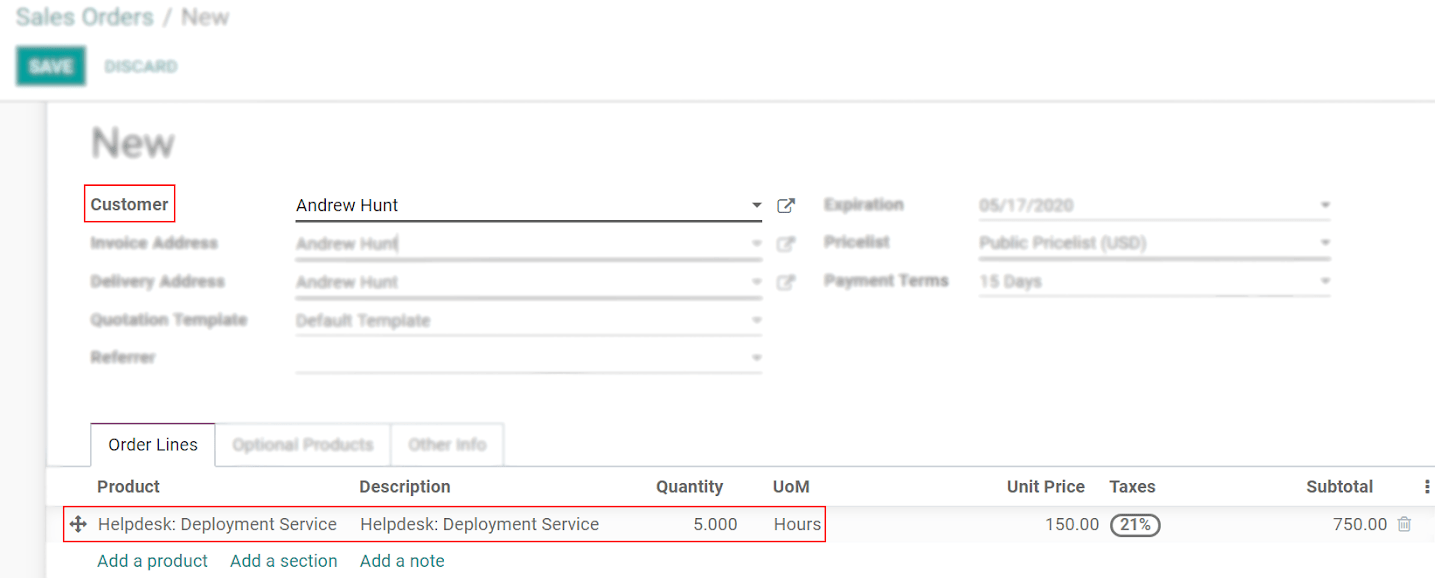 Stap 2: Factureer de klant¶
Selecteer in Verkoop de respectieve verkooporder om Factuur aan te maken.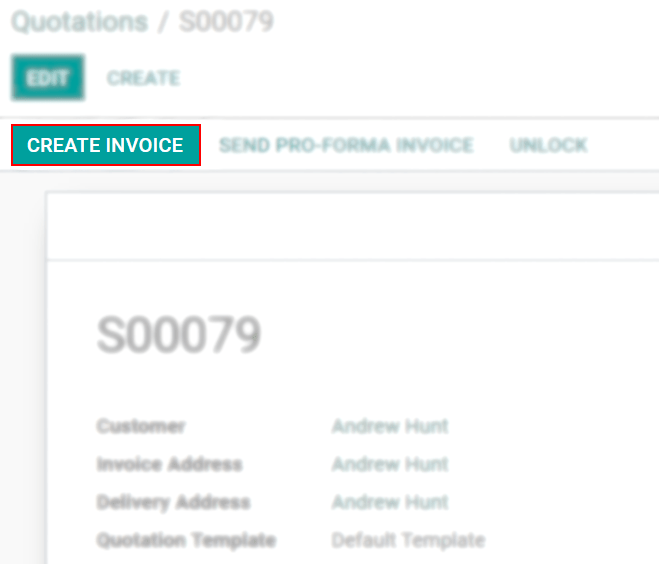 Stap 3: Koppel de taak aan het ticket¶
Maak of bewerk nu in Helpdesk het betreffende ticket en koppel het aan de taak die is aangemaakt door de bevestiging van de verkooporder.

Stap 4: Noteer de bestede tijd¶
Noteer nog steeds op het betreffende helpdeskticket de gepresteerde uren onder het tabblad Timesheets.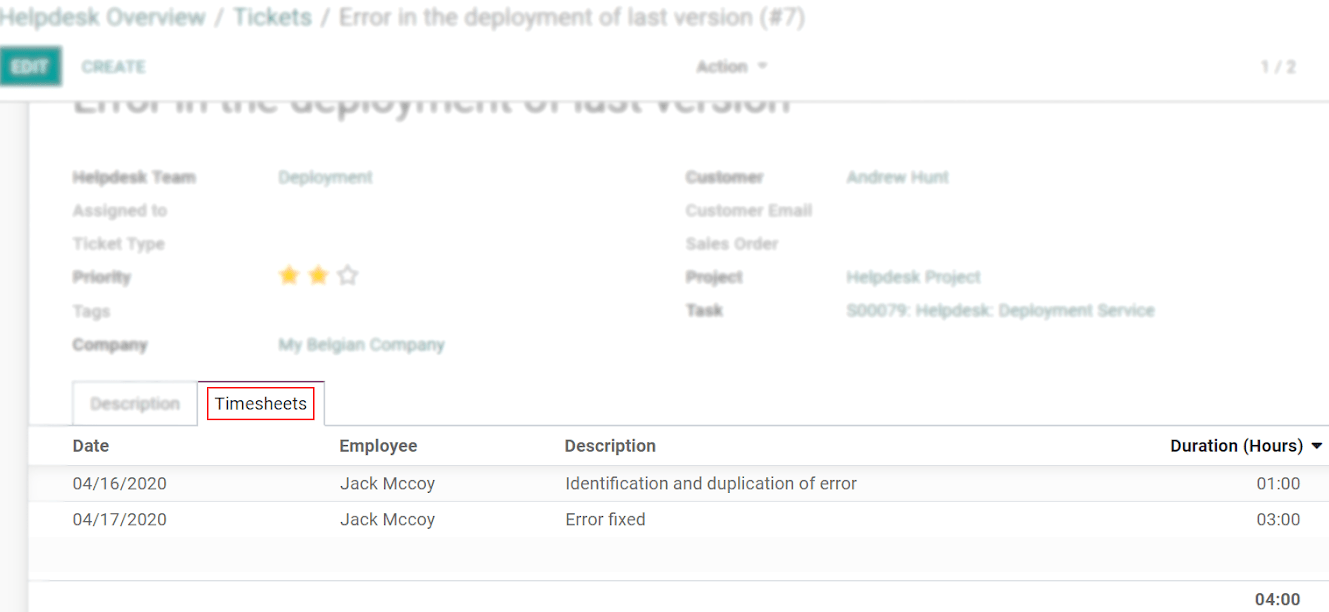 Houd er rekening mee dat de uren die op het ticketformulier zijn geregistreerd, worden weergegeven in de kolom Geleverd in de verkooporder.

Tip
De op het ticket geregistreerde uren worden automatisch weergegeven in Timesheets en op de toegewezen taak.
Zie ook
/applicaties/inventaris_and_mrp/inventaris/beheer/producten/uom
Edit on GitHub