Verbind een IoT box aan uw databank¶
Installeer de Internet of Things (IoT) App in uw Odoo Databank.

Ga naar de IoT App en klik op Connecteer met de IoT Boxes pagina.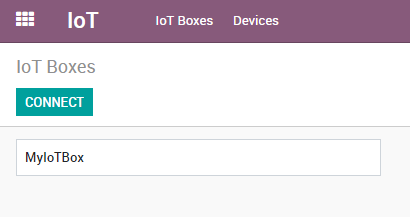 Volg de stappen om uw IoT Box te connecteren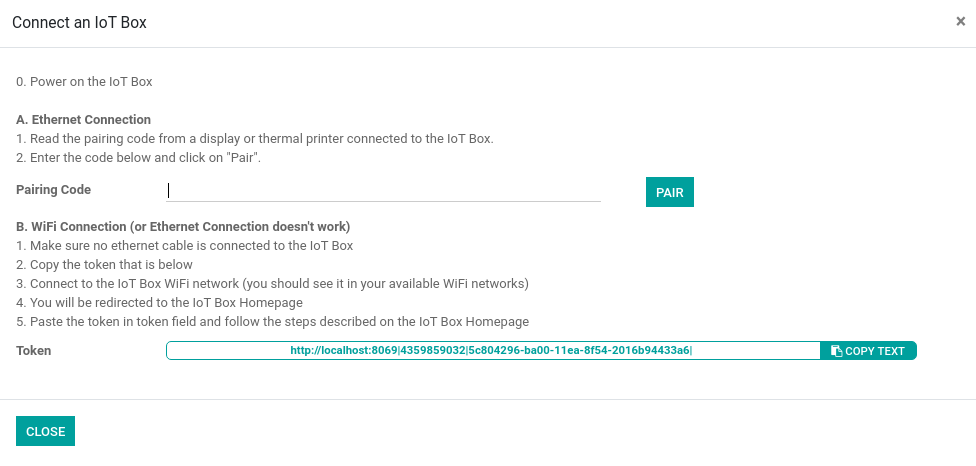 Ethernet Verbinding¶
Connecteer aan de IoT Box alle apparaten die moeten worden verbonden met kabels (ethernet, usb-apparaten, enz.).

Schakel de IoT box in.

Read the Pairing Code from a screen or a receipt printer connected to the IoT Box.

Input the Pairing Code and click on the Pair button.
Notitie
Recent changes in modern web browsers forced us to modify the connection wizard. If your screen is different from the screenshots, make sure that the iot_pairing module is installed.
WiFi Verbinding¶
Schakel de IoT box in.

Kopieer de token

Maak verbinding met het IoT Box WiFi-netwerk (zorg ervoor dat er geen ethernetkabel op uw computer is aangesloten).

U wordt doorverwezen naar de IoT Box Homepagina (indien dit niet lukt, kan u verbinden met het IP-adres van de box). Geef een naam aan uw IoT-box (niet verplicht) en gebruik het token, klik vervolgens op Volgende.

Tip

Gebruik je Runbot, vergeet dan niet om de -all of -base in het token (bvb. dit token http://375228-saas-11-5-iot-f3f920.runbot16.odoo.com|4957098401 moet worden http://375228-saas-11-5-iot-f3f920-all.runbot16.odoo.com|4957098401).

Kies het WiFi-netwerk waarmee u verbinding wilt maken (voer het wachtwoord in als dit er is) en klik op Verzenden. Wacht een paar seconden voordat u wordt omgeleid naar uw database.
Je zou nu de IoT Box moeten zien.
IoT Box Schema¶
Edit on GitHub