Converteer leads naar prospects¶
Het systeem kan leads genereren in plaats van opportuniteiten, om zo een kwalificatie stap toe te voegen voordat u een * Lead * in een * Opportuniteit* omzet en aan een verkoopmedewerker toewijst. U kunt deze modus activeren via de CRM-instellingen.
U kan deze modus activeren via de CRM-instellingen. Dit is standaard van toepassing op al uw verkoopkanalen. Maar u kan dit specificiëren voor ieder kanaal via de configuratie.
Configuratie¶
Ga voor deze functie naar: menuselectie: CRM -> Configuratie -> Instellingen en activeer de * Leads * functie.

U heeft nu een nieuw submenu * Leads * onder * Pijplijn * waar leads zullen toegevoegd worden.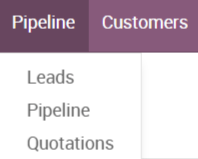 Converteer een lead in een opportuniteit¶
Wanneer u op * Lead * klikt, hebt u de mogelijkheid om deze om te zetten in een opportuniteit en te beslissen of deze nog steeds moet worden toegewezen aan hetzelfde kanaal / dezelfde persoon en of u een nieuwe klant moet maken.
Als u al een opportuniteit heeft met die klant, biedt Odoo u automatisch de mogelijkheid om ze samen te smelten. Op dezelfde manier biedt Odoo u automatisch een link naar een bestaande klant als die klant al bestaat.
Prospects samenvoegen¶
Odoo will also automatically propose to merge opportunities if they have the same email address. When merging opportunities, Odoo merges the information into the opportunity which was created first, giving priority to the information present on the first opportunity.
No information is lost: data from the other opportunity is logged in the chatter and the information fields for easy access.
Would you find a duplicate yourself, …you can also merge opportunities or leads even if the system doesn't propose it.
Here's how, from the list view. Select the opportunities or leads you want to merge and the action button will appear. Then, you can select merge.
Notitie
It is also possible to merge more than 2 opportunities or leads.
Edit on GitHub