Zet uw barcode scanner op¶
Aan de slag met het scannen van barcodes in Odoo is vrij eenvoudig. Toch is een goede gebruikerservaring afhankelijk van een geschikte hardware-installatie. Deze handleiding helpt u bij het kiezen en configureren van de barcodescanner.
Vind de barcode scanner die voldoet aan uw noden¶
Het 3 aanbevolen type barcodescanners om te werken met de Odoo ** voorraad ** en ** barcodescanning ** apps zijn de ** USB-scanner **, ** de bluetooth-scanner ** en de ** mobiele-computer scanner ** .
Als u producten scant op een computerlocatie, is de ** USB-scanner ** de juiste keuze. Sluit hem gewoon op de computer aan om te beginnen met scannen. Zorg er voor dat de scanner compatibel is met uw toetsenbordindeling of zo kan worden geconfigureerd.

The bluetooth scanner can be paired with a smartphone or a tablet and is a good choice if you want to be mobile but don't need a big investment. An approach is to log in Odoo on you smartphone, pair the bluetooth scanner with the smartphone and work in the warehouse with the possibility to check your smartphone from time to time and use the software 'manually'.

For heavy use, the mobile computer scanner is the handiest solution. It consists of a small computer with a built-in barcode scanner. This one can turn out to be a very productive solution, however you need to make sure that is is capable of running Odoo smoothly. The most recent models using Android + Google Chrome or Windows + Internet Explorer Mobile should do the job. However, due to the variety of models and configurations on the market, it is essential to test it first.
Configureer uw barcode scanner¶
Toetsenbord layout¶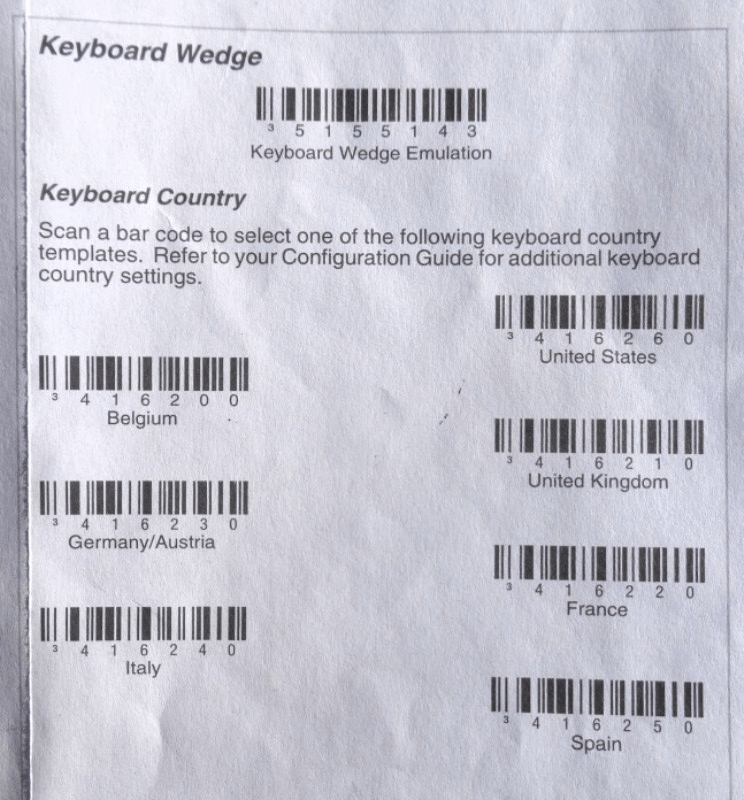 U barcode scanner moet geconfigureerd worden om dezelfde toetsenbord lay-out te gebruiken als uw besturingssysteem. Anders zal uw scanner karakters niet correct vertalen (een 'A' vervangen met een 'Q' bijvoorbeeld). De meeste scanners worden geconfigureerd door de correcte streepjescode uit de gebruikshandleiding te scannen.
Automatisch harde return¶
Standaard heeft Odoo een vertraging van 50 milliseconden tussen elke succesvolle scan (het helpt dubbele scans tegen te gaan die per ongeluk gebeuren). Als u deze vertraging wilt onderdrukken kan u uw scanner configureren om een harde return toe te voegen aan het einde van de barcode. Dit is vaak de standaard configuratie en kan expliciet worden toegepast door een specifieke barcode te scannen die u kan vinden in uw handleiding ('CR suffix AAN', 'Voeg enter toe na suffix', enz.)
Edit on GitHub