Включення витрат у рахунки клієнтів¶
It often happens that your employees have to spend their personal money while working on a project for your client. Let's take the example of a consultant paying for a hotel to work on the site of your client. As a company, you would like to be able to invoice that expense to your client.
Налаштування витрат¶
Для відстеження витрат та виставлення по ним рахунків-фактур вам знадобиться модуль витрат. Перейдіть до

, щоби встановити його.

Ви також повинні активізувати функцію аналітичних рахунків, щоби пов'язати витрати із замовленням на продаж. Аби це зробити, перейдіть до розділу Аналітичний бухоблік.

та активуйте
Додайте витрати до замовлення на продаж¶
З додатка витрат ви або ваш консультант можете створити нові витрати, наприклад, готель на перший тиждень роботи з вашим клієнтом.
Потім ви можете ввести відповідний опис і вибрати існуючий товар або створити новий прямо там.

Тут ми створюємо товар Готель: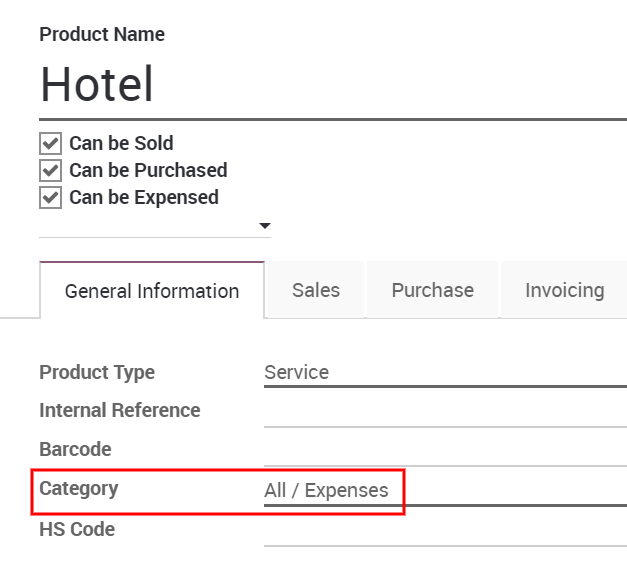 Під вкладкою виставлення рахунків виберіть Доставлені кількості або За вартістю або Ціна продажу, якщо ви хочете нарахувати вартість своїх витрат або раніше узгоджену ціну продажу.
Щоби змінити або створити більше товарів, перейдіть на сторінку

.

Поверніться на витрати, додайте оригінальне замовлення на продаж у витратах для відправлення.
Потім він може бути переданий менеджеру, його можна затвердити та остаточно розмістити.



Він буде у замовленні на продаж і готовий до виставлення рахунку.
Edit on GitHub