Commands and Canned Responses¶
Using canned responses can help you save time and have a previous, well-thought response, to some of your most common questions and comments.
Usar comandos¶
Commands are shortcuts that do specific actions within the chat window:
/help: shows a help message.

/helpdesk: creates a helpdesk ticket.

/helpdesk_search: searches for a helpdesk ticket.

/history: shows the last 15 visited pages.

/lead: creates a new lead.

/leave: leaves the channel.
Importante
- For helpdesk tickets: make sure the application is installed on your database and the option Live Chat under is enabled.
- For leads: the CRM application must be installed on your database.
To access the ticket or lead created from the chat, click on the shortcut link.
Truco
Helpdesk tickets created from the chat automatically add the conversation as a description of the ticket. The same goes for the creation of a lead.
Enviar respuestas guardadas¶
Canned responses allow you to have a full piece of text being placed when you type a shortcut word. To create them, go to
.
To use them during a conversation, simply type : followed by the shortcut word you created.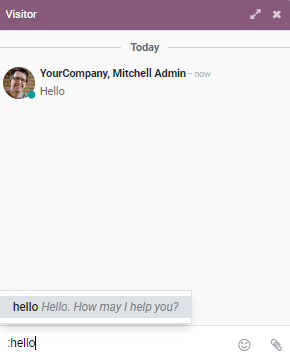 Edit on GitHub