Cómo administrar pedidos pagados con adquirentes de pagos¶
Odoo confirma los pedidos automáticamente tan pronto como un adquirente de pagos autoriza el pago. Esto desencadena la entrega. Si factura en función de las cantidades solicitadas, también se le solicita que facture el pedido.
¿Cuál es el estado del pago?¶
En cualquier momento, el vendedor puede verificar el estado de la transacción de la orden.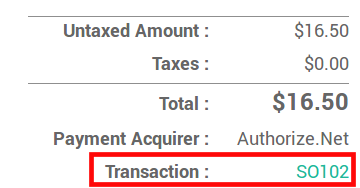 Borrador: la transacción se está procesando.

Pendiente: el adquirente de pagos mantiene la transacción en espera y usted debe autorizarla desde la interfaz del adquirente.

Autorizado: el pago ha sido autorizado pero aún no capturado. En Odoo, el pedido ya está confirmado. Una vez realizada la entrega, puede capturar la cantidad desde la interfaz del adquirente (o desde Odoo si usa Authorize.net).

Hecho: el pago fue autorizado y recibido. La orden ha sido confirmada.

Error: an error has occurred during the transaction. The customer needs to retry the payment. The order is still in draft.

Cancelado: cuando el cliente cancela el pago en el formulario de adquirente de pago. Es devuelto a Odoo para modificar la orden.
Nota
Se proporcionan mensajes específicos a sus clientes para cada estado de pago, cuando se les redirige a Odoo después de la transacción. Para editar dichos mensajes, vaya a la pestaña Mensajes del método de pago.
Validar automáticamente las facturas en el pedido¶
Cuando se confirma el pedido, también puede hacer que se emita y pague una factura automáticamente. Esto totalmente automatizado hecho para empresas que facturan pedidos directamente.
Nota
If you choose this mode you are requested to select a payment journal in order to record payments in your books. This payment is automatically reconcilied with the invoice, marking it as paid. Select your bank account if you get paid immediately on your bank account. If you don't you can create a specific journal for the payment acquirer (type = Bank). That way, you can track online payments in an intermediary account of your books until you get paid into your bank account (see Payment Acquirers (Credit Cards, Online Payment)).
Recibe el pago después de la entrega¶
Con este modo, el pedido se confirma pero el monto se mantiene en espera. Una vez procesada la entrega, puede capturar el pago de Odoo. Este modo solo está disponible con Authorize.net.

Para capturar el pago, abra la transacción del pedido. Luego haga clic en Capturar transacción.

Con otros adquirentes de pagos, puede administrar la captura en sus propias interfaces, no desde Odoo.
Edit on GitHub