Set-up Cash Control in Point of Sale¶
Cash control allows you to check the amount of the cashbox at the opening and closing. You can thus make sure no error has been made and that no cash is missing.
Activar el control de efectivo¶
Para activar la función *Control de efectivo *, vaya a: menuselection: Punto de Ventas -> Configuración -> Punto de Venta y seleccione su interfaz PdV.
En la categoría de pagos, encontrará la configuración de control de efectivo.

En este ejemplo, pueden ver que quiero tener 275 $ en varias denominaciones en la apertura y el cierre.
Al hacer clic en Valores de apertura / cierre, podrá crear esos valores.

Iniciar una sesion¶
Ahora tiene un nuevo botón agregado cuando abre una sesión, Establecer saldo inicial


Por defecto, utilizará los valores que agregó anteriormente, pero siempre puede modificarlo.
Cerrar una sesion¶
Cuando desee cerrar su sesión, ahora también tiene un botón Establecer saldo final.
Luego puede ver el balance teórico, el balance de cierre real (lo que acaba de contar) y la diferencia entre los dos.

Si usa la opción Sacar Dinero para realizar sus transacciones para esta sesión, ahora tiene una diferencia de suma cero y el mismo saldo de cierre que su saldo de apertura. Tu caja está lista para la próxima sesión.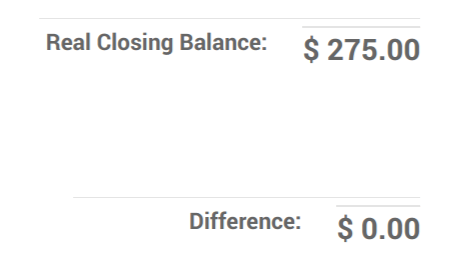 Edit on GitHub