Configuración del Módulo de Datos Fiscales con el Punto de Venta de Odoo¶
Introducción¶
El gobierno Belga requiere que ciertos negocios usen un dispoistivo certificado por el gobierno llamado Módulo de Información Físcal (también conocido como blackbox). Este dispositivo trabaja junto con la aplicación de TPV y registra ciertas transacciones. Junto con eso, la aplicación TPV debe ser certificada por el gobierno y debe adherirse a estríctos estándares especificados por ellos. Odoo 9 (Enterprise Edition) es una aplicación certificada. Más información referente al Módulo de Información Físcal puede ser encontrara en el sitio web oficial.
El hardware requerido¶
El gobierno certifica el Módulo de Datos Fiscales <http://www.systemedecaisseenregistreuse.be/systemes-certifies#FDM%20certifiés>`_ por el Punto de Venta, todos ellos deben trabajar, pero se recomienda el Cleancash SC-B, que también se necesitará:

A registered IoT Box per POS configuration
IoT Box¶
In order to use a Fiscal Data Module, you will need a registered IoT Box. These IoT Boxes are similar to the regular IoT Boxes we sell, but they are registered with the Belgian government. This is required by law. Attempting to use a Fiscal Data Module on a non-registered IoT Box will not work. You can verify that the Fiscal Data Module is recognized by the IoT Box by going to the Hardware status page via the IoT Box homepage.

Odoo¶
An Odoo POS app can be given certified POS capabilities by installing the Belgian Registered Cash Register app (technical name: pos_blackbox_be). Because of government restrictions imposed on us, this installation cannot be undone. After this, you will have to ensure that each POS configuration has a unique registered IoT Box associated with it ( and ensure Hardware Proxy / IoT Box and the serial number of your IoT Box is set). The first time you open the Point of Sale and attempt to do a transaction, you will be asked to input the PIN that you received with your VAT signing card.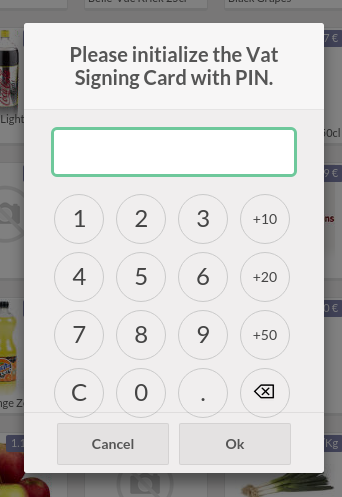 Certificación & Instalación local¶
La certificación otorgada por el gobierno está restringida al úso en el SaaS de odoo.com. El uso del módulo desde el código fuente o una versión modificada no estará certificada. Para usuarios con instalación local, también soportamos el Módulo de Información fiscal en dichas instalaciones. La mayor restricción es que requiere una versión ofuscada del módulo pos_blackbox_be que se provee sobre pedido para clientes Enterprise.
Restricciones¶
Como se mencionó anteriormente, de acuerdo con el certificado del módulo de Punto de Venta deben cumplir las especificaciones del Gobierno descritas. Por lo mismo, el certificado de la Terminal del Punto de Venta de Odoo tiene algunas limitaciones no presentes en el no certificado del Punto de Venta de Odoo.
El reembolso se desactiva

Modificación de precios de las líneas de pedido

Crear/modificar/eliminar órdenes del Punto de Venta

Vender productos sin el impuesto válido

Multiple Odoo POS configurations per IoT Box are not allowed

Using the POS without a connection to the IoT Box (and thus FDM)

Lista negra de módulos: pos_discount, pos_reprint, pos_loyalty
Edit on GitHub