Odoo has expanded tremendously over the years, attracting customers from all corners of the world. Today Odoo has focused on localization for Chile to decrease the barrier entry for  new customers, enabling our software to fit local market rules and conditions.

As the country evolves so does the way of running businesses. Electronic Invoicing has become a requirement for most companies in Chile and according to the SII model, these are the benefits:

    - Online verification of the validity of DTEs.
    - Savings in printing costs, dispatch and storage of tax documents.
    - Reduction of stamping of physical tax documents, saving in time and costs of transfer        and waiting.
    - Elimination of risk of loss of physical tax documents.
    - Invoices can be stored digitally.
    - Improves the speed and reliability of the company's billing process.

Considering all the information that companies need to send and receive from SII in compliance with the fiscal requirements. The integration and consolidation of data along different business processes and departments, is a key feature in systems that companies use.

Chile Localization with Odoo
Odoo makes the necessary customizations for a general purpose to use in a particular country. In this case Chilean companies have faced an accounting evolution which has become a requirement for most of the companies.

Odoo focuses on three main features:

    Base Module
        - Accounting Plan
        - Update of taxes and fiscal positions
        - Types of identification
        - Multiple types of fiscal documents per journal

Electronic Invoicing
        - Direct electronic billing emission with the SII via webservice
        - Cross-reference support
        - Processing supplier invoices, sending acceptance and rejection.
        - Synchronization of exchange rates with the CMF with UF support.

Financial Reports
       - 8- column tax balance
       - Proposal F29

Electronic Invoice Workflow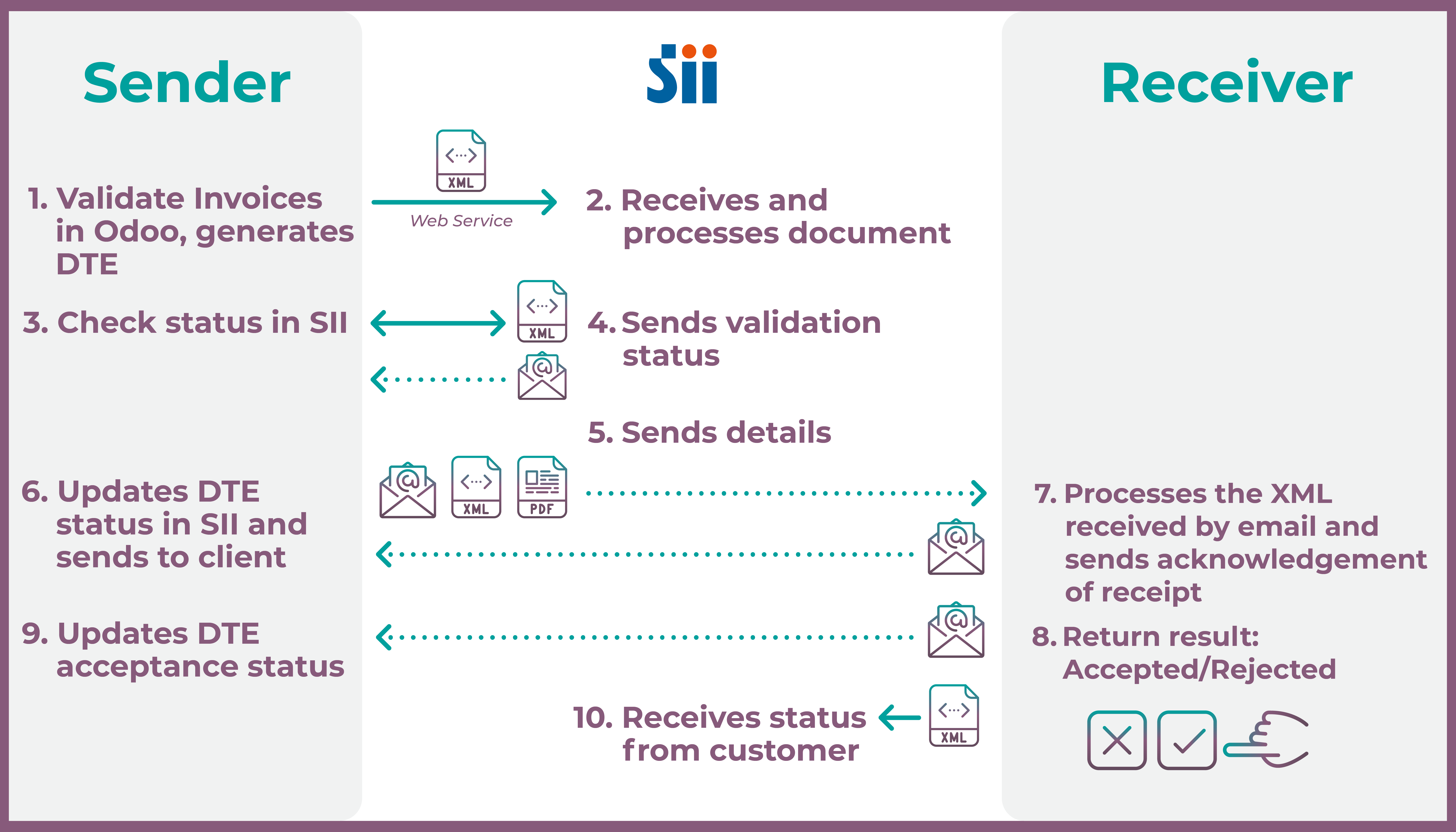 Benefits of Chilean Localization with Odoo
Besides localization helping companies become more adaptable and user-friendly in different countries, using Odoo brings the following benefits to Chilean companies.

        - Compliance with the main fiscal policies and regulations in Chile.
        - Store and preserve Electronic Invoice documents in your database.
        - Track each status from the SII validation and from your customer acceptance.
        - Vendor bills are created automatically based on the received DTE.
        - Claim or Accept your vendors bills from Odoo.
        - Generate  F29 Report and Reporte de 8 Columnas with just a few clicks.
        - Centralize the data required for the SII reports in a single database.

Not only does Odoo facilitate government and law regulations, there are also other benefits that Odoo brings to companies, it helps businesses become paperless, as well as, integrate accounting transactions with different business cycles.

From managing Accounting, Electronic Invoicing, Financial Reports, and so much more -  Odoo is an efficient software that supports businesses run productively and effectively. This is why Odoo has focused on localization within Chile, to solve this complex process for businesses that are eager to grow.