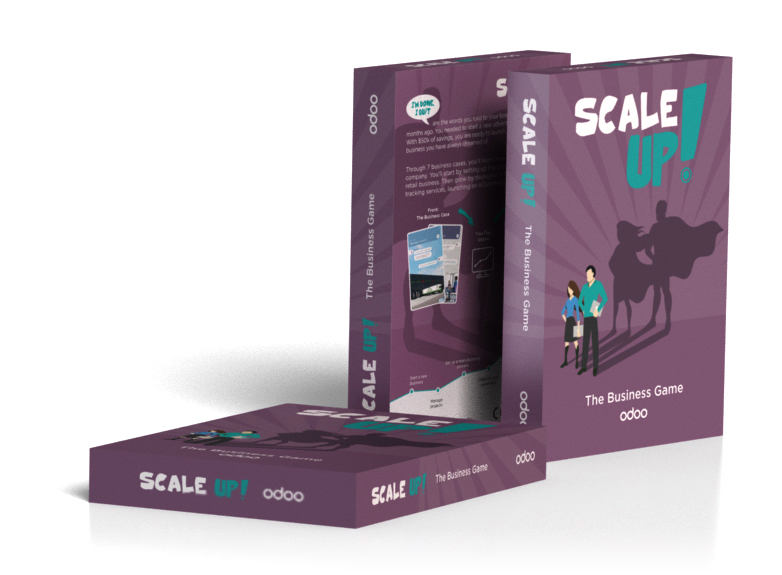 Belajar dan bersenang-senang!
Apakah Anda pernah bermimpi memulai bisnis Anda sendiri? Atau bertanya-tanya apa yang perlu Anda ketahui? Dengan Odoo Scale-Up! Anda akan mempelajari semua itu melalui 7 kasus bisnis yang berbeda.
Anda akan mulai dengan menyiapkan proses bisnis ritel sederhana. Kemudian tumbuh dengan menggunakan lini manufaktur, layanan pelacakan, meluncurkan eCommerce dan banyak lagi!
Dengan game ini Anda akan:
Pelajari bagaimana cara untuk membuat dan mengukur bisnis dari awal
Beralih di antara kartu Anda dan perangkat Anda yang terhubung untuk pengalaman interaktif
Konfigurasikan solusi Anda pada basis data Odoo Online secara gratis
Dapatkan 60 kartu cantik dan mudah-untuk-dipahami
Bermain dengan 7 kasus bisnis berbeda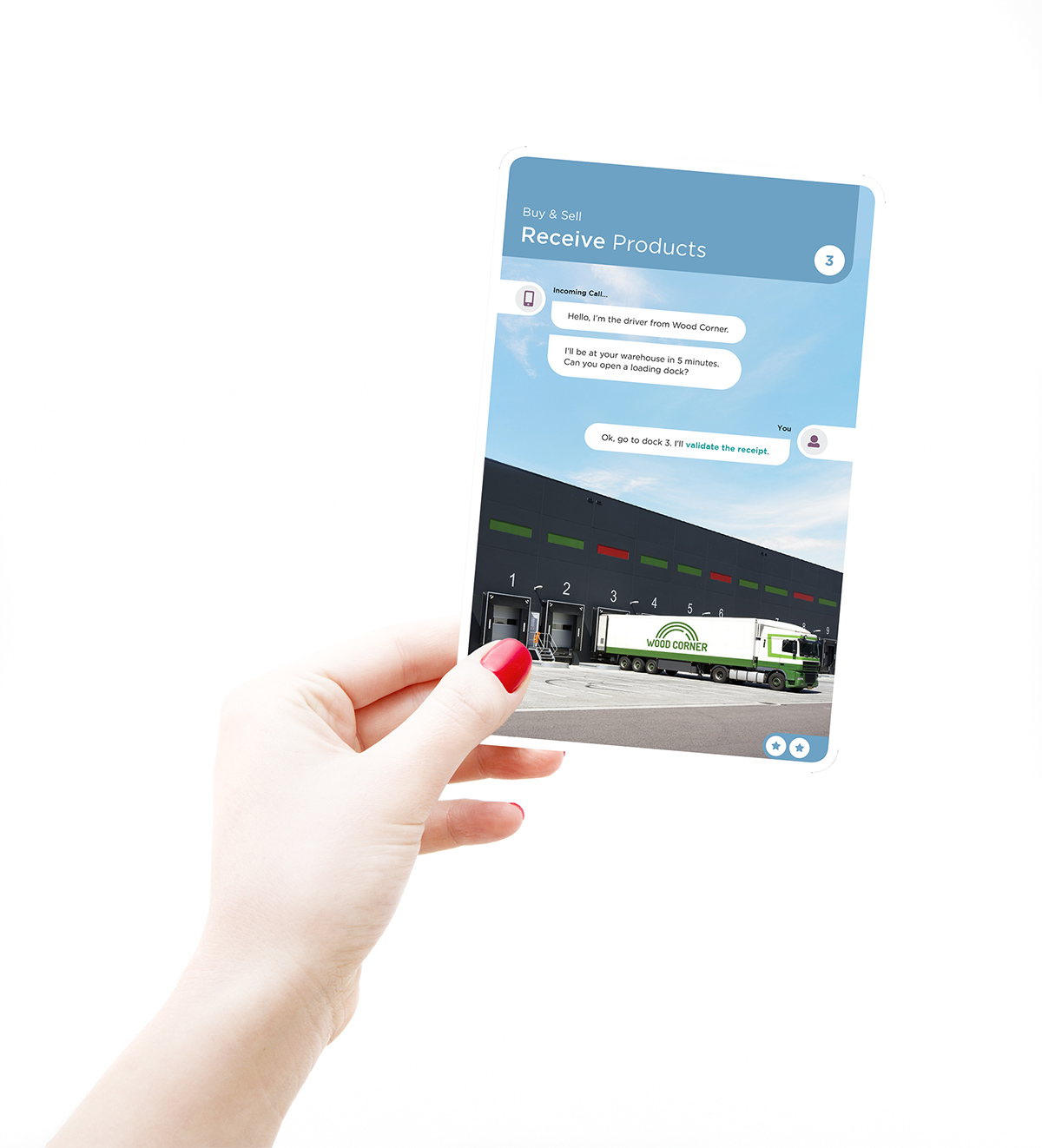 Mudah untuk dimainkan!
Permainan ini memiliki 7 kasus bisnis dari masing-masing 8 hingga 10 kartu.
Mulai dengan permainan "Beli dan Jual" , kemudian lanjut bermain sesuai strategi Anda sendiri.
Untuk setiap kartu, ikuti 3 langkah berikut:
1. Baca kasus bisnis di depan.
Jangan lihat dulu bagian belakangnya!
2. Kerjakan secara online dan ciptakan solusi terbaik Anda.
3. Bandingkan apa yang Anda lakukan dengan
solusi kami di balik kartu.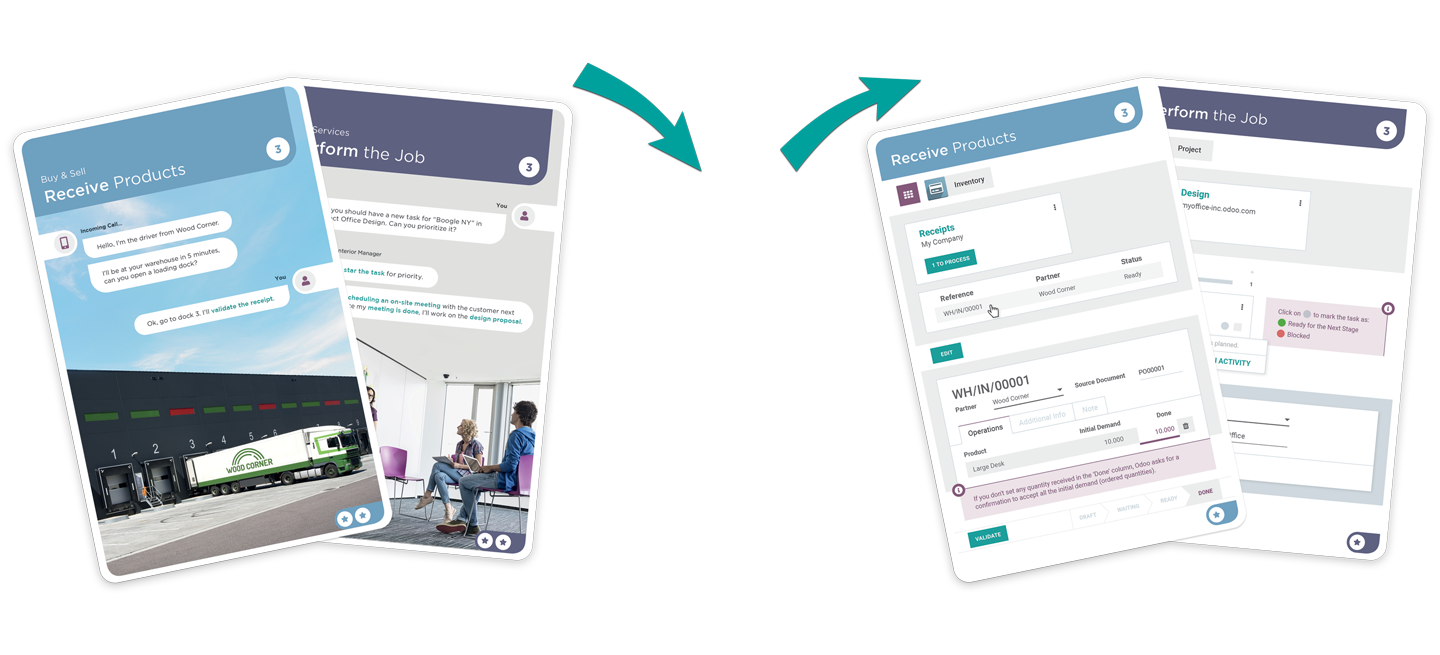 Kami sangat menyukai Odoo dan ingin mengenalkan produk luar biasa ini ke pelanggan! Kami menggunakan Scale-Up untuk mengajarkan mahasiswa tentang pengetahuan ERP entry level, dan mereka belajar sangat cepat serta aktif. Mereka juga mencoba beberapa fungsi sendiri dan interaksinya bagus!
Mitra: Prestige Digital Consulting, Taiwan
I'm using Scale up game in my classes in Vocational Training: The subject is ERP-CRM. The cases are perfect to explain the day-to-day work in a Company and how to register every movement in the system. My students are learning a lot about how to act in the "real world". The cases are great, and you have how to resolve it too in the same card, so it's quite easy to follow! Much recommended!!
Paz Rueda
School: Monlau. Barcelona, Spain
Course: M10. ERP
I introduced Odoo to my supply chain students for the first time in Fall, 2019 to introduce the concepts of ERP. The interactive nature of the Scale Up game was the perfect tool to teach these concepts. Traditionally, students have read about ERP solutions, but they never really have an opportunity to implement an ERP software. Scale Up gave my students first-hand knowledge of how comprehensive an ERP solution can be. The Odoo student experience opened up many new learning opportunities for the students as well. Students learned how to create a web site, set up an e-commerce site, explore inventory levels, manager customer accounts, and learn a new project management software. At the end of the course, my students used the knowledge gained from Odoo to create a demonstration ERP solution for a local business and then presented the solution to the business. Both the students and the local client benefited greatly from the Scale Up approach!
Dr. William Ritchie, Ph.D.
School: James Madison University, USA
Course: Management
The game was great!
Mariana Escobar
School: Universidad del Carribe, Mexico
Course: Taller de sistemas empresariales | Sistemas de planificación de Recursos Empresariales ERP
Through practical sheets, the "Odoo Scale Up!" business game allows students to discover step by step the functionalities of an integrated management software package (ERP). It's an interesting educational tool because it closely resembles reality!
Olivier Besançon
School: Haute-École de la Province de Namur (HEPN), Belgium
Course: Technologies de l'information et de la communication (TIC) - Organisation de l'entreprise - Comptabilité générale, analytique et budgétaire
The result is very fun and educational.
Javier Amaya
School: ITB Institut Tecnòlogic de Barcelona
Course: Vocational Training called Cross Platform Development. "DAM Desenvolupament d'Aplicacions Multiplataforma"
Previous
Next