Bring learning and
the real business world closer together
Combine your academic training with Odoo's Education Program,
immersing your students in the everyday reality of business while having fun.
Check-out our tools for you!
More resources for you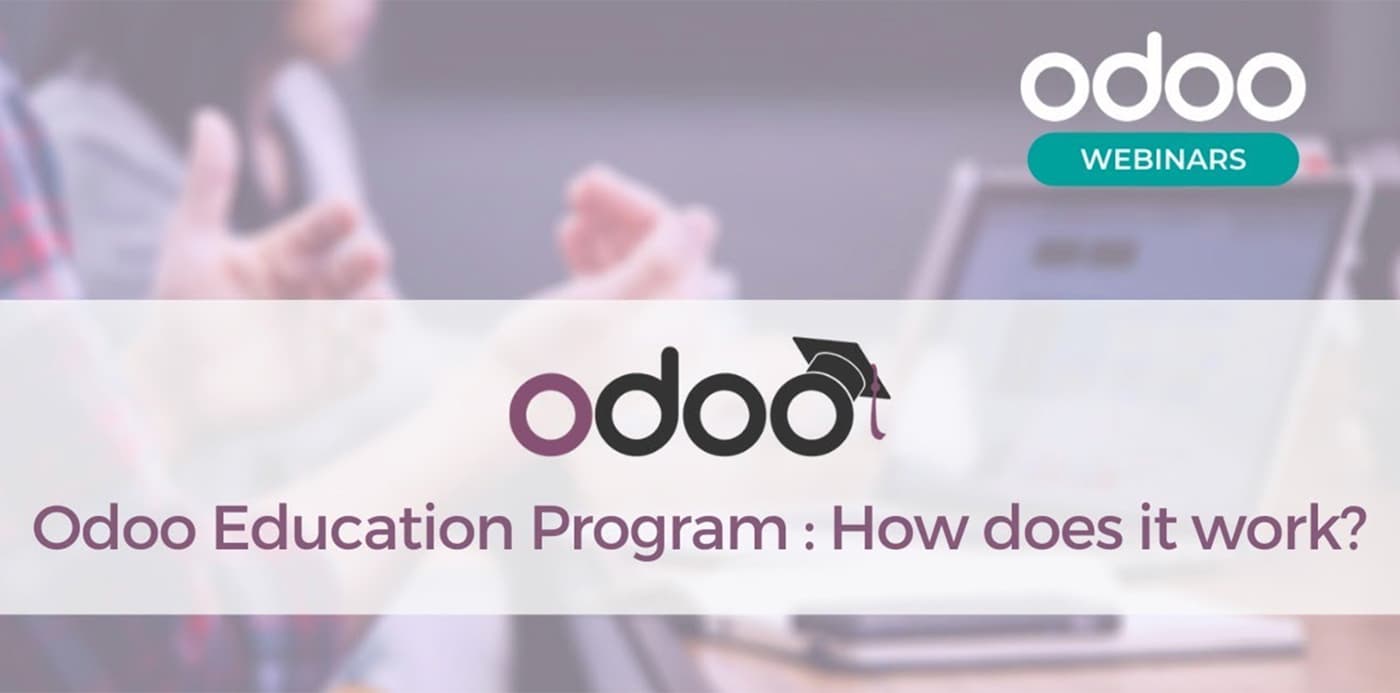 I've chosen Odoo because it's a simple, flexible and complete tool. The Education Program is very useful because we can use Odoo in the SaaS version and any browser can be used to work on the software.
Tahar Touaibia
School: ISEM - Institut Supérieur d'Economie et de Management (France)
Course: Enterprise Resource Planning Course, Master 2
For the last 10 years, I have been showing ERP implementations of Inventory Management. This semester with the help of Odoo online, we had the quickest setup with minimal problems. I can focus more on the business process rather than on IT issues.
Daniel Brown
School: ITESM Campus Leon (Mexico)
Course: Supply & Inventory anagement
For the coverage of Enterprise Applications and ERP Software we previously had to resort to screen shots and marketing videos from some top ERP vendors. Onsite installation, licensing costs and the mandatory maintenance subscription that go with it were totally beyond our reach.
In offering their SaaS solution to academic communities free of charge, the folks at Odoo have taken a bold step. In a nutshell, the application whether it's on the cloud or the more conventional client‐server setting, looks great and performs great. The architecture as we all know is open, highly modular and covers the core as well as a significant number of supporting business processes.
Arsalan Waheed
School: NED University of Engineering & Technology - Textile Engineering Department (Pakistan)
Course: Supply & Inventory Management
Our school promotes the practical approach for learning. Thanks to Odoo, our students can understand concretely how an ERP works. They realize what this tool can do for business management and why it's increasingly used by SMEs. This is very comprehensive and user-friendly software. Using an ERP is definitely a "plus" when it comes to training our students!
Fabienne Bauduin
School: EPHEC (Belgium)
Course: Accounting Computerized Management
Odoo takes a lot of the stress of running a business off your shoulders, it's easy to use and integrates all major business functions you need. This was my first time working with an ERP system, this will be great to talk about with future employers. Much more interactive way of learning about this topic.
Will
— Student
School: James Madison University, USA
I was pleased to find out about the different functions that Odoo has to offer to a company. Odoo was very user friendly and I am excited to use them in the future.
Ben
— Student
School: James Madison University, USA
I used to think websites such as Wix were the only ways to create a website easily and efficiently, but I would now recommend Odoo over those as it has so much more to offer such as implementing a Search Engine Optimization. Creating products on the website were incredibly easy and customizable.
Renée
— Student
School: James Madison University, USA
After completing the project, I will be able to apply my knowledge and suggest this site. Most students are not aware of this platform and may at first think it complicated. However, once navigating you learn it's very easy to use.
Rebecca
— Student
School: James Madison University, USA
Odoo software is an exceptional educational software that bridges learning experience and real working environment for Unklab Business School student. Furthermore, our affiliation with the Odoo provider enables the students to do an internship at both national/foreign companies affiliated to Odoo. Excellent!!
Elvis R. Sumanti, Academic Leadership
School: UNKLAB Business School, Indonesia
The EUA (Excellence Universitaire Africaine) hosts the CCA master's program issued by the University of Angers. This training program leads to a diploma in public accountancy. In the context of our ERP classes, we chose Odoo for our practical courses. Optesis provided the online courses with Odoo's Business Game Odoo (Scale Up!). Our students realized what this software package could bring to business management and why it is used more and more. Odoo is particularly comprehensive and intuitive. Having provided the Odoo ERP was beneficial to our student's training.
Racine GUENE, Managing Director
School: EUA (Excellence Universitaire Africaine), Senegal
Course: Master's in Accounting, Control & Audit
Prepare students for their future
Bring learning and the real business world closer together.