Education has witnessed dramatic changes over the last decade. Students of all ages are no longer confined to the limitations of a classic brick and mortar classroom. This area now includes education over the Internet or e-learning, which allows them to establish their own pace and goals when it comes to acquiring and sharing knowledge. Nowadays, students and workers no longer train themselves for 'whatever knowledge they might need in the future,' but for 'whatever knowledge they need right now.' 
The world today is experiencing dramatic changes due to the Covid-19 lockdown, making education and sharing knowledge more pressing than ever. Thus, people need the right collaborative tools to keep up to speed. The Odoo eLearning platform is an excellent way to overcome this challenge, allowing schools, universities, and businesses to organize courses online, immediately share high in-demand knowledge, and inspire others. You can set this up in just one afternoon, or maybe two, depending on the amount of free time you have on your hands. After this is set this up, it is just a matter of uploading the right content.
The list of topics that an organization or person can include on the eLearning platform is almost unlimited in terms of content. It merely depends on the type of company and its needs. The content can be delivered in various forms, such as videos, PDF documents, infographics, quizzes, etc. 
So, let's say that there is a person who wants to offer yoga courses online or a company that sells pressure cookers in more than ten countries, such as the Spanish company "Magefesa," that wants to provide content to its employees with an eLearning platform like Odoo's. What sort of things could they offer?  For the yoga teacher, the answer is very straight forward; however, for Magefesa, the list of things can be more colourful:
Software courses for employees. For example, the sales force starts working with Odoo's CRM app and needs some basic training before getting into it. The platform will allow employees to watch videos and related content on practically any device, at various locations, and in different time zones. They will also be able to review this material as many times as needed to learn about the software.
Quizzes to evaluate employee's self-paced training about the CRM software or any other topic, including the issuance of certifications of completion.
 Documentation with crucial information about the industry in each country or consumer behaviour.
Onboarding plans for new employees.
The list is unlimited, depending on the organizations' goals. That said, now it is time to dive into how to set up the best Learning Managing System (LMS) for your e-learning platform by following these steps:
Step 1 — Creating a database for my eLearning site.
The first thing you have to do is create your database. It's easy and will only take a couple of minutes of your time. You have to go to the Odoo.com site and press the free trial button on the top right-hand corner of your screen. It's green; you won't miss it. Select the eLearning app and fill out your contact information. The process is as straight forward and is as easy as registering on any new website or platform. Please note that if you only select the eLearning app, you will get the message saying: "it's free, with unlimited users, forever." Kudos for Odoo!
Then, follow the instructions and wait a few seconds while the database is getting created for you. After that, select one of the Odoo themes available on your screen. Take your time to look around and even preview the theme that seems more appealing to you or serves your business needs. Once you do that, you will receive an email from Odoo to activate your database. If you don't receive an email with activation instructions, click on the "pending activation" button on the top of the screen, and the system will resend it to you. Odoo gives you a time frame of 4 hours before the database expires. 

Step 2 — Configuring my eLearning site. 
Now you can go to the general settings of the system and update the information about your company, which includes address, phone number, logo, etc. Make sure you populate this section correctly because some of the information will be visible on your website. Also, under general settings, you can establish the language of your website or configure the layout of your documents, such as invoices, etc.
Note: If this is your first time using Odoo, you can get to the general settings by clicking on the icon that says "Settings" at the main app dashboard of your database under an icon that has a shape of a gear.
That's all for now in terms of configuration. Let's talk about the process of designing your eLearning platform; I am sure you are eager to start. 




Step 3 — Designing my eLearning site. 
This is part of the process where you can have some fun being creative. If you are familiar with building websites using Odoo, this step will be a piece of cake from a technical point of view. If it is not the case, don't worry, the tool editor is very intuitive. Websites are built by dragging blocks with a basic pre-set design and dropping them into your main page. You have to change the text and add the most appropriate pictures to your site. Work with the 'edit' and 'save' functions to change and keep all your designs. Don't forget to always save your changes! To learn more about designing your website, you can visit the following link: https://www.odoo.com/page/website-builder
It is a good idea to start by creating the home page and the courses page. This is going to be the basic layout of the site. You can add a blog page or any other sections, such as forums, later on. You will be able to do this by going to the configuration menu of the eLearning App.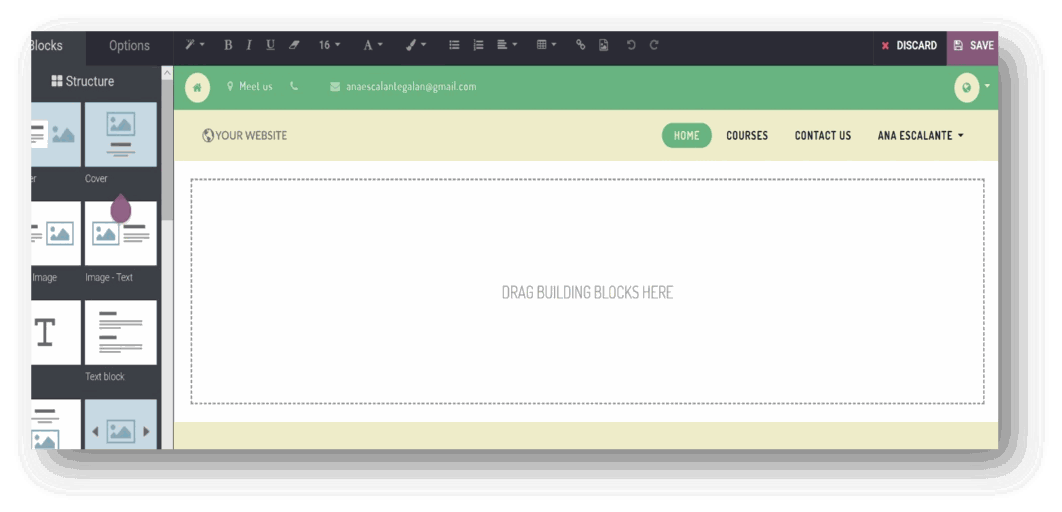 Step 4 — Creating my first eLearning course. 
Now, let's cut to the chase and create the first course. You start by pressing the '+' symbol at the top bar of the website editor, or you can also go to the application's dashboard and click on the eLearning app icon. If you go to the eLearning app, you need to press 'create' to start a new course. Then, you must fill out the information regarding the name of the course, description, etc. or include an image. Now, you must decide who is going to have access rights to the website content: for example, is it going to be public or upon invitation; is it going to be visible for the public or members only. Once you have done this, you can move on to the part where you actually have to start uploading content.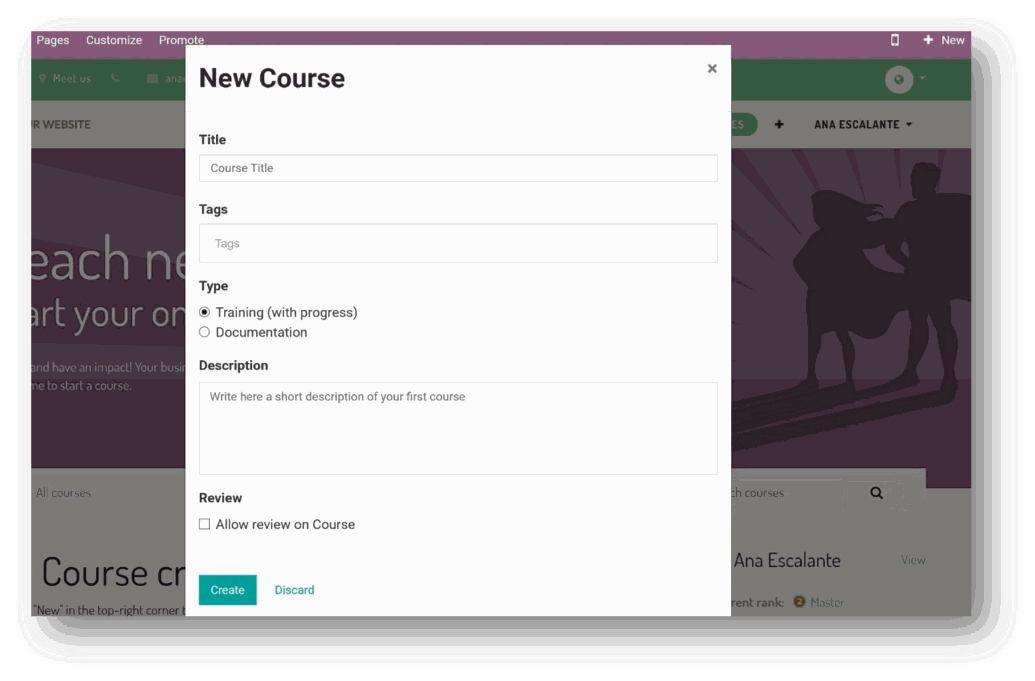 To upload content, click on the link 'add content' and fill up the required information. The system allows you to upload videos (previously uploaded to YouTube), documents, infographics, web pages, or quizzes. You can also decide if you want users to preview the specific content you are creating, even if the platform is private or the courses are for sale. Each course has a tag that allows you to go directly to the web site. This way, you can check the look and feel of what you are about to publish or make sure that no key information is missing. You can go back and forth as many times as you want and fine-tune the content for prospective users.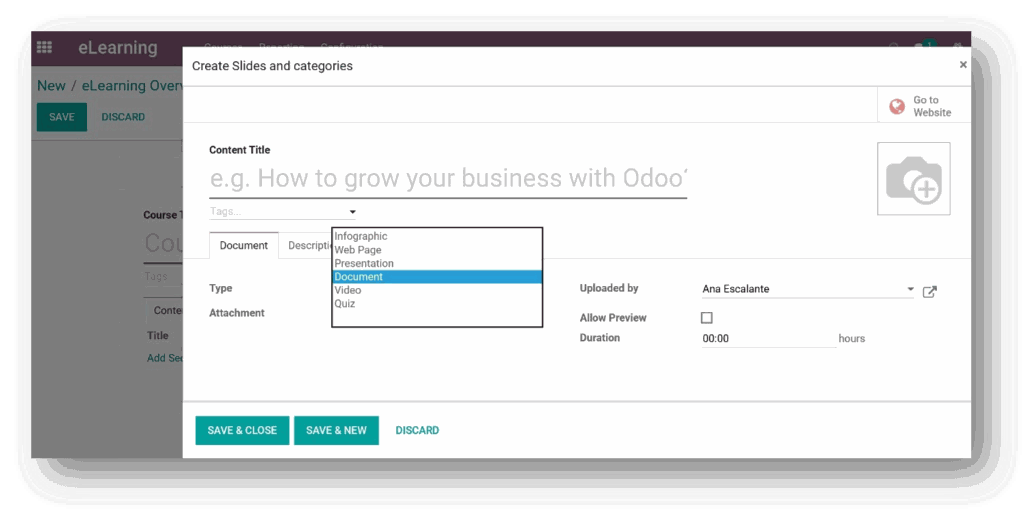 The last crucial piece of information to consider: Under the reporting tab, managers will find everything they need to obtain real-time insights that will allow them to make vital decisions about the content published on the platform. Odoo provides detailed information about all of the activities occurring on the website, such as the number of people visiting each course, content, and reviews or quizzes. 
One last suggestion: remember to install the eCommerce module if you want to put your courses up for sale. You can do it at any time. However, it would be best if you considered that the price of the solution will change. Also, the configuration of the eCommerce module is a little tricky to do on your own. But don't worry about that because Odoo's support team or an Odoo partner can help you with any issues you may encounter while setting up the platform.
No one knows what the business world, or the world itself, will be like after the coronavirus crisis passes over: Will employees mostly continue to work from home? Will social interactions shift forever? There is no certainty, so let's embrace change and prepare for whatever the future holds.