Looking for Services?
Contact a Partner
SafeComs Network Security Consulting Co., Ltd.
SafeComs Network Security Consulting Co., Ltd.
Silver

Partner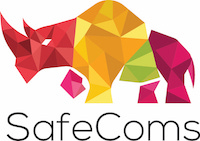 36/31 P.S.Tower, 11th Floor, Sukhumvit 21 Road (Asoke Road) Klongtoey Nua, Wattana, Bangkok 10110
Kamphaeng Phet
Thailand
We have one simple mission:  
• To create innovative solutions and provide peace of mind to our customers. 
• To create a strong partnership committed to the achievement of their business objectives. 
• To cultivate a challenging and responsible work environment and promote personal development.  
SafeComs Network Security Consulting is an IT Security company, an industry leader and provider of topquality IT Security solutions for SMBs, MNCs, and Government Bodies ever since its foundation in 1999.   
1. Outsource your IT support and improve the security of your organization.     
Consulting                                       Solutions                                         Emergency
• IT-Management                            • IT-Infrastructure                            • Data Recovery
• Security Audits                             • Outsourcing                                  • DDOS Attack
• Compliance                                  • Cloud                                              • Infection
                                                       
                                                         • Business Management                • Ransomware/Malware
                                                                                                                    • Forensic Analysis 
2. Grow your business with the best management software in Thailand.     
Take care of every aspect with one software. Our Management Software also features over 300 modules such as:   
• Sales             • Thai Accounting          • Budgeting           • Manufacturing 
• MRP              • Project Management   • Calendar            • Internal Communication
• E-Commerce • Website builder           • Online Payment • Mail Campaigns 
View the full list on our website, safecoms.co.th  
This is the most comprehensive solution on the market today. Don't take our word for it! 
Call or email us to set up a meeting for a personal Demo or view our reference list 
References

ADA International
CRAFT BY NATURE CO., LTD. was created by two of the leading Thailand bath amenities suppliers. Now renamed ADA International (https://www.ada-international.com/)
Their offer includes international brands both imported and licensed brands, proprietary brands, unique luxury packaging, fresh and new customized designed amenity, and refill containers with bulk liquids product. They also provide brand and product development services and assist customers with a broad range of personalized hotel amenities.

Safecoms used Odoo to provide a Just In Time Manufacturing and to manage their Inventory, Sales and Accounting

Odoo implementation: ERP, Inventory, Manufacturing, Sales, Accounting


Faber Flags Asia Co., Ltd
Faber Flags (http://faberflagsasia.com) is a Dutch Company that has moved most of his production to Thailand. The organization is a quality provider of indoor and outdoor marketing products. During the first phase, we have designed, customized and deployed the necessary Odoo CRM tools to manage their sales team in Thailand. The implementation is still ongoing with full e-commerce solution.


Thai Optical Group
TOG is a Thai producer of high quality optical lenses selling through a network of Optical shops. They have used Odoo to develop their commercial activities in the USA and manage their orders, inventory and shipments between Thailand and the USA. Their commercial activity in the USA is also fully managed through Odoo. (http://www.thaiopticalgroup.com/)