Partner Manager EMEA
Rue laid Burniat 5, 1364 Louvain La Neuve, Belgium
Sales
Are you ready to learn fast and have a real impact on the company?
Join our team of Partner Manager and rise to the challenge to evolve in the IT sector! Handle a portfolio of partners and help them increase their revenue !
Products Users
7,000,000
Company Growth
60% year over year
Team Size
45 people
Join our dynamic and innovative Channel Sales team, working within a fast growing company that values independence, flexibility, and personal growth.
As an Partner Manager you will be managing a portfolio of Odoo Partners, as well as being involved in business development with end customers. You have the unique opportunity to make an impact on both end customers and Odoo partners.
Our partners are resellers, systems/ERP integrators and IT companies from Europe & Africa that are adopting Odoo in their solutions portfolio. As the partner's main point of contact, you'll coach them on best practices regarding their business strategy, implementation methodology and know-how of the product, so they can grow their Odoo business.
On top of that, you'll be in contact with a large diversity of customers in many regions. You'll  get to be a matchmaker since you will be qualifying and providing demos to end clients, so you may pair them up with your best suited partner.
RESPONSABILITIES
Enable Odoo Partners and train them on effective methods for selling and implementing Odoo software. You can find the list of our partners by country HERE
Act as a business coach. Create and implement cross-functional processes for partners and customers to increase their operational efficiency
Establish long term win-win relationships with your partner portfolio based in Europe and Africa
Qualify end clients, convince them with tailored demos and connect them with the right partner for their Odoo project
Negotiate licenses and pricing with partners and customers and promote the right value proposition
Challenges
Deal with companies of various industries, sizes, and from different regions

Empower and challenge your partners



Retain sophisticated partners while coaching inexperienced partners into streamlined sales machines
Real responsibilities from day 1
As you'll mainly work with new Odoo Partners, you'll have to build your partner's portfolio from scratch. You are accountable for your own success
Must Have
Business Master Degree
English + any other European languages (Dutch, German and Italian are assets) 
1 to 4 years of technology sales experience
Entrepreneurial mindset. "It is not my job" is not part of your vocabulary
Excellent communication skills
Passionate about sales, you like to convince, negotiate and achieve targets. You don't take no for an answer
You enjoy taking initiatives to help the team, your partners and customers, you thrive in an autonomous environment
Work permit for Belgium
What's great about the job?
You enable Odoo partners' network by providing them with your expertise. You'll be a key player in the growth of your partners

Room to spread your wings and make an impact with your own initiatives

Great team of very smart people, in a friendly and open culture.

Real responsibilities and challenges in a fast evolving company
Be in touch with decision makers:  SMBs' CEO, CFO, CTO, …

Work in a truly international company: Odoo counts a network of more than 3500 business partners and those IT companies are located in more than 120 countries all around the world.
Understand, analyze, and improve business performance across many industries, sectors, and company size.
High commissions for overachievers
What we offer?
Salary Configurator💰
A full-time position
with attractive benefits +  high commissions  with no ceiling.
Configurator
Trainings
12 days / year, including 6 of your choice,
for personal development.
Sport Activity 💪
Play any sport with colleagues,
the bill is covered.
Eat & Drink
Free fruit basket, coffee, bier and delicious lunch cooked by our chef👨🍳.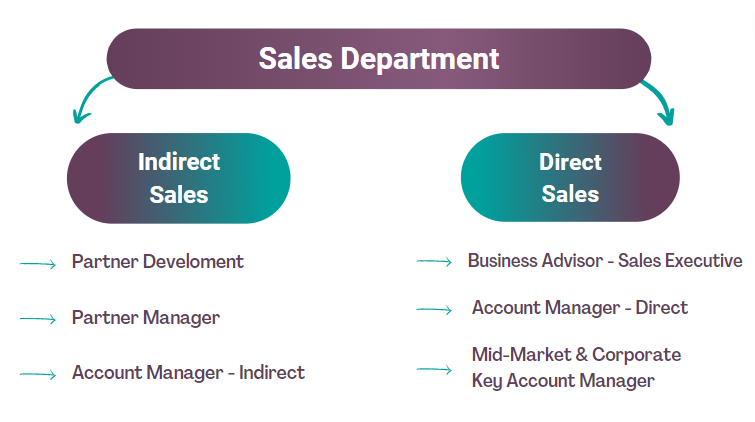 How does it work in Sales? 
Our Sales department is divided in two parts: Direct & Indirect Sales. 
In Direct Sales, we work in direct contacts with SME's. 
In Indirect Sales, we collaborate with Partners (Odoo Resellers).

Hunter-spirit ? See here 👉Business Advisor - Sales Executive & Partner Development. 

Farmer-spirit? 👩🏼‍🌾 Account Manager will be perfect for you!
Want to train our Partners? 🧑🏫 Our Partner Manager is made for you!
More into large projects? 📚 Go see our Key Account Manager position.