Fullstack Developer
401 & 402, 4th Floor, IT Tower 3, InfoCity, Gandhinagar 382007, Gujarat GJ, India
Research & Development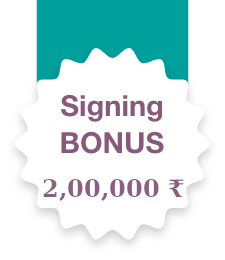 Signing Bonus • 2,00,000 INR
We offer a 2,00,000 INR welcome bonus to new developers having 3 years experience, that join us. More info.
Are you ready to learn fast and have a real impact on the company?
Join Odoo, a growing software company with an open source product,
a huge global community, as well as a fun and exciting work environment.
Apply Now!
Survival Guide
Users of the Product
8,000,000
Company Growth
60% Year over year
Company Maturity
Profitable
A wide range of interesting projects
We develop open source apps to help millions of employees save time in their day-to-day job. 
Our projects include:
--> Business Apps: from point of Sales, to logistics and accounting, we have plenty of projects around business apps (improvement, creation of new features,...)
--> Frontend UI: Odoo Spreadsheet (an open source Google Spreadsheet alternative), a react/vue style JS framework (the fastest VDOM ever developed).

--> Python Framework: It's all about perf and optimizations. (ORM based on PostgreSQL)

-->  Mobile: All Odoo apps run on iOS and Android hybrid mobile apps.

--> Website / Builder: An open source website builder & eCommerce, to help entrepreneurs launch their website by themselves, without technical hassle.

--> API / Connectors: Integrate Odoo with payment processors, carriers, or other services.

--> Security: from product security (code reviews, security patches) to system administration issues (pentesting, best practices, etc.).

After 3 weeks of initial training (both functional & technical), we'll present you teams looking for new members and you'll choose the one you prefer.


Coming from abroad? Great relocation package with 1 month free accommodation and much more!
Responsibilities
Develop Quality Apps
Coach small distributed dev teams
Be responsible of what you develop
Produce clean code
Must Have
Several programming languages like Web Framework
Object-oriented programming language
Passion for development
Quick & Autonomous learner
Read & Written English

     Minimum 1 years of experience as Web/ Fullstack         Developer



Nice to Have
Contribution to Open Source Projects
Bachelor or Master Degree (the diploma is not the most important)
Python, JavaScript (we don't expect you to master our technologies but we expect you to master any programming language and any web frame work, no matter which one)
Linux, GitHub
 What's great in the job?
Flexible working hours.
A complete technical and functional Odoo training 
Nice working atmosphere in a young and passionate team.
A pleasant and friendly working environment located in a Gandhinagar.
Great experience in state-of-the-art web technologies and agile development 
Opportunity to join a popular open source project
No waste of time on enterprise processes, few constraints, real responsibilities 
No solution architect, no business analyst, no Gantt chart, etc
A lot of what we do is opensource, I think it's really really cool to get paid to write public code and contribute to the development community.
What  I  really  like  about  my  job is  that you gain a lot of experience in multiple fields in a short  time:  you can be an app dev, a framework dev, work in security, develop a SAAS (odooSH), do DevOps/infrastructure management, work on our internal tools  or even  analyze and improve performance.

What we offer.
Trainings
12 days / year, including 6 of your choice,
for personal development.
Sport Activity
Play any sport with colleagues,
the bill is covered.
Eat & Drink
Fruit basket, coffee and soup
provided all day.