Software Developer
Chaussée de Namur, 40, 1367 Grand-Rosière , Belgium
Research & Development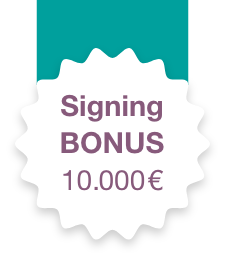 Signing Bonus • 10.000€
We offer a 10.000€ welcome bonus to new developers that join us. More info.
Are you ready to learn fast and have a real impact on the company?
 Join Odoo, a growing software company with an open source product,
a huge global community, as well as a fun and exciting work environment.
Apply Now!
Check Average Salaries
Survival Guide
Users of the Product
5,000,000
Company Growth
60% Year over year
Company Maturity
Profitable
Working Environment.
If you are passionate about development, then it is time to work on a great Open Source project where your work will count! Join our experienced team of Developers, and develop things people care about. Each employee has a chance to see the impact of his work and make a real contribution to the success of the company.
Programming Languages: Python & JavaScript
Database: PostgreSQL (with object relational mapping)
Collaboration platform: GitHub
Development model: Open with external community
Framework: Odoo (ORM, Workflows, Report Engine, BI, AI)
Responsibilities
Develop and improve Apps

Coach small distributed dev teams

Be responsible of what you develop

Framework and/or front-end
Must Have
Several programming languages
Object-oriented programming language
Passion for development
Quick & Autonomous learner
Read & Written English
Nice to Have
Contribution to Open Source Projects
Bachelor or Master Degree
Python, JavaScript
Linux, GitHub
What's great in the job?
Great team of very smart people, in a friendly and open culture.
Large apps scope - Diversity in the job, you'll never get bored​.
No customer deadlines - Time to focus on quality, refactoring and testing
No solution architect, no business analysts, no Gantt chart.
No specific start date, we recruit all year long​.
Real responsibilities and challenges in a fast evolving company.
Friendly working environment located in a renovated farm in the countryside.
What we offer.
Advanced Training
Technical and functional
training sessions (5 weeks)
Trainings
12 days / year, including 6 of your choice,
for personal development.
Sport Activity
Play any sport with colleagues,
the bill is covered.
Eat & Drink
Fruit basket, coffee and soup
provided all day.