Business Analyst - HR Expert
Rue laid Burniat 5, 1364 Louvain La Neuve, Belgium
Services / Business Services
Are you ready to learn fast and have a real impact on the company?
Join Odoo, a growing software company with a killer product,
a huge global community, as well as a fun and exciting work environment.
Odoo Business Service department is looking for its future colleagues to help us achieve our mission: Leading the market by example and helping companies working in a more efficient way. You feel you are the perfect fit to participate to this challenge, check what you can expect from this job.

Apply Now!
Check Average Salaries
Survival Guide
Users of the Product
7,000,000
Company Growth
60% Year over year
Company Maturity
Profitable
As Business Analyst, you will implement Odoo. You'll be in direct touch with the clients to help them with the good use of all Odoo apps (eCommerce, Manufacturing, Inventory, Project, Website...). Therefore, you will analyze their needs, design the solution, configure their flows as well as deliver personal training sessions. You will be at the front seat to ensure the project is delivered on time and on budget. Basically, you will be responsible to deliver the best management solution to your customers!
As  a  Business Consultant, you will also support the growth of our partner network. You will help & coach our partners, from all around the world, to implement their customers projects and to become Odoo Experts.
Besides, as an HR Expert, you will push the boundaries of mastery by specializing yourself in a cohesive set of apps, combining it with in-depth business knowledge. You will receive regular training to keep on increasing your proficiency in Odoo, both at a functional and technical level, as well as developing a clear understanding of the field realities in which you are going to operate during your projects.
With this double-hat, you will join our center of excellence aiming at supporting our business services, increasing our community knowledge and putting your application(s) on the map. Among other activities, you will:
Be a reference point for the business analysts' team by supporting, coaching and training them;
Collaborate with our Product Owners to transmit customer and partner feedback;
Support our Sales and Marketing teams develop your apps reputation;
Be highly involved in the Odoo Experience, our annual event;
Develop new service offerings on top of the existing ones;
And many more …
This role is challenging, but intellectually stimulating, and profoundly rewarding since you help our customers, partners and colleagues take the best advantage of our HR suite of apps. Despite the specialization, the diversity of missions makes everyday a different experience.
In the very first weeks, you will quickly get involved in your first projects receiving the support of more experienced colleagues, going through an onboarding of 6 months in our Quickstart team. You will progressively increase your level of autonomy but never forget that two heads are better than one! You won't have time to get bored as each project is different (industry, scope, etc.
RESPONSIBILITIES
Project Management (50-70%)
Gain trust of your customers

Analyze the customer needs and suggest solutions

Implement the agreed solutions (configuration and development)

Make your customer/partner an Odoo Champion (training)

Follow the project and communicate about its status and the ongoing tasks

Organize and follow-up Odoo implementations
Internal Improvement (30-50%)
Support, coach and train other team members

Produce enlightening content

Collaborate with the Product Owners

Participate in sales and marketing activities

Develop new business services
MUST HAVE
Proven and extensive experience working as an HR Software Implementation Consultant or Integrator, with a deep understanding of HR software systems and their functionalities.

Fluent in English and Dutch or French

A track record of successfully implementing complex HR software solutions for clients, showcasing your ability to tackle intricate challenges in HR software implementation.

Exceptional problem-solving and analytical skills, with a demonstrated ability to navigate and resolve intricate technical issues related to HR software integration.


Bachelor/Master in HR or Business

Valid work permit for Belgium
NICE TO HAVE
Other European Languages: German, Spanish, Italian, Portuguese.

Experienced in management software implementation



See us in action ! 
Discover our day-to-day job as an Business analyst Expert at Odoo

What's great in the job?
Get real responsibilities and autonomy in a fast evolving company.
Great team of dynamic people (+/-200), in a friendly and open culture.
Diversity in the projects.
Expand your knowledge of various business industries.
Two weeks of intensive functional training with a final certification.
What we offer.
Trainings
12 days / year, including 6 of your choice,
for personal development.
Sport Activity 💪
Play any sport with colleagues,
the bill is covered.
Eat & Drink
Fruit basket, coffee and a chef 👨🍳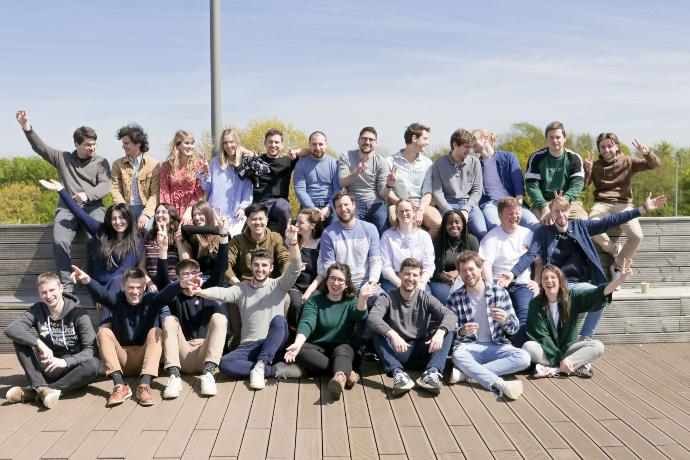 Wanna join the fun?
Step 1: CV screening
Our Recruitment team will check if you match the requirements and our team needs!
Step 2: Phone interview
If your CV is received positively, you will receive a call from one of our recruiters so that you can explain your motivations and ask any questions you may have.
Step 3: Video call with the expertise team
Meet your future team leader and discuss the role in more detail, your field of expertise and your interest in the position.

Step 4: Final interview with a business analyst
It's time for the business case! Come discover our office and meet a team leader business analyst and show an Odoo demonstration 💻

Step 5: Get an offer!
If the 3 previous steps were positive, you will receive an offer to join our Dream team!