Headquarters: Magdeburg, Germany
Partnership year: 2014
Number of employees: 25
Services offered: Odoo implementation, migration, update. Technical and functional support - full service Odoo agency
Number of Odoo implementations: 6+

Bloopark is an Odoo Silver partner headquartered in Magdeburg, Germany. Despite the company being based in Germany, bloopark's workforce of 25 employees consist of 14 different nationalities which are digitally connected by their very own Odoo database or sit side by side in their multicultural office. Bloopark's expertise lies within the design, implementation and migration of Odoo. They are knowledgeable in agility, high quality, being dynamic and IoT. Customers get the full package when working with bloopark.
Since beginning their partnership with Odoo in 2014, bloopark's main focus has been big implementations. The projects often last for multiple months due to their high quality IT solutions, discipline, design and scrum methodology, which have earned them Silver partner status. Bloopark's goal this year is to become an Odoo Gold Partner.
Jens Holze founded bloopark in 1999 and his journey towards Odoo began when he sought out to find his passion. After a tough start, Holze found himself working in the IT industry creating content management systems for a company in Magdeburg and then eventually switched focus to eCommerce projects. Some of Holze's projects began with a scope that solely focused on eCommerce however as the project progressed, the clients eventually needed backend systems that would support other business areas such as warehouse management, inventory, accounting and CRM. After trying out a number of systems, Holze found Odoo to be the most convincing. The UI/UX was highly user friendly and the software combined all business processes in one platform. Odoo's integrated abilities won Holze over as he foresaw a trend of clients shifting from using multiple software platforms to one software architecture solution such as Odoo.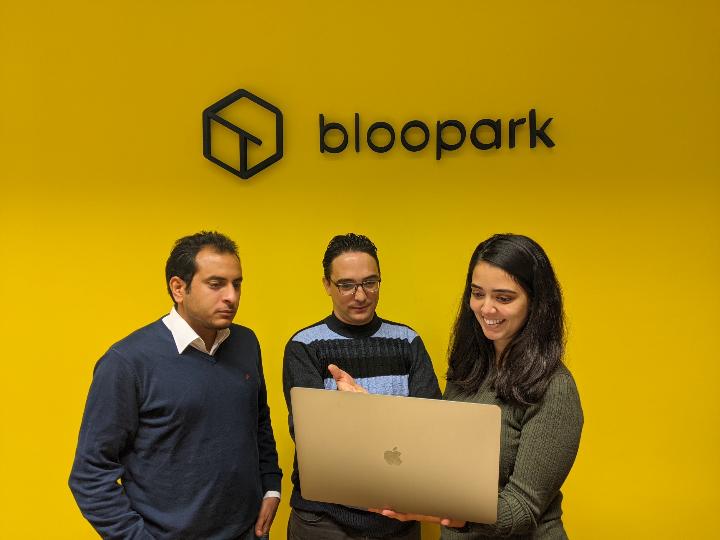 In addition to Odoo's all-in-one capabilities, Odoo's customization capabilities were also a stand out feature for bloopark. The easy customization possibilities enable the company to meet clients' requirements in a shorter period of time and a smaller budget compared to the alternatives in the market. Internally, bloopark has been using Odoo since version 7. Every year, they migrate their system to the latest version and currently, they're in the process of updating to Odoo 14. With the latest version, bloopark will be implementing their accounting system into Odoo. As their journey continues with the software, so does the number of Odoo apps they use internally.
When implementing a new client project, bloopark begins with a pre-project phase. During this phase, they begin by analyzing the client's requirements and conduct a ROI and gap analysis with a developer and then with the client and prioritise the requirements based on the roadmap suggested by bloopark. In the main project, they start with the basic functionalities (Odoo standard) and then step by step adapt the client's business model to Odoo. If the client has a very specific process that cannot be adapted, then bloopark will customize Odoo to fit the client's business process. Before and after going live, bloopark often organises training sessions with the client to onboard them onto Odoo. They do their best to learn about the client's goals and objectives and help them in the best way possible. This can be a mindset shifting as well a growth developing process for both parties. 
When it comes to implementations, for bloopark there is no such thing as a "typical implementation time" because each project really varies. With Odoo standard, it usually doesn't take more than a couple of days; however with customizations, it can depend on the required changes; this can take weeks or months.
The JobRad project is a memorable client for bloopark due to the length and complexity of the implementation. The scope of the project was an Odoo development and customization for the bike leasing industry. It started as a small project with some customizations and grew into a complex, six-year long project with a lot of customizations and implementations. Not only did the project size grow but so did JobRad's company size. The company started with around 5+ employees and grew to 300+ employees. After six years bloopark and JobRad parted ways in a positive outcome due to a difference in goals. However this separation boosted bloopark's motivation to grow even more. Bloopark was excited to get more involved with the Odoo community and be able to work on multiple projects.
What bloopark really enjoys about Odoo is that in addition to being a great software, the company culture is very down-to-earth. They like that they're able to get in touch with the CEO despite the company being so large. Bloopark enjoys seeing how quickly Odoo continues to grow and is glad to be a part of it. The regular contact with partners is reassuring and bloopark also likes that Odoo provides learning material to help their customers navigate in Odoo.
Bloopark's advice to new Odoo partners is to be aware and let go of old methods. Everything you've learned about implementations prior to Odoo, don't hold onto it. Be open to learning a new method and way of doing things. For silver partners, Odoo has opened new doors to a great business framework which brings everything together. Focus on classical ERP topics such as accounting and inventory but also website, marketing, HR, eCommerce and frontend topics. Bloopark has found this method to be a different kind of complexity which may require new partners to change their own business framework. However, they advise not to be scared of this change because Odoo will be there to guide you and help you to help your customers. 
About bloopark
As an entrepreneur, you know how important an ERP is - we at  bloopark  know it too.  "We help you grow"  is therefore our motto and our claim as an Odoo partner! We unite over 20 specialized Odoo developers, project managers & business analysts who understand their craft. We attach great importance to the smallest details and quality; every process should make your company more effective and relieve employees.
As an Odoo agency, we specialize in the development and tailor-made adaptation of Odoo ERP to complex companies. Our goal is to make company processes mappable, efficient and controllable. We offer you the complete service around Odoo: This includes the analysis of your company processes, conception, programming, design and 24/7 support. Learn more about bloopark at www.bloopark.de