As of today, all Odoo apps are free on Odoo Online, as long as you use only 1 app. This offer includes unlimited users on the cloud. Our mission is to help millions of SMEs grow their businesses with Odoo and we are committed to their success.
A few years ago, Odoo disrupted the ERP market. We created a full featured ERP which is simple and affordable to SMEs. Before Odoo, the only options to integrate all your applications were very complex implementation projects through services such as SAP, Oracle, or MS Dynamics. Now, you can finally integrate all your business apps within a single software that is beautiful, efficient, and incredibly easy to use. Small companies can start right away in just a few clicks, at a cost of just a few hundred dollars per month.
Today, although we have hundreds of fully integrated applications, the quality of most Odoo applications outperforms the top players in each category. Odoo eCommerce is a more modern solution than Magento or Prestashop, Odoo Accounting outperforms legacy accounting software like Quickbooks and Sage in both features and usability, Odoo CRM is a vast improvement from Salesforce, etc.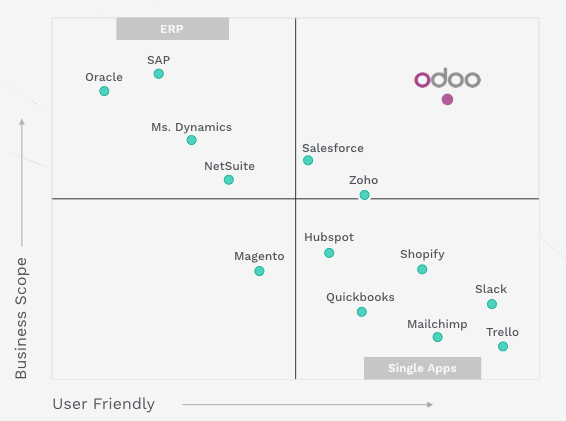 With this new offer, we plan to directly compete against stand-alone solutions such as Shopify, Salesforce, Quickbooks, Docusign, Harvest, Slack, etc. In order to compete with niche application vendors, what better offer can there be but a free one?
Odoo is not only an ERP anymore, it's a suite of business applications
with a disruptive product and, now, a disruptive offer.
With such an exciting offer, we are setting Odoo up to take the next step: from 2 million users to 10 million users!