We are delighted to announce a new price, effective January 1st 2015.
Over the past few months, the whole management team took the time to listen to our prospects, customers and partners. We constantly received feedback that the pricing introduced last May was not entirely perceived as 'fair'. 
At Odoo, we believe that companies all over the world, whether large or small, deserve a great solution at a fair price. 
Our charges don't aim to 'maximize' revenues, but to fund development and a thriving ecosystem in which customers pay a small fraction of the value they receive. These charges contribute towards our customers getting even better products and services from Odoo, its partners and developers. Even though the pricing was extremely competitive compared to the proprietary solutions, it was not always understood and perceived as aligned with value of Odoo: offer a powerful yet affordable solution to grow your business.
The main pricing will be very simple, more transparent and fair - and, above all, much cheaper in most cases:
20€ or $ per user per month, regardless of the number of applications

Customers pay a fixed 'access fee' of 20€ or $ per app per month in addition

Customers that choose to pay yearly will get 2 months for free (so now 17% discount instead of 10% discount)!
For the companies that really need a 'Custom' version of Odoo, this will be provided at an additional 80€ or $ per custom app per month (regardless of the number of customizations within this app). Custom applications demand more significant maintenance as we upgrade our SaaS and we believe that a minority of our clients actually need them (a lot can be achieved simply by configuring their instance - a more simple and cost-effective solution).
Lastly, Odoo remains free for 2 users.
It's now very easy to calculate a yearly price: add the number of apps to the users, multiply by 20 then by 10.
For example, a European customer that has 10 users and 4 apps will pay  (10+4) x 20 x 10 or €2,800 per year - this is a 46% price reduction when paid yearly, compared to the old pricing. For larger clients using a fully integrated ERP, the price reduction will also be significant, even though a specific pricing is always calculated for them, taking into account other factors.
To celebrate this new pricing and the New Year, we are offering implementation services (a dedicated consultant will proactively help you to set up your own Odoo) for 
FREE
 until end of February!
We are really excited to start 2015 with this announcement. We hope you'll like our new pricing as much as we do. But, most importantly, we at Odoo wish you all best for 2015 - growth and success for your company, lots of joy and happiness for you and your families.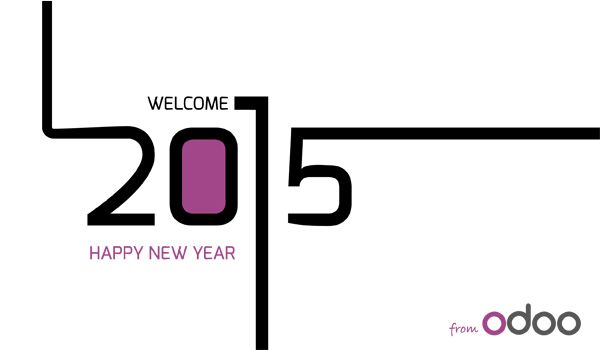 Subscribe to our Odoo Newsletter
Follow our news and get the blog posts directly in your inbox.