Name of Company: Tent and Table
Country: United States
Number of Odoo Users: 47 Active Users
Industry: Retail, eCommerce
Company Size: Approx. 50 Employees
Name of Implementation Partner: Brainvire Infotech Inc

Services Offered: Accounting, Invoicing, Inventory, Sales, Purchase, Point of Sales, Helpdesk, Expenses, Project, eSign, and eLearning
Time For An Upgrade
Tent and Table started its eCommerce journey with a simple, user-friendly website on Magento 1.  While using Magento 1, they were able to connect to different marketplaces at once. They utilized the functionality of BoostmyShop ERP, which took care of enterprise functions, such as: inventory and purchasing management. They were also integrated into QuickBooks Online to manage their accounting. 
Unfortunately, the slow performance of the website negatively impacted their customer service efforts. Customers were having a hard time viewing, managing, and processing quotes through Cart2Quote. Moreover, it was a subscription-based extension that cost the company a lot of money, and never worked as well as it should have.
It became impossible to meet supply needs. The lack of visibility when it came to stock, orders, and statuses led to serious confusion while managing the inventory of certain products, which made it difficult to ensure they were replenished on time. 
Tent and Table faced a lack of transparency that kept them unaware of their profit margins. They could not identify their bestselling (or low-selling) products. It was clear they needed to improve their warehouse management functions with upgraded elements, such as: barcode scanning and cycle counting. So, they desperately began to search for end-to-end solutions to solve all these problems. 

Kick-Started With Odoo
After facing a myriad of problems, Tent and Table decided to focus on just the ERP functions, and began searching for a holistic ERP system. They looked into the features of NetSuite, Oracle, and Microsoft Dynamics. However, none of them had the kind of integration with Magento that they were looking for. 
In their search for a complete ERP system, Tent and Table approached Brainvire to take care of their ERP development needs. Brainvire is an Odoo Gold partner. They specialize in Odoo ERP development services to help organizations manage, consolidate, and integrate all their data from multiple sources into a single source of truth.
For them, Odoo was a savior, since most of the functionality they were looking to add was already native to their platform.
Tent and Table
decided to upgrade to Magento 2 and integrate Odoo as their ERP system. Moreover, the company heavily relied on events and trade shows to reach potential customers. Odoo provided them with a web and app-based POS. This made it super convenient for them to create orders on-the-go.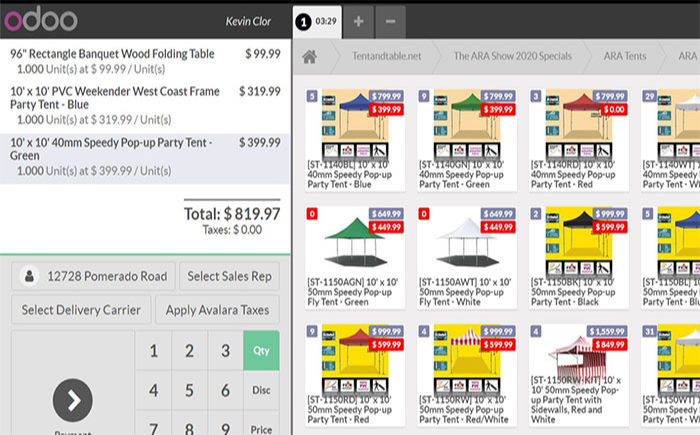 Once merged with Odoo, they took all the orders, inventory management, purchasing, and accounting into Odoo ERP. Within 6 months, they enjoyed greater visibility, which helped them accurately analyze the status of their store. They could identify products that were selling at a higher velocity, which greatly improved their buying (and purchasing) decision-making.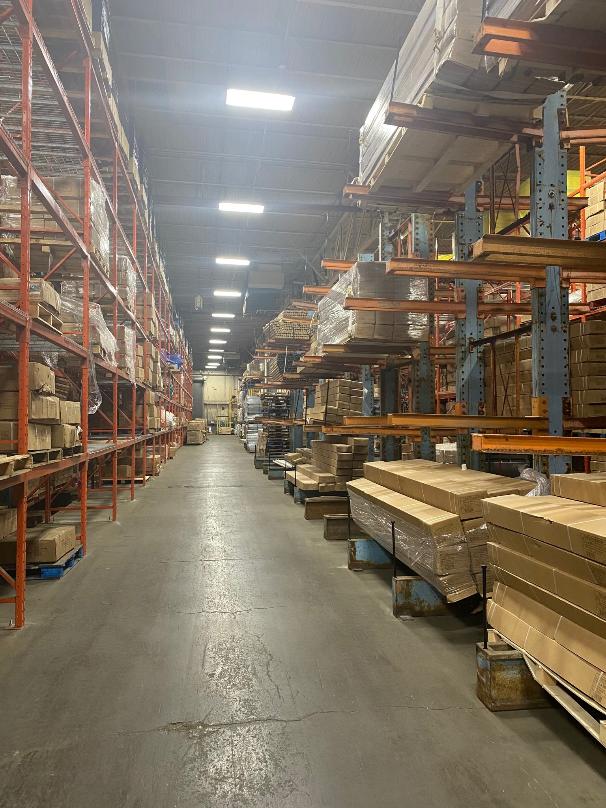 Odoo gave them access to analytical reporting to see which marketplaces were performing better over the year. They were able to make educated decisions about products, sales, sales rep performance, productivity, marketplaces, and profit margins.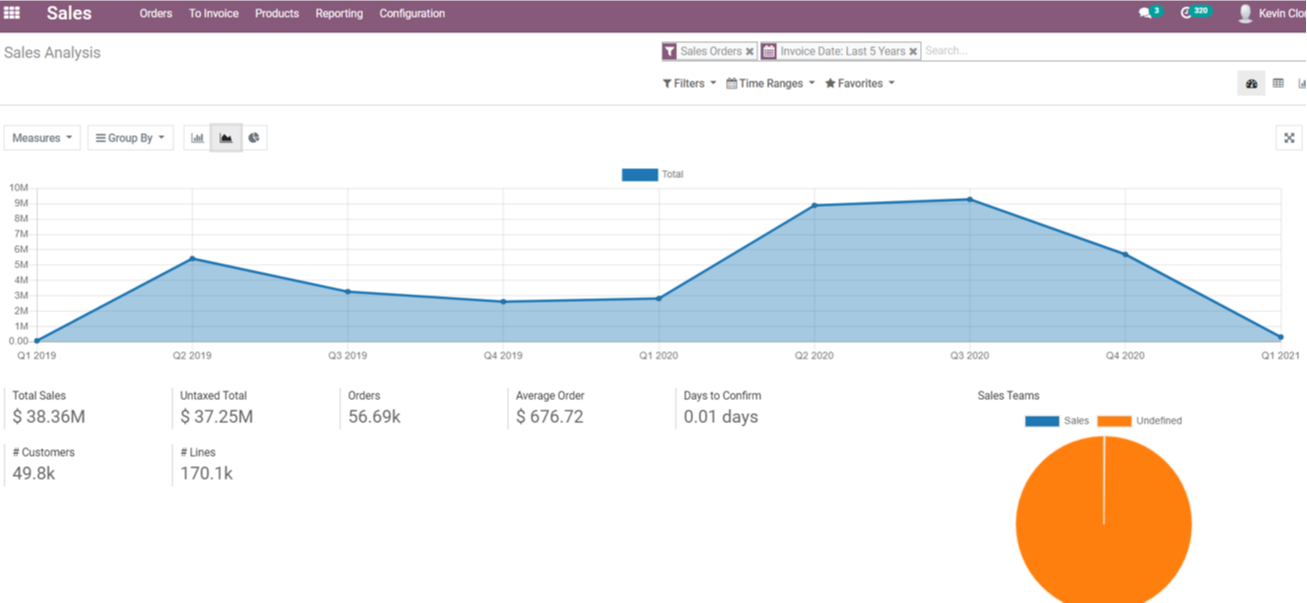 They now had better inventory integrity, as they were able to track the movement of stock. Overall, the transparency was much greater, and that gave way to higher production out of Magento. At this point, Magento was transformed into more of a "shopping cart," while Odoo handled all the complex functions and processes of the business.
Odoo Smart App was revolutionary for Kevin Clor, COO of Tent and Table. He has mentioned that he does 95% of his work through the app, giving him the flexibility to work anytime, anywhere.
Before, customers would contact him directly through email, texts, and phone calls for details about orders and purchases, which threw his ticketing and request management all over the place. 
Odoo consolidated his ticketing and communication, which in turn, helped resolve issues more efficiently. The tags in the Odoo platform have enabled him to prioritize issues and reduce response time for customer queries.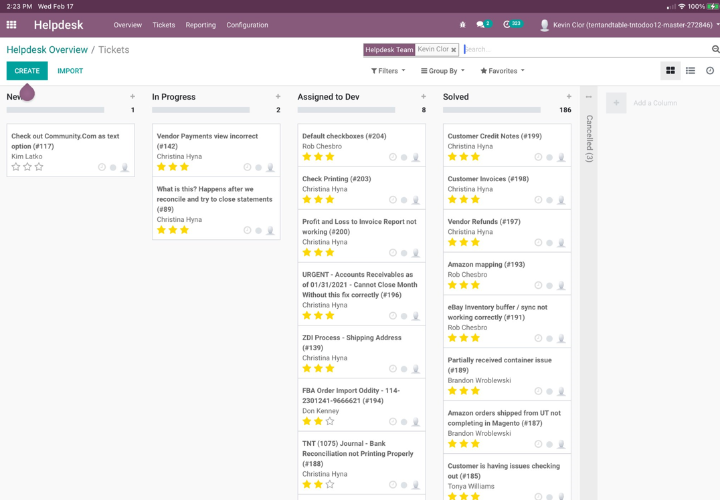 Tent and Table has recently started an eLearning system for their employees. Before Odoo, they struggled to create an appropriate knowledge-base, and didn't really give their staff proper process and product training. These new courses, however, will focus specifically on that.


The project management tool within Odoo has transformed the way the company manages employees and projects. They can now assign projects and tasks to different employees and field managers. It has streamlined and organized each function and project.  

Mr. Kevin Clor mentioned that with his Odoo journey, he gained, "4X conversion using Cart-to-Quote facility, and 3X increase in ROI," by using Odoo.

Odoo & The Pandemic
When the pandemic hit in March 2020, it threw businesses all over the world into a state of chaos and panic. Tent and Table felt the effects greatly, since they primarily function on a B2B model. They sell outdoor party furniture to other businesses that organize outdoor events. 
Due to social distancing norms that disallowed any gatherings of people, Tent and Table felt compelled to look for a strategy that would help them adapt to the current market.
Odoo provided the visibility and data to understand the margins (and opportunities) for outdoor event furniture rental businesses, and helped them make the best of the situation. Odoo gave them insight into their inventory and allowed them to choose which products to sell on priority. 
Tent and Table admits that it would have been impossible to recognize these changing market patterns, consumer behavior, and product demands without Odoo.
Odoo allowed them to aggregate data, which enabled them to modify their marketing campaigns and sell products to consumers, who were otherwise very different from their usual customers. With Odoo, Tent and Table was able to double their business during the pandemic, and they continue to thrive to this day!
About Brainvire Infotech Inc.

Brainvire Infotech Inc. is a leading Gold Partner with Odoo. They specialize in helping companies increase their efficiency and optimize their internal businesses processes with innovative, modern solutions.


Learn more at brainvire.com