Company Name:

Shurhold Industries, Inc.


Location:

Florida, USA


Industry:

Manufacturing (Automotive)




Company Size:

 2-10 Employees
Odoo Users:

24




Hosting:

Odoo.sh




Implementation Partner:

 Brainvire Infotech, Inc.


Implementation Timeline:

 9 Months
This client wanted to consolidate their business operations under one roof. Brainvire suggested they try Odoo. As an Odoo Gold Partner, they could review the RFP document the client's team supplied, map each flow inside Odoo, and assess what adjustments would be necessary. Odoo ERP is used by Brainvire to streamline Shurhold's operations. Some of the modules available in Odoo ERP include: Customer Relationship Management (CRM), Sales, Purchasing, Inventory, Manufacturing (Quality), Maintenance, Barcode (Accounting), Approval (Studio), and Help Desk.

Innovative designs, high-quality materials, and painstaking workmanship have propelled Shurhold to the top of its field. As a result, customers from across the globe seek (and use) Shurhold products to safeguard their most cherished possessions. They think Shurhold is "Clean-N-Simple!"

The organization is an industry leader in the United States. However, the company managed everything using four programs: QuickBooks, Quick Stock WMs (an SQL database), Daylight CRM, and Freshdesk. Needless to say, managing data across so many channels in this system took a lot of work.

Over time, it became cumbersome to oversee so many different platforms. They needed a more detailed plan to follow, in order to establish a more secure method.
Innovative Modernized Tech-Stacks Streamline Business Procedures

Consumers from around the world are increasingly turning to online marketplaces. By 2025, online purchases will make up 22% of all retail sales in the United States. 

Shurhold Industries has grown into a significant supplier of aftermarket parts and accessories for automobiles, boats, and recreational vehicles, since its humble beginnings in a garage. To ensure its customers are happy, Shurhold developed the "One Handle Does It All" method.

To lift their business with the omnichannel platform, the company onboarded Brainvire, which helped them establish a strong omnipresence with Odoo-Shopify and the pickers' app. 

It was recommended that Odoo Mobile was used by the development company. In order to streamline order processing, Odoo ERP required integration with Shopify. As a result, they integrated Odoo and Shopify (with EDI) to collect orders from various sources. In addition, they developed a dispatch system, in which, office workers may hold (or release) inventory in response to customer demand.

They worked together to boost the business' efficiency.
Implementing Odoo Creates Unified, Cross-Channel Hub For All Business Operations

Odoo ERP is a popular open-source alternative for managing a business. When it comes to expanding businesses, Shopify is the eCommerce platform of choice. To ensure customers have a positive and uniform experience, with the brand across all digital (website, app, social media, email, and SMS) and physical (stores, events, etc.) touchpoints, omnichannel marketing was used (via a physical shop, an event, or a contact center).

There are hundreds of companies serviced. The ability to handle payments is a major strength of Shopify. As a result, this piece suggests opening up a virtual storefront on social media.
CRM (Customer Relationship Management)

Odoo CRM is the name of Odoo's customer-relationship management application. Prospects and leads may be monitored and evaluated throughout their lifecycle in one central location.

These features streamline the operational steps of the system.

Customer Master Management

The purpose of customer MDM is to centralize customer information across departments, functions, and other organizational boundaries. The end goal is to provide a single source for up-to-date information on all relevant customer identifiers (and associated data) that can be relied on over time. Also, business results may be generated by feeding mastered data into operational and analytical processes.

Identifying information, such as firm name, contact number, and email address, may be provided by the client. Although tags are used by retailers, wholesalers, and dealers, an additional drop-down option labeled "Sales Rep" for the client base is required (considered as one type of customer).

ZIP/Postal Code of the Customer

Customers' addresses, and other necessary information (and selections), may be added in bulk by users. Each client's address may be found in the contacts and addresses section. Multiple contact details for different clients may be saved.

Warranty Coverage for Tabs

The transactions between companies and end users are covered by this guarantee. The section will be populated with line items and required information, but only when the user clicks the warranty button. Form information is then gathered by Jotform (Polisher warranty & registration form). The Warranty page contains all pertinent details.

Feedback from Customers

Brainvire developed a customer-oriented dashboard with plenty of background information and page breaks. For example, it included things like, time spent on certain websites, correspondence, scheduled events, and instructions given in the past.

Orders from clients:

- Date of Purchase
- Time of Purchase
- Sum of All Items Bought Earnings

Constantly keeping tabs on the client's movements facilitates follow-up.
Sales Management

Odoo's sales module provides users with a 360-degree view of their customers, via the Customer Insights dashboard. In addition, the Product Master data will be stored in Odoo, which will need the development of several core fields in the system.

The Product Form View is automatically populated with the specified customer's details whenever a new order is created.

Guests may write whatever kind of note they want about their choices here.
Inventory Management
The system administrator is responsible for overseeing the stores and distribution centers. The following information may be used to generate a variety of Bin coordinates.

Put In Bins

Customers may choose from three different types of bins, by entering a number in the corresponding box.

First, they're bins. 

Second, they're recyclables.

Third, they're potential storage units.

The sequence of containers in the description box - is a numeric input.

Each bin's "parent" location is determined by the "Zone" in which they are stored.

Places that fall under this category:

A: Normal Forward Picking Zone for Orders
W: Storage Zone
Z: Special Picking Zone 
R: Scrap Zone

Internal Transfer

Internal transfers may be made mechanically using the transfer logic. For instance, warehouse supplies may be brought to the pickers' storage areas. To initiate a transfer inside the company, choose "send to picking" on the dispatch page.

When an internal transfer is initiated by the system, the selector will see the following:

- Location of primary storage
- A product's availability may be limited, due to market forces
- The total amount being moved (which is the gap between the order and the bin)

Before a scheduler may initiate an internal transfer, the dispatch orders must be fulfilled.
Mobile Application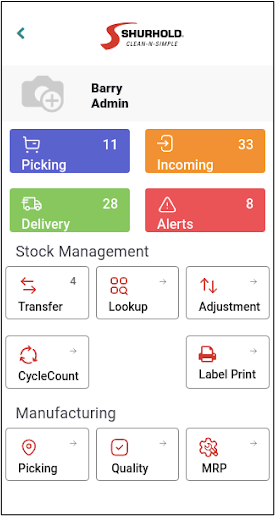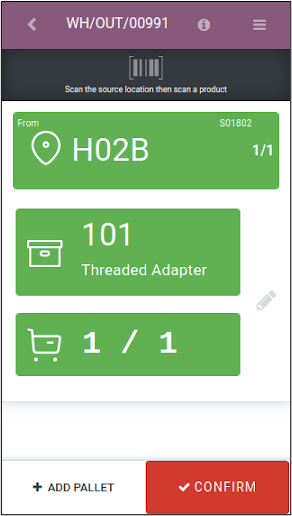 To save time spent walking, and spend more time selecting, the team developed a mobile app that assigns sequential numbers to bin locations. Moreover, pickers may handle Bill of Materials (BOM) deviation, by incorporating newly-manufactured and approved parts.

Mobile sign-in is available for pickers. A picker's potential is unlocked through the authentication process. To use the app, they must enter their email address (which serves as their username) and password. In addition, the barcodes on their badges may be scanned to register their attendance.

If the picker has access, they may do the following by monitoring the data:

Operations

To do this, choose the option for Delivery (by internal transfer).

Inventory control

Maintenance of stock, periodic stock-taking, and correcting inventories.

Orders placed through Delivery now support user feedback (similar to orders that need to be delivered).

Scan your location, item, and purchase total into the app, in order to make the gray box green. The order in which items are chosen is based on their bin number. If a picker has entered (or scanned) the proper location, product, or quantity, they will hear a "beep."

Orders that are currently available for picking may be seen by selecting that option from the main menu. The picker applies filters, based on where the order came from. Orders may also be seen filtered by suppliers.

With a single click, the picker will begin working on the order. Once the option is chosen, a pop-up window will appear to provide more processing details (if any). The sorters then take another look at their notes before moving on. In the gray box, you'll see details like where you are, and how much of each thing you need.

The location, product, and amount of a Bin may be scanned (or entered) by the pickers. They may turn the gray box green by scanning the location, product, and amount into the app. Customers placing retail/ground orders can split their scanned items over many packages at once, by selecting "Put in a pack," which results in a line item that cannot be scanned.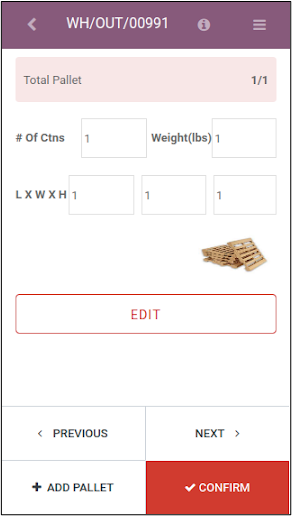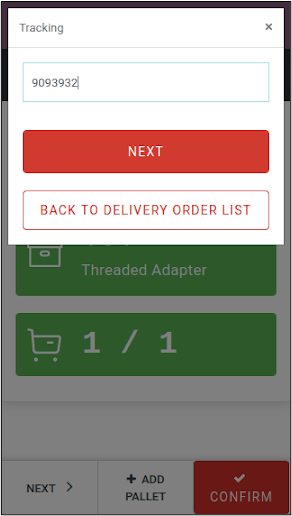 The system displays notes, and requests confirmation, when the picker confirms the selection in a pop-up window.

Customers can make allowances for either an excess (or deficiency) in an inbound freight. It's very uncommon for pickers to get insufficient quantities, prompting them to input backorders. They may also do quality checks prior to shipping (if any). As soon as they are gathered, goods may be transported to various storage facilities.

The picker can keep track of Bin coordinates to keep tabs on processing timings. The price may then be scanned by consumers. The picker modifies the cost by selecting a line item and pressing the button. The picker then notifies the desktop manager of the approved cycle count record.
Production Management

Users may make their own production schedules and order forms. The administrators of the plants select what products to produce, and in what quantities. The system will retain the amount required, and create a "pick ticket" after the manager approves the production order. A picker then compiles orders and checks tickets for accuracy.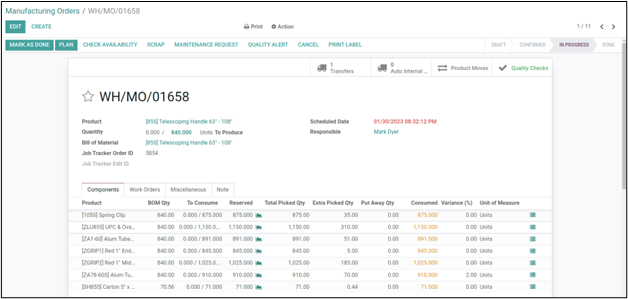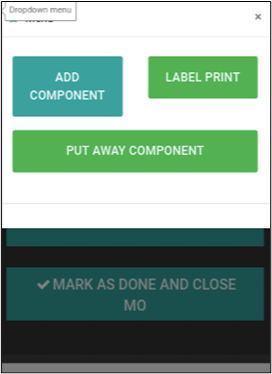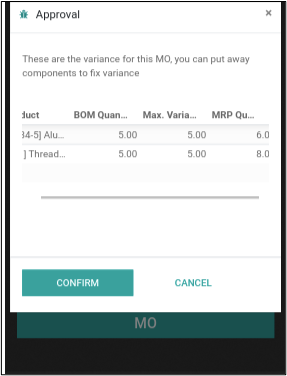 After the picker accepts the "pick tickets," the raw materials will be moved from storage to the digital factory. The operator may then study the production order, make a choice, and start processing. The operator may go back to the hub for more supplies, too, if necessary.
Shipping

After the pickers have completed their cycle count, management must either accept or reject the changes they made. When the stock takers are done with their cycle count, upper management may claim or decline the inventory report.

Once a picker finishes a cycle count for a particular zone, an adjustment record is generated, and sent to the manager. Managers have the option of approving or rejecting rebalancing documentation.

Help Desk
The RMA ticket will be made using the information from the JOT form. A user may handle RMAs and provide credit notes, based on tickets received. When a user submits a Jotform, an RMA ticket is instantly generated. Then, the sale of more RMA tickets is planned.
Managing the Distribution
Employees at the office may pick (and select) which orders to hold using the dispatch system. That creates easier stock-taking and distribution processes. The set and sent orders will be the ones the user specified. 

At first, all orders from various sources will be considered "Unallocated." The user may choose several orders for the following processes on the Order Summary page:

- Allocation of funds with little waste
- Unallocated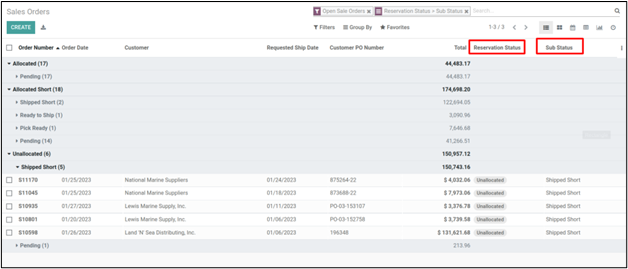 If the user clicks, "Try to allocate," the system will get the needed inventory from the central warehouse (Home Bin + Backward Bin), and update all of the orders' reservation and sub statuses.

- Reservation status changes to "Allocated," and sub status changes to "Pending," if all order line quantities are reserved.

- For reservations, when just a portion of the total was requested, the status will read "Allocated-short," and the sub will be in a "Pending" state.

- If no amounts have been booked, the reservation status will be "Short," and the sub status will be "Pending."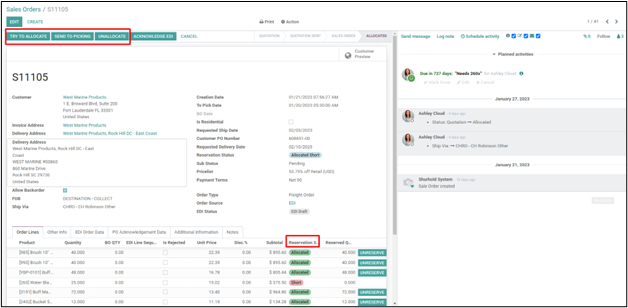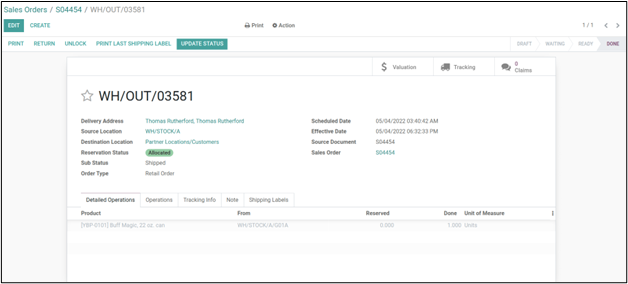 To proceed with your order after a successful reservation, choose "Send to Picking."

With the integration between Shopify and Odoo, "Brainers" have ensured its clients can control their online stores without any hassle. Also, Odoo order and master data synchronization went extremely well. Thus, Brainvire experts can increase revenue (and customer loyalty) by implementing an advanced, insight-driven, omnichannel customer engagement platform, thanks to Odoo.
---
About Brainvire Infotech, Inc.

Odoo is a significant Gold Partner of Brainvire Infotech, Inc., which has implemented Odoo in various industries, including jewelry, manufacturing, retail, transportation, automotive, and real estate.

Because of its capable in-house team, Brainvire has successfully accelerated project deployment for over twenty years. From gap analysis and counseling to third-party app integration, quality assurance, and deployment/rollout services, Brainvire has you covered. This includes anything from entire migration to retail omnichannel ERP solutions.

For more information, visit brainvire.com.