Web Designer
Rue du laid Burniat 5
1348 Louvain-La-Neuve
Belgique
Research & Development / Designers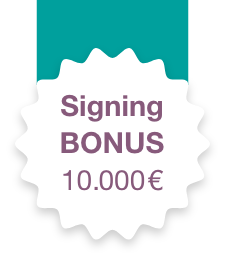 Signing Bonus • 10.000€
We offer a 10.000€ welcome bonus to new designers that join us.
Plus d'information.
Are you ready to learn fast and have a real impact on the company?
Join Odoo, a growing software company with an open source product, a huge global community, as well as a fun and exciting work environment.
Apply Now!
Recruitment Guidebook
Products Users
7,000,000
Company Growth
60% year over year
Team Size
10 people
Positions
As we are launching web design services, we are actively seeking web designers to help us build a great team, with the aim of creating stunning websites for our own customers. 
It's a part-design, part-development position.

We're looking for open-minded, team-spirited, and customer-oriented individuals. You will be in charge of conceiving beautiful websites with Odoo for our customers. You'll be working alongside the consultancy team and collaborating on projects from start to finish.
Quality Focus
Autonomy
Personal Evolution
Product Knowledge


Role
Conceive the perfect designs, based on customer requirements. You will be in direct contact with the customers on a daily basis.

Translate the design in the Website Builder app.
Execute all designing stages, from concept to final hand-off, in an allocated time.
Manage several projects at the same time.
If custom development is needed, deliver qualitative and maintainable code.
Conduct layout adjustments based on user feedback.
Train the customer on how to properly use the website builder in order to maintain the content.
Identify & bugfix UI/IUX issues.
Improve the product by sending feedback to the RD and helping them to improve the existing website themes.
Work in collaboration with other teams. (Direct Sales, Customers Success, Consultants,...)



Must have
Highly creative and autonomous
Customer-oriented attitude. 
Good understanding of fundamental typography & design principles.
HTML, CSS (Sass), JS, Bootstrap 4, Git is a plus.
Adobe Suite & UI/UX design tools.
Fluent in English
Valid work permit for Belgium.
Nice to have
Work experience as Web Designer
Website Builder / CMS knowledge.
A websites portfolio for the interview
Any other European language is a plus
What's great in the job? 
Integrate a brand new team. You will be a key actor in the success of this service.

Great team of very smart people, in a friendly and open culture.
No dumb managers, no stupid tools to use, no rigid working hours.
No waste of time in enterprise processes, real responsibilities & autonomy.
Expand your knowledge of various business industries.
Create content that will help our users on a daily basis.
Real responsibilities and challenges in a fast evolving company.
Compensation & Perks
A full-time position with
an attractive salary package.
Advanced Training
Technical and functional
training sessions (5 weeks).
Advanced Trainings
12 days / year, including 6 of your choice, for personal development.
Sponsored Events
Afterwork, BBQ, team buildings,
LAN parties, OXP, etc...
Sport Activity
Play any sport with colleagues,
the bill is covered.
Eat & Drink
Fruit basket, coffee and soup
provided all day.
Exchange Program
Apply to a similar position
in a subsidiary of Odoo.