Implementation methodology best practices for partners - Become An Odoo Integrator
This webinar has been rescheduled for 1 June 2020 11:00am (GMT+8). 
Have you ever initiated a project but came out the result is far from satisfaction as the deadlines are missed and cost overruns. This is where the value of implementation methodology becomes clear. Having a clear structure in place to launch and completed projects that align with your strategic plan is essential to achieve a successful implementation. With our experience in making implementation projects smooth, predictable and affordable, we would share with partners and partner-want-to-be our best practices on implementation methodology.
In this webinar, our Partnership Consultants who know well the best practices for the partners will give you insights on how to manage a project and reach its potential. They will also answer your questions regarding the implementation methodology in the Q&A session.
Sign up now. And prepare some questions because you will be able to interact with our speakers in the Q&A session.
*This webinar will be in English.
Save your spot
And do not forget to discover other exciting topics we have for you!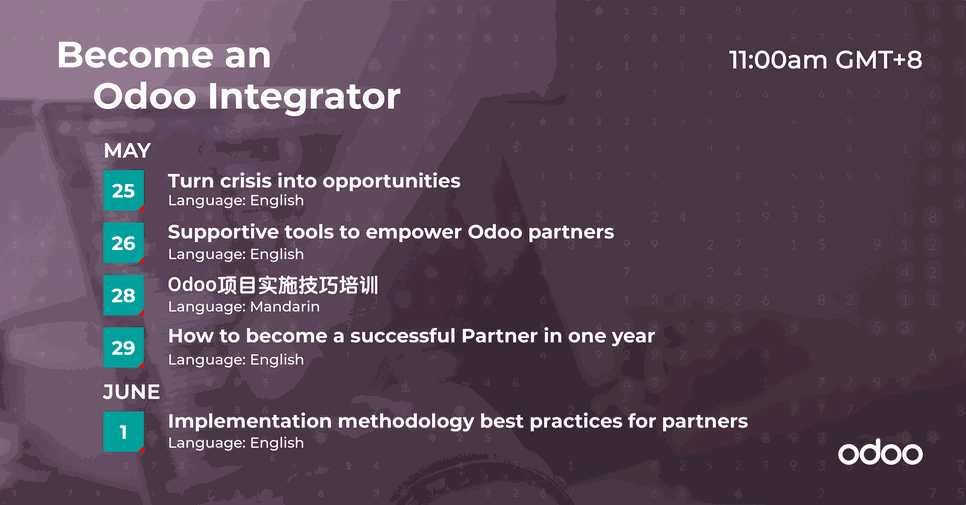 ---
SPEAKER
Eric Andrianto
Partnership Consultant (APAC)
Josiah East
Partnership Consultant (APAC)


If you are interested to become a successful Odoo partner too, please don't hesitate to get in touch with our Partnership Team: https://www.odoo.com/r/partnership-asia

---
Benefits 
for Odoo Official Partners 

Access to Odoo Enterprise GitHub repositories.

Access to an Account Manager at Odoo to discuss strategies, sales, and service issues.
Visibility & recognition by being listed as an official partner on the Odoo Partners​ page.

Commitments
Together we work as ONE
Train your staff by following Odoo training sessions  

Pass the Odoo Certification test
 ​
Be the 1st level of support for the client & use Odoo as a 2nd level of support