Electronic Accounting Localized for Mexico
Do you remember the release of version 9? A brand new interface with a vastly improved Accounting app! It's not that far away but still, many improvements have been made to the Accounting app since then.
After cleaning the small unnecessary code lines, resolving few bugs, we are reaching the point where Odoo Accounting is now an inescapable business accounting solution.
Now it's time to cross new borders: localization! After developing the bases (like the chart of accounts available for 47 countries), we are reaching a point to improve, correct and adapt the solution to local standards and regulations.
After Belgium we continue to improve Odoo Accounting starting with Mexico!
Mexican Accounting features
With the help of Vauxoo, our local partner, we've established and developed a list of the market's specific requirements.
Reports
The following accounting reports are now adapted to the Mexican law:
Those are to follow the Electronic Accounting needed to comply with the
SAT's requirements.
Electronic invoices
Mexican companies can send the invoice by email by joining the XML file in CDFI format. You can now certify any e-invoice via Odoo. 
Indeed, in Mexico, a company has to certify its invoices by the government to get paid. Concretely, the company sends the invoice to an Authorizations Certificates Provider, a PAC, via Odoo (we have developed this with 2 PACs: Finkok and SolucionFactible). The PAC takes care to sign it and to send the invoice to the Administrative Tax Service of the Government, the SAT, which validates it. Once the invoice is certified by the SAT and sent back to the company, the customer can check the status of the e-invoice on the government website before making any payment.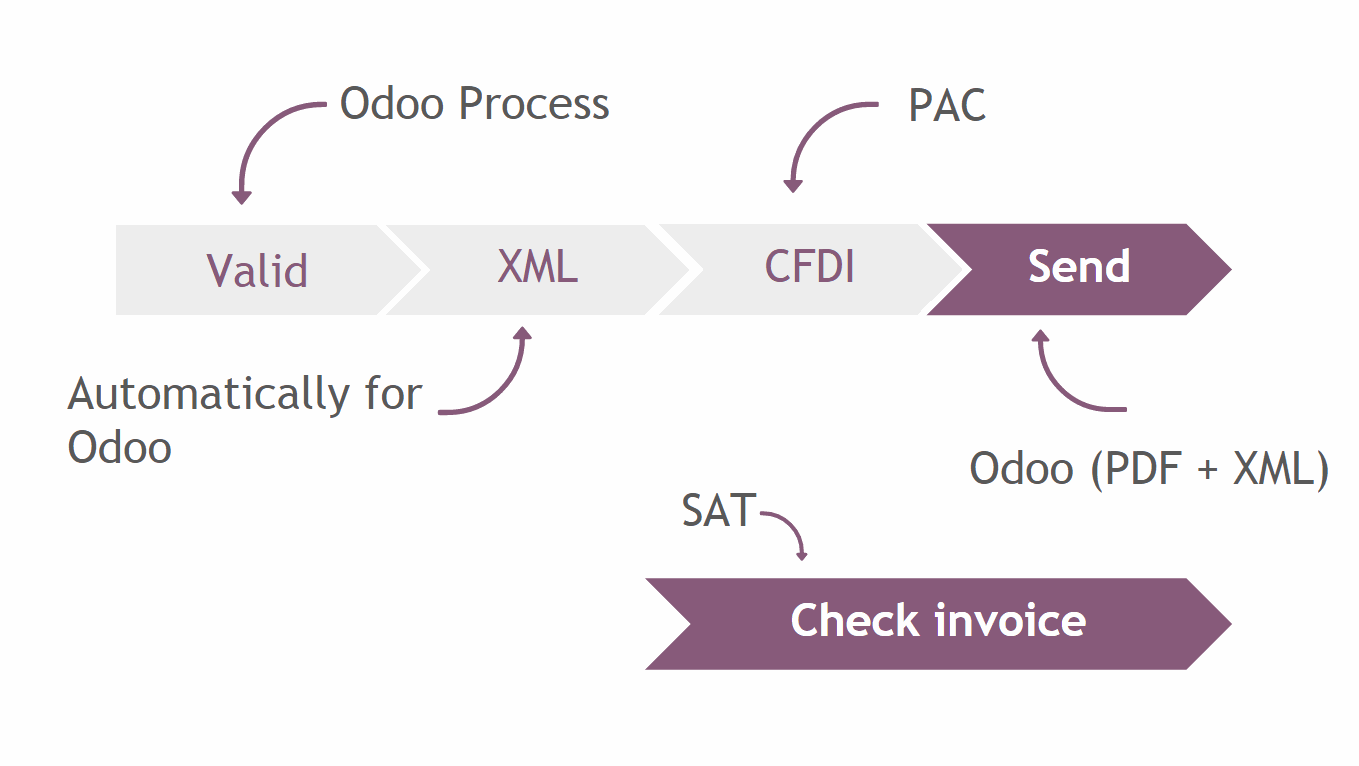 Chart of Accounts

The Chart of accounts was completely refactored from A to Z in order to help you to use the
grouping codes
("
Código Agrupador" in spanish) proposed by the
SAT
 and 
to help accountants to start with Odoo Accounting in seconds.
Taxes are adapted and the general accounting can be easily done with Odoo with almost zero configuration.
How to benefit from the Odoo Accounting - Mexican localization?
The Mexican accounting is available in the last version of Odoo Online, Saas-14. When creating a new database and installing Odoo Accounting, you'll get the updated version once you select the country "Mexico". For the Odoo Online users in a previous version, the Mexican localization will be available as soon as your database will be migrated to the latest version. To request a priority upgrade, please fill in the following form for our online support team.
>>
Request an upgrade
For the On-premises version, the new features are available with Odoo Enterprise in version 11.
Documentation
You can benefit now from 
Take advantage of this set of features by following the official documentation.
Are you ready to take your business to the next level?
We're always ready to help!