There it is! Only five months after the release of Odoo 10, Odoo Online customers can already benefit from a new upgraded version of Odoo!
Let me share with your the most interesting upgrades.

The new Odoo Studio application
For the newbies, Odoo Studio is the Odoo application that allows you to customize the existing Odoo apps, like modifying fields or menus, with no code knowledge! Even better, you can create new applications in your Odoo database!
Our Usability team came up with new ideas to improve the whole interface and the user experience of this powerful app. A discovery tour has been added to get acquainted with the tool in no time. Now, you can also drag & drop new fields into your screen and undo your changes. You are also able to create and edit calendar, Gantt, pivot & diagram views. App icons are more customizable; You can even use your own icons!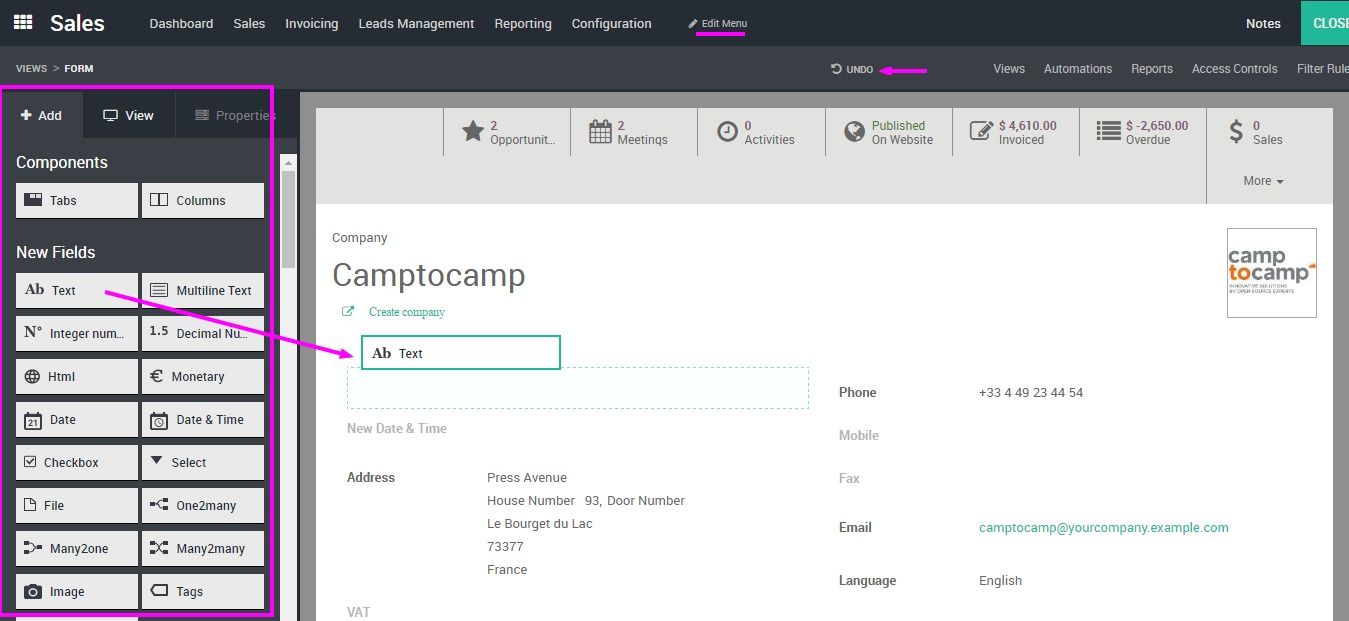 And that's not it! You can now change your homepage background! A picture of your cat or the logo of your company... it's up to you ;)
Settings Pages
The layout of the settings pages has been revamped in several apps (Accounting, Website, Recruitment, Sales and General Settings) and it's just the beginning!

From now on, you won't have the feeling of being overwhelmed by all the configuration, it's way clearer and, even better, you get a tool-tip for each option!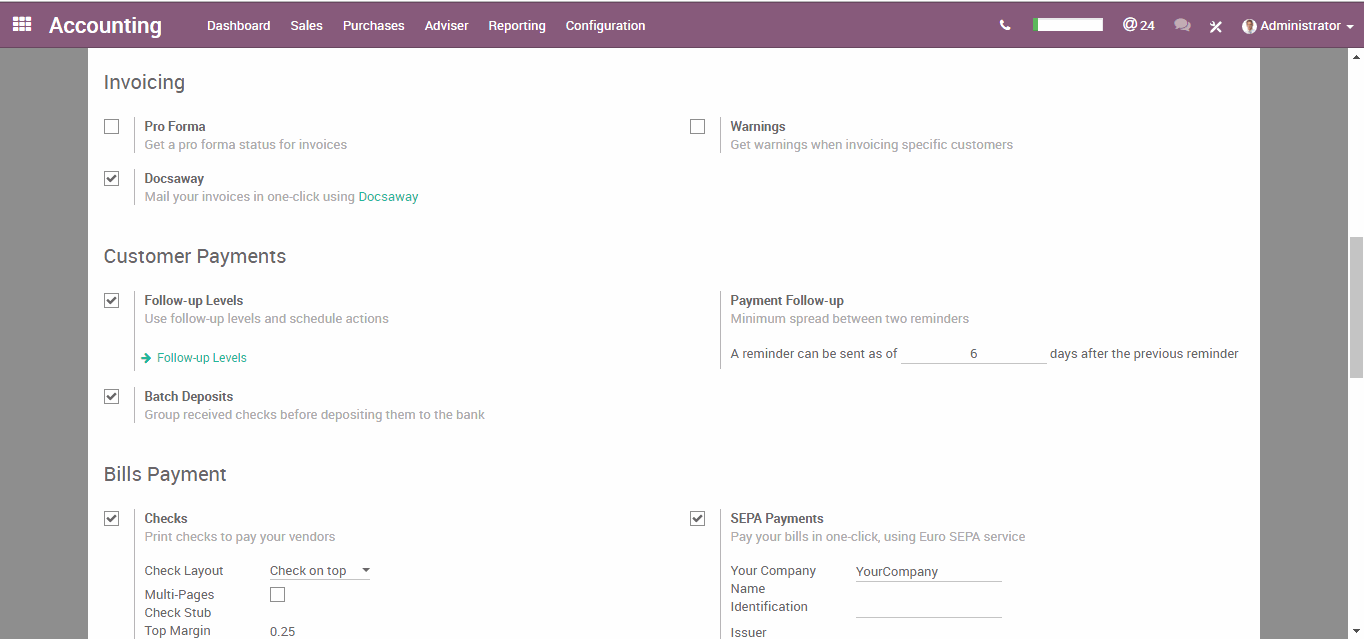 Document Layouts 

You can now choose among several polished layouts for your business documents. Each layout brings a specific structure for the header and the footer. I'm sure you'll find a layout fitting your branding and the customs of your industry!

Next Activities
"Management" is the key of our product. We keep on improving small details that really makes us different from others. 
A button "Schedule an activity" has been added on the top of the chatter! It's exactly like the "Next Activities" feature from the CRM, except that now, you can get organize directly from the chatter. Add reminders (making a call or to send an email) for a specific task or customer you're following!
This new feature is available in:

Notes

Partners

Sales (my pipelines, quotations, sales orders, customers)

Subscriptions

Appraisals

Purchases (RFQ, PO, Vendors)

Inventory (Transfers)

Manufacturing (MO, unbuild orders)

Repairs

Accounting (invoices, customers, bills, vendors)

Project (tasks, issues)

Quality (ECO)

Events (events, tracks, attendees)

Surveys

Recruitment (job positions, applications)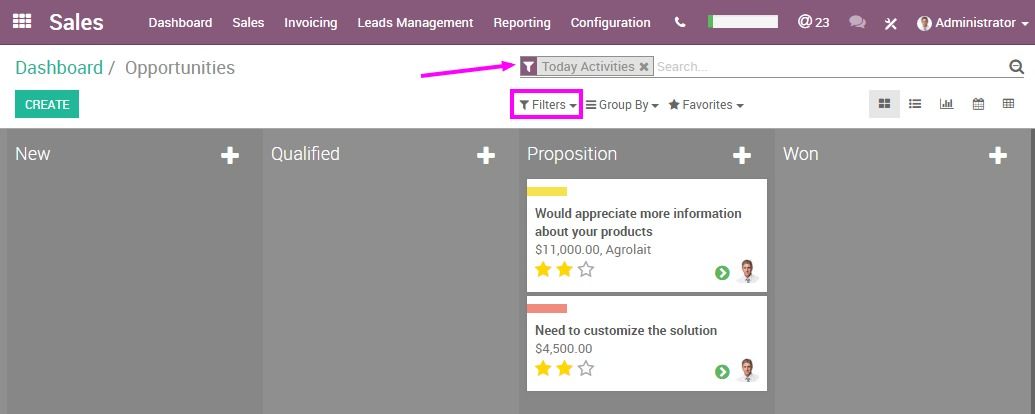 Sales Dashboard
The Sales dashboard welcomes a new overview for each sales teams! As a salesperson, you love to have a good view of the evolution your global sales. For this matter, each sales channel gets its own graph showing its evolution over the time.
The graphs can be easily customized by showing the evolution of the sales, invoices, or leads, through time or by salesperson for example. 
Also, the power of Odoo integration is another plus here! If you have the POS app, the eCommerce app or the Ebay connector installed on your database, you can even have those graphs on your sales dashboard! This gives you real global view of the whole sales of your company!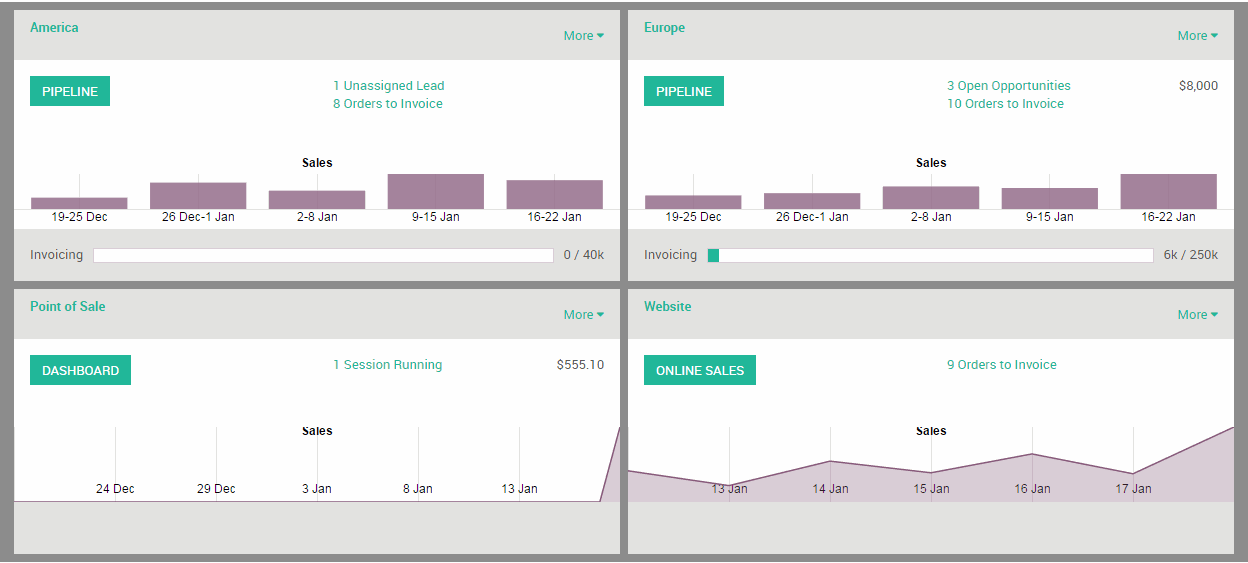 Sales Coupon
The new Promotion feature is available in Sales! Create a specific promotion campaign and give discounts to your customers. Choose the conditions based on specific products, quantity, etc. You can even generate coupon codes to use in your eCommerce too! 
Email Marketing

We created a new Domain selector. When choosing the recipients of your email, you can now filter your contact database very easily and get an accurate email's recipients list. The powerful filter helps you to have a better view of your filters. This enhancement is generic and also applies to other apps, when you need to target a specific data set.

Moreover, you can now choose among 3 new email templates. Look at these ;)

Mexican Localization for Accounting

Odoo Accounting now meet the national standards of the Mexican government. Our team developed the Mexican accounting localization with the help of our local partner, Vauxoo. Now it can be used out-of-the-box with the legal requirements covered and with a set of data that can be used as a model.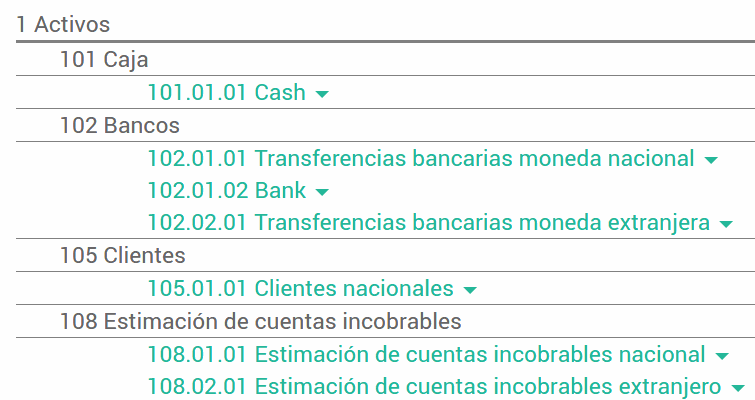 How to benefit from this?
The new Odoo Online customers can use these features today! The existing Odoo Online customers will be upgraded within the next 4 weeks. For the Odoo Enterprise customers (the on-premise edition) those features will be part of Odoo 11, to be released in September 2017.
What about the other changes? 
Of course, this release comes with lots of other great changes and upgrades. I can't explain you everything, but here's a selection.
Accounting
Perpetual inventory valuation: Better traceability of the stock moves. Now, an accountant can easily retrieve the stock moves behind stock valuation journal entries.
New import format for bank statements: CAMT.
Discuss
Get your Github notifications straight in Odoo

Partner form
Customer Autocompletion: When populating your address book, Odoo relies on Clearbit's database in order to provide you with a list of matching contacts or companies. When selecting one item, the partner name, logo and website are automatically set.
CRM
Create lead from livechat
Project
Possibility to merge 2 tasks