For three days, the Belgian city of Louvain-La-Neuve became the epicenter of the Open Source community. More than 2400 professionals attended 180 sessions, and discovered new Odoo features at our workshops.
A worldwide network of partners came in
Partners from all around the world came to Odoo Experience to show their expertize, meet customers and create new business opportunities. Attendees made the most of the chance to learn new things and network with international Odoo Partners and Odoo representatives alike.
However we can't mention our partners without saying a word about our incredible sponsors. We would like to thank them for the amazing role they played in the Odoo Experience. Thank you to Noviat, Eezee it, BHC, camptocamp, IT IS, NESM, Idealis Consulting, Onestein, Bista Solutions, Acsone, Audaxis, DynApps, Van Roey, Eco Service, Omnia Solutions, the OCA, Smile, Neova Health, ITaaSC, Liège créative, Technofutur TIC, feweb, BetaGroup, Infopole and Cap Innove.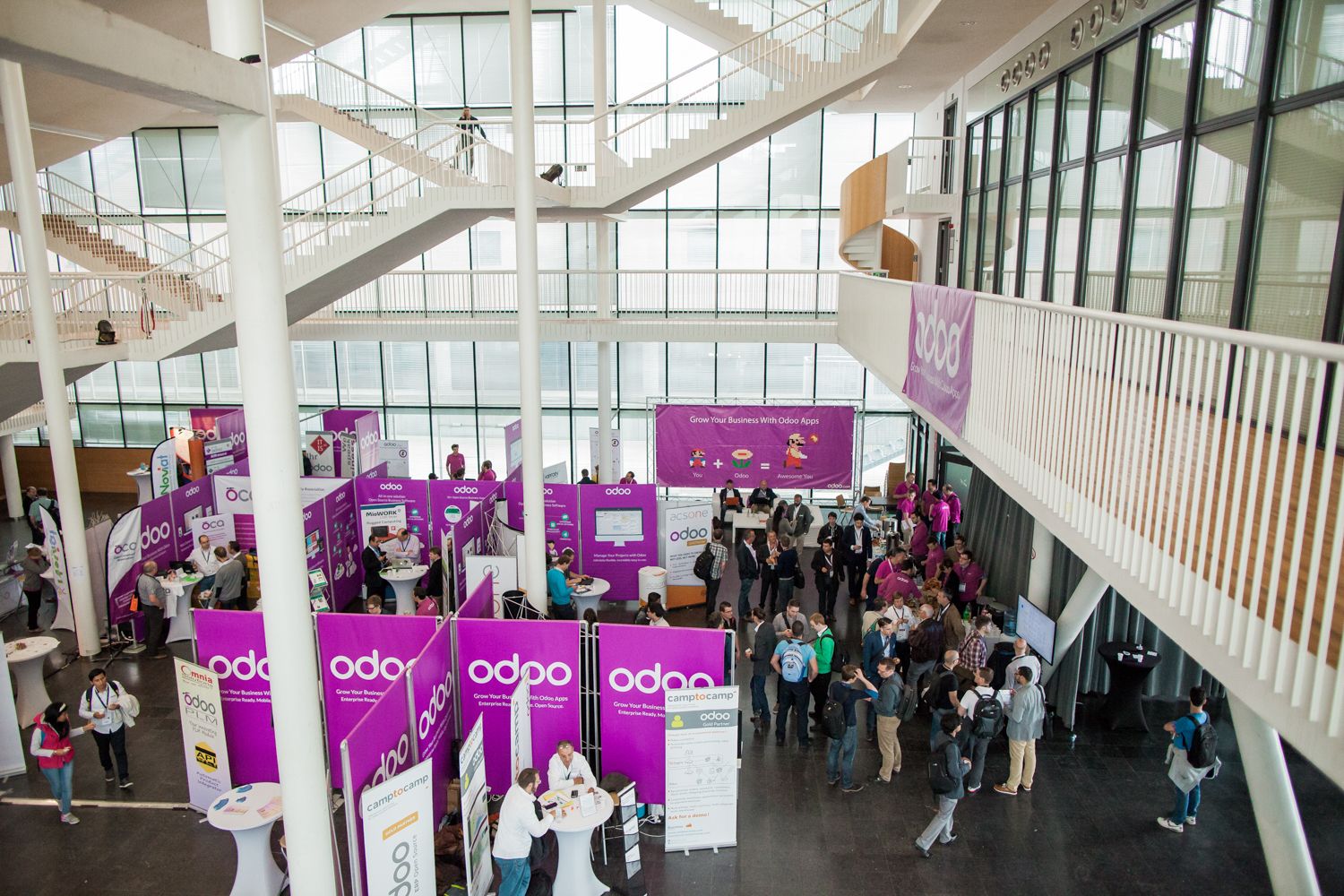 3 days of learning and practice
International speakers and members of Odoo staff gave inspiring talks in 7 different tracks and covered subjects such as development, functional aspects, business development, partnership benefits and Odoo on-boarding.
International companies such as Exki and Atos Worldline accepted our invitation to give presentation on how Odoo was implemented in their businesses. In addition, Belgian political party Ecolo gave a talk on how they use the Human Ressources Odoo application to manage and communicate. Health industry representatives also presented a case study, with the LIH (Luxemburg Institute of Health) explaining to attendees how Odoo Purchase and Accounting modules helped them simplify tasks and completely automate their business processes.
Visitors appreciated the diversity of the workshops in the Exhibition Hall. There was the CMS battle, the Accounting Challenge, a warehouse management activity, the free testing of Odoo 9 - boasting an incredible new user interface - on different devices and a dedicated speed coaching session for entrepreneurs.
In addition to all that, attendees played with our POS for shops and restaurants and took advantage of the chance to migrate an existing database to Odoo V8. Most of the workshops focused on well-known modules, but participants also had the opportunity to be first to discover the brand new Document Signature app and take part in a challenge to complete the contract signature process in the shortest time possible.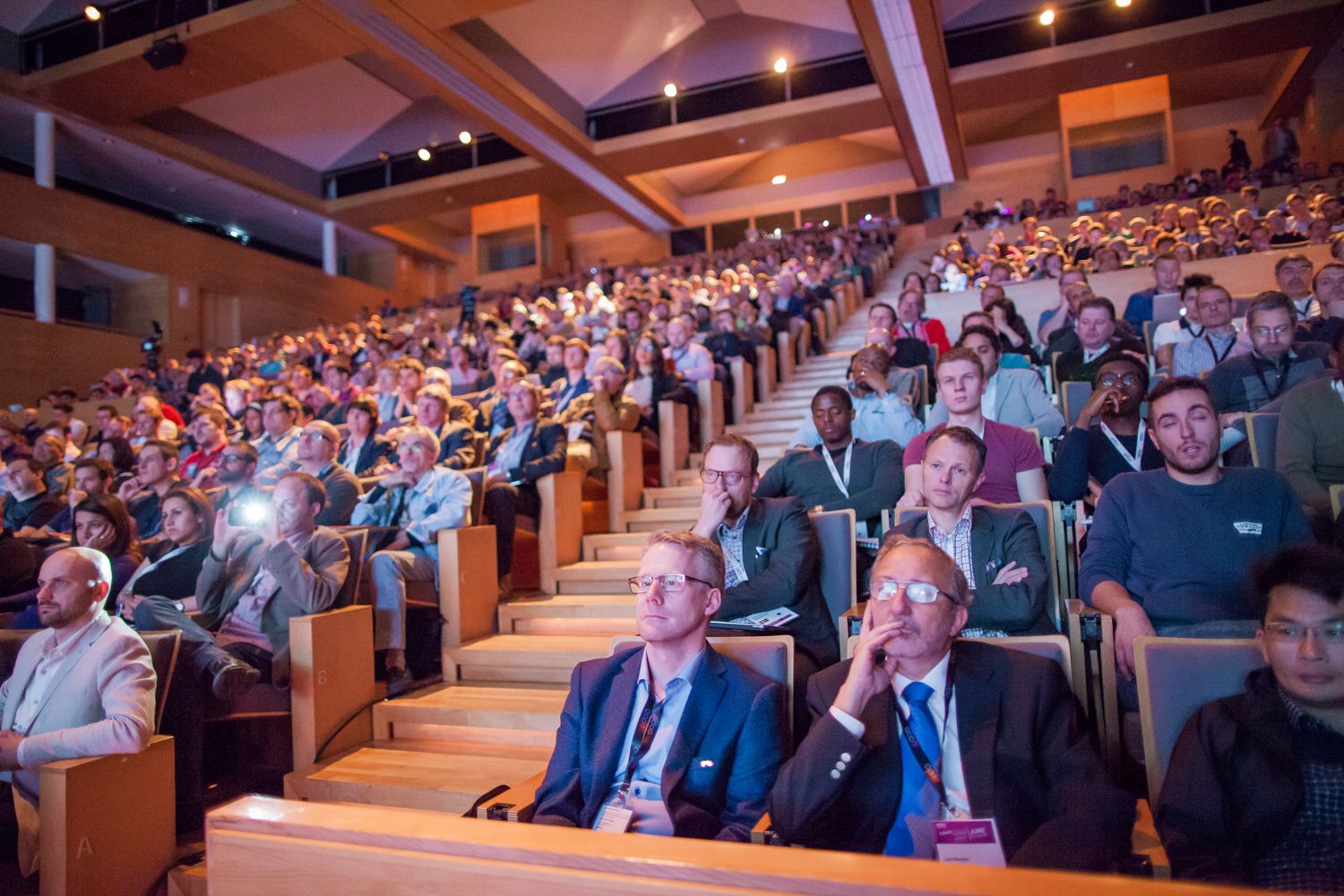 Odoo 9
The real star of the event was of course the highly anticipated Odoo 9. The plenary session of Wednesday morning was the perfect occasion to reveal the new features coming with Odoo 9. Odoo's CEO Fabien Pinckaers made a big impact by presenting what's new in Odoo 9. In addition to extra apps improvements and a completely reviewed Accounting app, the community was the first to discover two brand new apps: Docusign and Slides. Odoo 9 will be released during the 4th quarter of 2015. We'll keep you posted with more information soon!
Work hard, play hard
After a day of hard work, some relaxation was in order. Our premium visitors were treated to the first ever concert put on by the Odoo Band. Indeed, we when organizing Odoo Experience, we were thrilled to find out that not only do we have knowledgeable employees, but also that they're also incredible musicians! For 45 minutes, the Odoo Experience was swinging to the sounds of 70's rock hits. The mega concert (we humbly say) was followed by a great, big barbecue and some tasting of local beers. On Thursday night, Odoo honored its best partners at the Award Ceremony. Again, congratulations to Acsone, Bista Solutions, Gad Group, Willow IT, Eezee IT, Teclib and Techrifiv for their achievements!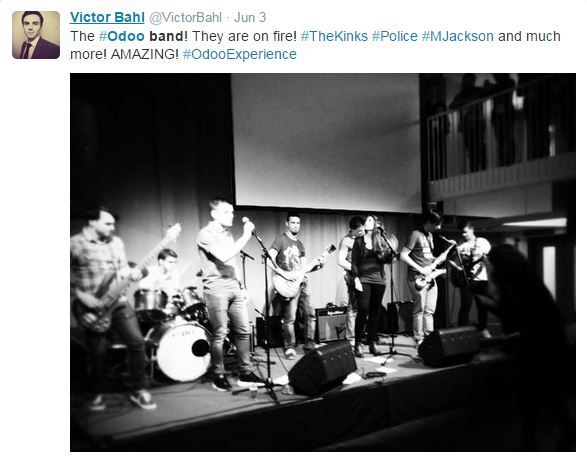 Find all the pictures on our Facebook page
Catch up the sessions you missed here
Watch the live streaming of the plenary sessions here
Discover the event through the tweets we received! 
Can't wait for Odoo Experience 2016 edition. Thank you for the great moment! 


See you in 2016 for an even better and bigger edition of Odoo Experience!
Are you ready to take your business to the next level?
We're always ready to help!