Your quotes online
from proposal to eSignature
Vieni pagato più velocemente
Vendi più velocemente con firme elettroniche
Permetti ai clienti di recensire facilmente e registrarsi alle tue quotazioni online da qualunque luogo.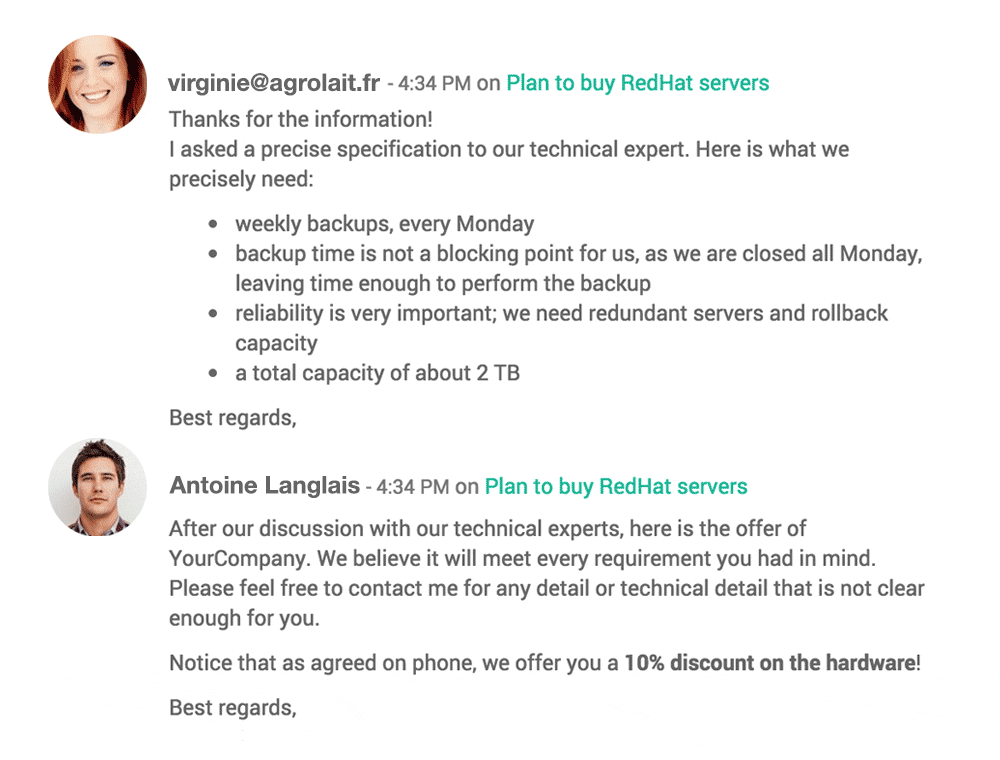 Comunica velocemente e con efficienza
Get custom alerts for relevant activities, communicate directly from quotes via email, automatically keep complete records of your negotiations.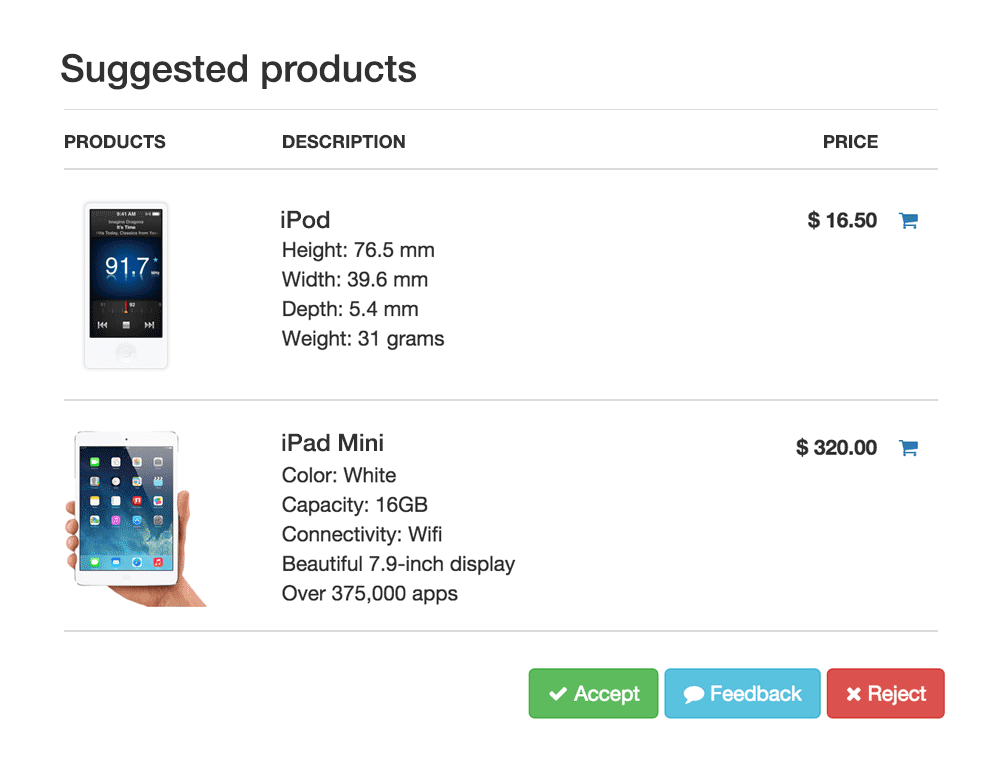 Massimizza i profitti da upselling
Incrementa il volume delle vendite proponendo automaticamente opzioni ed accessori extra, applicando trigger di chiusa, sconti e molto altro.
Sell more with clean quotations
Presenta professionalmente i tuoi prodotti e servizi.
Invia quotazioni chiare e complete ai tuoi prospetti. Aggiungi descrizioni prodotto, stupende immagini ed informazioni aggiuntive semplicemente usando gli schemi prefatti.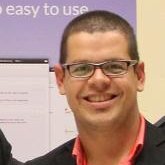 "Noi amiamo utilizzare l'app di vendita in quanto ci permette di creare quotazioni professionali in un paio di minuti. Risparmiamo tempo ed i nostri clienti sono felici con i nostri servizi e le nostre rapide risposte."

Ruben Real, Sales Manager EMEA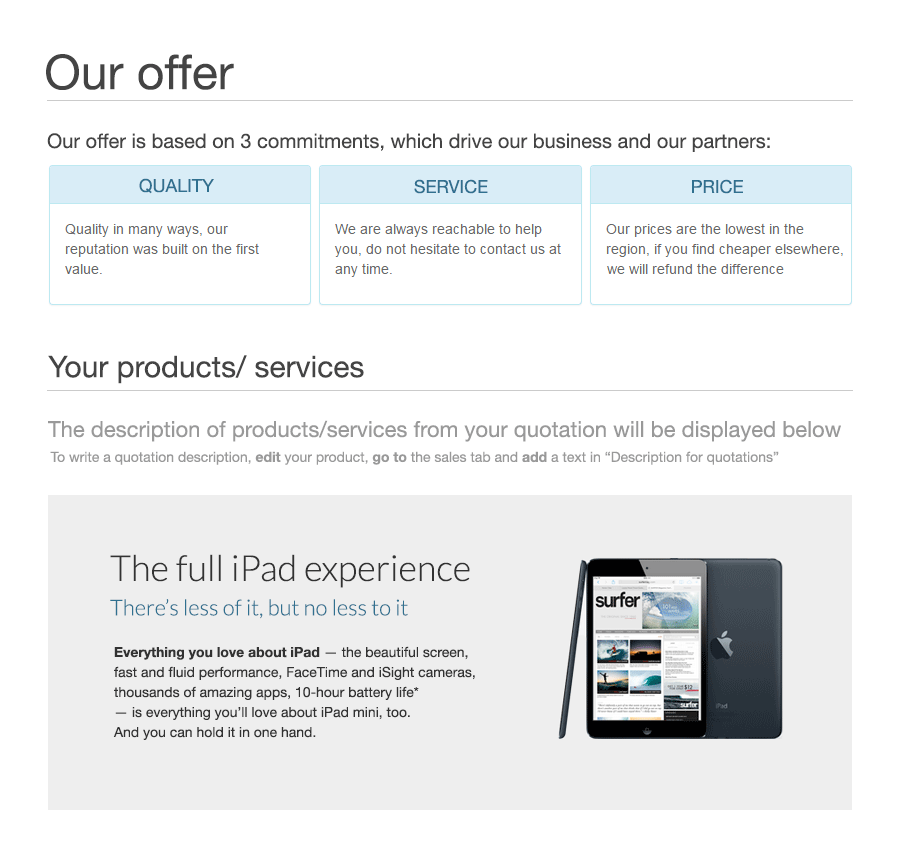 Great prices lead to a great return
Design, implement, and adjust
your pricing strategy to maximize revenue.
Use pricelist rules to compute the right price
based on customer conditions.
Convince customers to buy more
with discounts and coupons.
Order & contract sorting
Automatizza le operazioni e concentrati sulle relazioni coi clienti e sulle entrate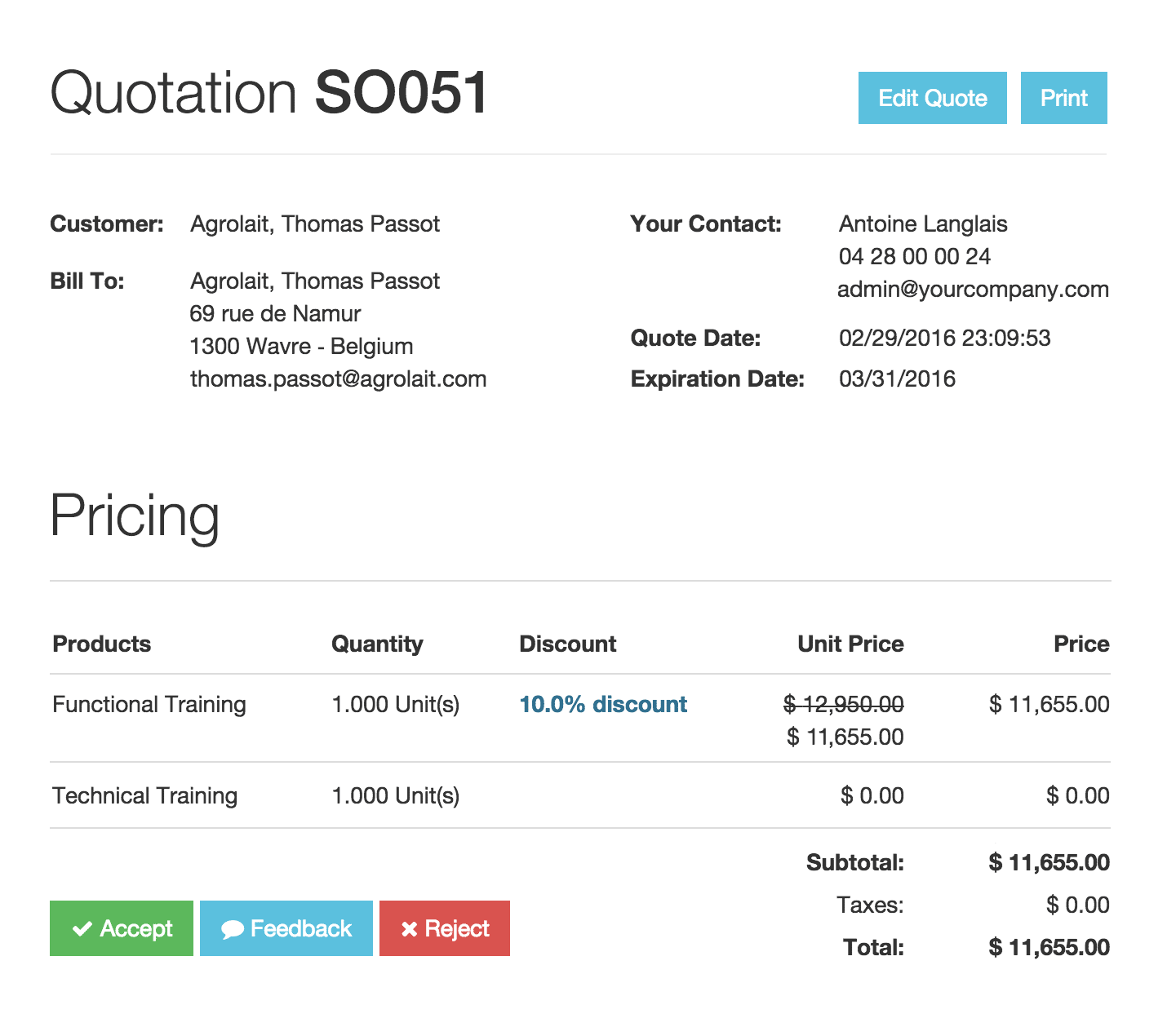 Dalle quotazioni agli ordini di vendita
Convert quotations into sales orders with a single click, or let the customer sign off on it with a simple electronic signature.

Gestione dei contratti
Invoice customers based on time and materials, easily record contracts and track invoicing phases, maintain renewal and upselling opportunities, and manage your subscriptions with Odoo's recurring contracts.
Aiuta i clienti ad aiutarsi
The customer portal gives your customers access to their quotes, sale orders, and delivery orders. Save time and use Odoo Sign to easily get signatures on NDAs, contracts, or any PDF document.
Completamente integrato con Odoo Apps

CRM
Tieni traccia di tutte le interazioni con le tue opportunità e con i tuoi clienti per migliorare il tuo ciclo di vendita.

Entra
Invia, firma e approva i documenti online. Carica il tuo PDF e fai drag & drop sui campi con facilità.

Builder Sito Web
Crea magnifiche quotazioni online con pochi click trascinando e rilasciando blocchi predefiniti ma completamente personalizzabili.

Contabilità
Create invoices automatically based on sale orders, delivery orders, or contracts. View all of your customer account inform-ation from one location.
3
milioni di utenti
accrescono il loro business con Odoo