Screens R Us
Company Name: Screens R Us
Location: New Zealand
Industry: Security Service
Apps Implemented: Website, Studio, Employees, Field Service, Timesheet, Purchase, Manufacturing, Inventory, Project, Accounting, Sales, Invoicing, Notes, Discuss, CRM, Contacts, Calendar
Implementation Time: 6 Months
Partner Name: Wedoo (https://www.wedoo.co.nz/)
Screens R Us is a manufacturer and service provider in New Zealand that specializes in installing, maintaining, and designing custom-made security screen doors. With a wealth of experience in Amplimesh Security Products, the company protected numerous homes and commercial premises from the harms of various insects and pests and strong UV sunlight in Aotearoa in summer while guarding your little ones and furry friends indoors. 
The Pre-Digitized Age
In 2021, Screens R Us welcomed new management, John, who was eager to digitize all paper-based processes impeding the efficiency of the sales and manufacturing teams. 

Not supported by professional business management tools, Screens R Us took visit bookings by calls while entering customer credentials on paper forms before typing them into online spreadsheets. On-site, sales reps would have to draw and record all product details, including the size, material, and location of the screen doors, onto a job sheet and have it scanned to share the information with teams back in the offices and warehouses. Expectably, the reliance on paper records led to manual errors such as overstocking for the inventory management that lacked visibility and real-time updates. 

After exploring other tools such as Simpro and Fergus, John fixed his eyes on Odoo for its comprehensive features that would handle the company's projects, CRM, website, bookings, and finances while alleviating the paper-based manufacturing and inventory management processes. 

For The Betterment of Employee & Customer Experience
Screens R Us was looking for data digitization & centralization that takes care of all aspects of the business with a user-friendly interface, and Odoo is all that. 

With the integrated Odoo Website, CRM, and Project apps, all customer information would be shared across the modules once a visit is booked, cutting down all the manual power and time spent on data entry. 

And not only did our partner help digitize most of Screens R Us' manual processes, but they also customized game-changing functionalities for enhanced service delivery.

The sales team experienced a significant improvement in their daily work thanks to the customized Google Maps Streets validation on Odoo Field Service. After website visitors book a visit, the sales reps can accurately locate the site and group their visits according to suburbs for better efficiency — this would not have been as smooth without the Odoo Field Service, Website, CRM, and Timesheet integration.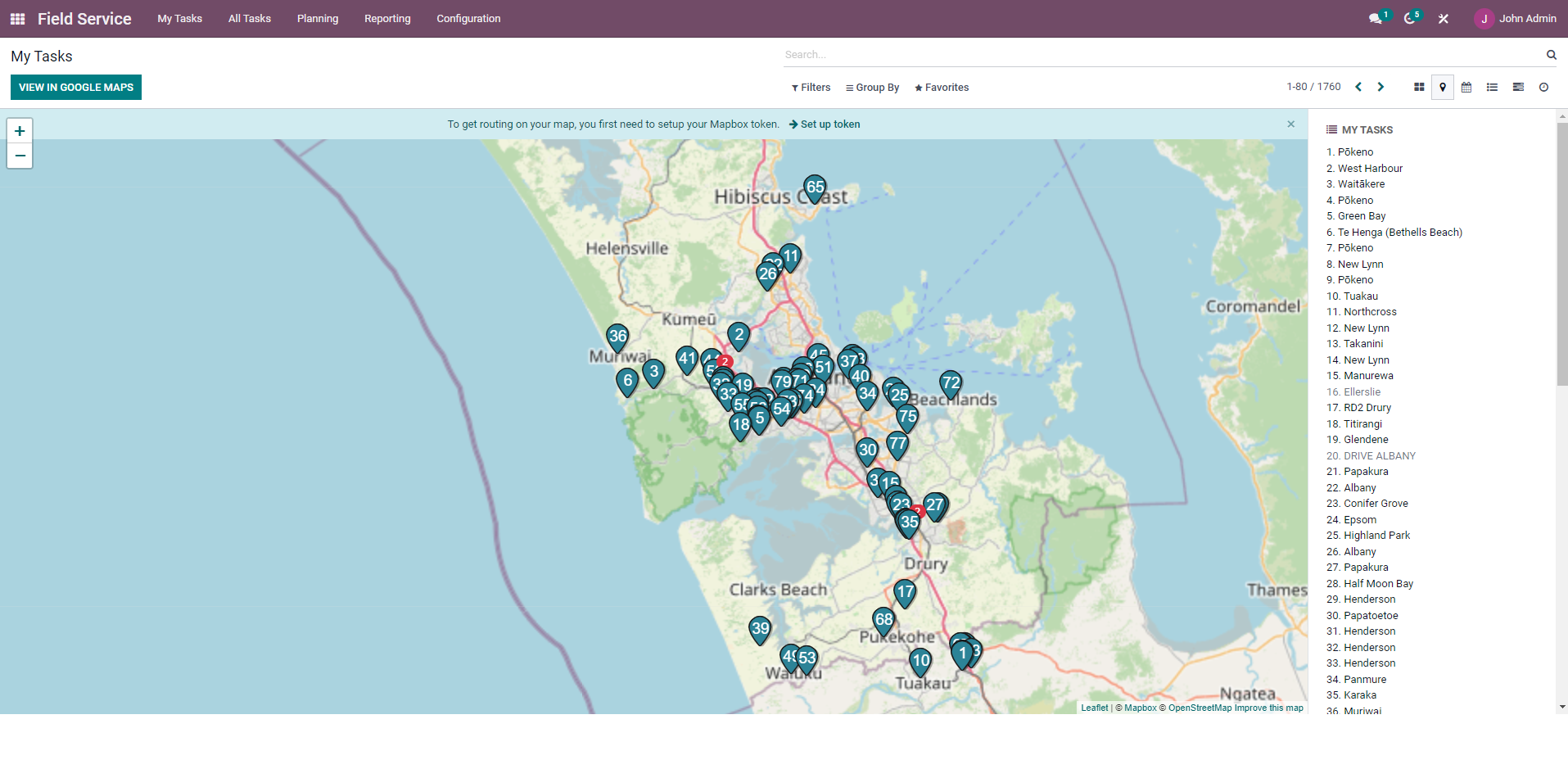 A screenshot of Screens R Us' Field Service app with Google Maps Streets validation. 
Location is significant for us. Where possible, we optimize the reps' schedule so that bookings in particular suburbs are grouped. This speeds up our service to customers.

The on-site sales reps would then utilize Odoo Manufacturing to capture the size and installation measurements, with the customized Drawing Box function keeping a record of all additional drawings or mark-ups for custom orders that the manufacturing team can view. This upgrade contributes not only to cutting paper waste but also to service delivery accuracy. All clipboards with paper forms with possible manual errors have been reduced to centralized data online. In addition, the real-time updates across modules are also helping Screens R Us to organize stock over a clear overview on the Inventory app that prevents overstocking. 

Besides an enhanced work process, customer experience is also greatly improved with a streamlined quoting system thanks to the software. Instead of multiple quotes, customers of Screens R Us now receive one quote with a range of items recommended to them by the team. They can select those they want and confirm the shopping basket to create an order through the customer portal. Again, thanks to the inter-module integration, all customer credentials and related information recorded by the on-site team would then be automated and transferred onto the manufacturing pipeline.
Looking Towards The Future
With the help of Wedoo, Odoo has helped Screens R Us secure better customer service while enhancing the employee journey and efficiency with a streamlined workflow that positions them for continued success and innovation in the home security market.
Screens R Us