Company: Diskon24 (PT. Makmur Karya Abadi)
Country: Indonesia
Implementation Partner: Nurosoft
Industry: eCommerce
Company Size: 30 employees
Number of Odoo Users: 10
Odoo Apps Implemented:  Sales, Purchase, Inventory, Accounting
The Company
---
Based in Jakarta, Diskon24 is a fast-growing startup, specializing in reselling a wide range of daily commodities: homeware, electronics, apparel, and groceries. The founder of the company started the business to capture the rising demand for lifestyle products across Asia.
Offering a unique value in crowded online marketplaces, Diskon24 sells high-in-demand products at competitively low prices (its name translates to 'discount for 24 hours'). What also differentiates the company from the rest is its accessibility on five global online marketplaces: Lazada, Shopee, Tokopedia, Blibli, and JD.ID. The company enjoys flexibility in mass distribution, thanks to the integration of an online marketplace platform (Forstok) with Odoo.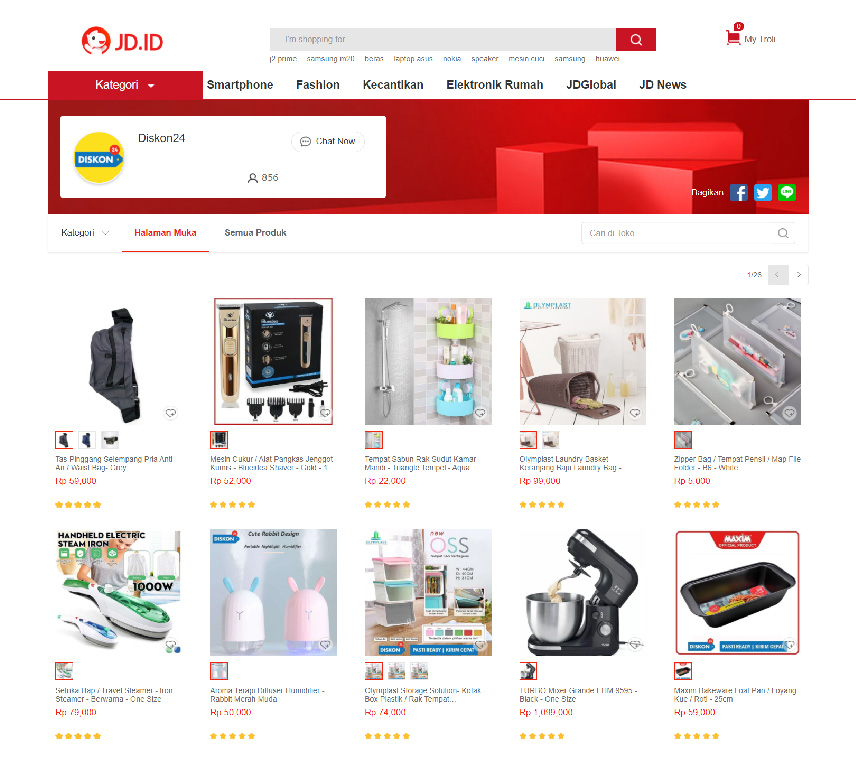 The Struggle to Juggle Marketplaces
---
Prior to using Odoo, Diskon24 relied on spreadsheets and pen-to-paper methods to manage daily operations. From the management of inventory to accounting, employees struggled to juggle multiple marketplaces without a centralized system. As almost every process was manual, maintaining stocks and sales was time-consuming and lacked structural organization. To make matters worse, five separate accounting operations were set up for each marketplace and resulted in time inefficiency and data redundancy. 
Diskon24's management team soon recognized that they needed a digital solution to tackle these bottlenecks. After consolidating various ERP solutions, they decided to employ Odoo, and an Odoo Gold Partner in Indonesia, Nurosoft Consulting, to help them accomplish that goal.


All Under Control with Odoo
---
Diskon24 was drawn to Odoo because, unlike other conventional ERP solutions, Odoo is a ready-to-use software. The company did not have to take a backseat and wait for years to build a fully-functional eCommerce system. The management team was also pleased to learn that they could save a significant amount of costs with Odoo, while completing the implementation in two months.
The company decided to work with Nurosoft, despite being distanced on far opposites of the Java island (Jakarta to Surabaya). They were impressed by Nurosoft's leading principles in software development, security, quality, and scalability. Their developers, engineers, and analysts enforce the best practices of software development. Not only do the team of experts maintain system securities regularly, but they also offer scalable and reusable coding to help the company save costs in future developments.


"We highly value Nurosoft as our Odoo partner because of their industry expertise, excellent communications, and on-time delivery of consultancy. We're happy that we found experts to guide us through Odoo."
The Implementation Journey
---
Diskon24's implementation journey began with the digitization of its warehouse management system. To begin, the migration of product serial numbers to the Odoo Inventory app was completed in just a matter of days. A barcode printer was then integrated with the Purchase, Inventory, and Sales apps, which equipped the employees with barcodes every step of the way (sales, purchase, delivery orders, and invoices). This allowed them to scan and handle processes with flexibility on any mobile device, therefore instantly reducing time and costs on manual entries and tracking. 
The warehouse manager now focuses on revenue-generating tasks. He is able to access accurate inventory valuation without any time and location constraints, as well as create the most effective evaluation and reports through inventory forecasting.
Diskon24's accounting system was digitized and simplified through Odoo's Accounting app. Nurosoft integrated a bulk bank reconciliation feature to enable automatic reconciliation of customer/vendor payments and internal transfers. The company's accountant now organizes, manages, and consolidates financial data accurately, all while aligning with regulatory and legal frameworks. After the upgrade from spreadsheets to Odoo, the company operates its finances with greater efficiency, as its accounts integrate with the rest of its business operations.
Following that, Nurosoft integrated the company's Odoo system with the online marketplace platform, Forstok. Forstok provides services to manage orders, customers, reports, promotions, and listings. The integrator's API customization for Odoo posed a challenge in the early stages, as some of its features were still under development. But, after a month of customizations, Diskon24 was ready to go live!

Diskon24's operations are all under control and centralized with the help of Odoo and Nurosoft. It now successfully runs its business on five diverse online marketplaces (Lazada, Shopee, Tokopedia, Blibli, and JD.ID), without having to own any physical store.

"The greatest change that Odoo brought to our business is the ability to centralize our data and operations with highly flexible customizations, only then we had the privilege to optimize our data to make more reliable business decisions."
About Nurosoft
---
Before collaborating with Odoo, Nurosoft Consulting offered custom-made ERP solutions that were developed according to client requirements. A mass number of personalized requests were impossible to manage, as it took conventional ERP systems 1-3 years to develop a system.
Nurosoft then started looking for a ready-made ERP system built in months, not years. Some of their candidates were SAP, Oracle, Odoo, and Sage. They realized Odoo is the most modern and user-friendly platform out of all the other ERP systems, and it covers a lot of advanced business needs. All these advantages come at a very reasonable cost, which suits the needs of the SME market in Indonesia.
Today, Nurosoft is a certified Gold Partner and works closely on a range of Odoo integration projects including hardware (ex. Fingerprint scanner, weighbridge), API (ex. Midtrans, DOKU, payment gateway, Forstok, Instagram), and ERP systems.
Learn more about Nurosoft Consulting at https://www.nurosoft.id/