Company Name: Gogoprint
Industry: Printing
Company Size: 120 employees
Partner Name: Port Cities
Odoo Apps Implemented: Purchase, Inventory, Invoicing, Accounting
Hosting Type: Port Cities Share Cloud
About Gogoprint
Founded in 2015, Gogoprint is the largest online printing company in the Asia Pacific, offering convenient and affordable custom printing services with a wide product range; name cards, leaflets, booklets, banners, and more. The company's operations span over four regional offices (Thailand, Malaysia, and Singapore) with over 120 employees.

Before reaching monumental success, the company started with humble beginnings and a simple aim, to provide flexible printing services that cater to businesses of all sizes.

Traditionally, most printing houses favor large and recurring orders from corporate customers. They have little interest in SMEs as the orders are relatively smaller and often turn them down or place them at a lower priority—resulting in delays, poor pricing transparency, and slower turnaround times.

The founders of Gogoprint noticed the gaps in customer demands and set out to start their own services and pioneer innovative solutions.

The company eradicated the long-standing pain points of customers in the industry by introducing the 'batching' approach. It developed computer algorithms to help vendors and customers reduce costs as customer orders are bundled to maximize the capacity of each printing batch.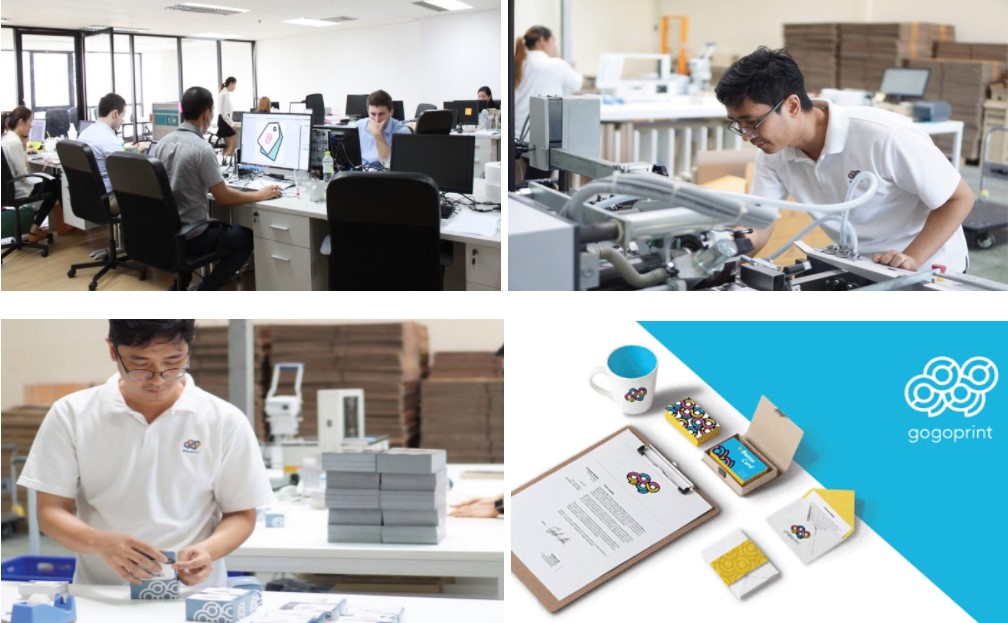 Gogoprint has made printing easy, flexible, and fuss-free for over 100,000 companies in the last seven years. The business went through ups and downs but pivoted and scaled great heights by adopting digital solutions, specifically a transformation in financial and inventory management with Odoo.

Jammed with Unintegrated Systems
Before Odoo, Gogoprint used local accounting systems. As the business grew, the volume of transactions increased, and it became more complex and costly for the company to manage multiple accounting systems across several locations.

The accounting processes were jammed with numerous bottlenecks, such as:

1. Data scattered in different systems; time was lost in manually recording reports

2. Inconsistent tax reporting formats; incomplete data fields

3. Lack of transparency, as data was difficult to trace/monitor

It wasn't long before the management team realized they urgently needed an alternative solution. Gogoprint's deputy CEO, Adrien Ulens explained, "Our priority was to set up a regional accounting and finance system localized with all our markets in APAC, enable an API integration with other backend operations, and provide key functionalities for regional consolidation."

Following adept research and experience, Adrien was determined to find an ERP that works across multiple locations and provides accurate real-time data integration. At a critical time, Odoo and Oracle NetSuite were the top solutions on his list.

The initial observations followed with, "Oracle NetSuite is a robust accounting and finance system, but 10 times costlier than Odoo on initial set-up and ongoing maintenance fees."

On the other hand, Odoo met all of Gogoprint's main requirements:

1. Out-of-the-box solution with minimal workarounds

2. Multi-currencies and localized bank reconciliations

3. Customizable features to consolidate regional tax criteria

4. Seamlessly connects with other operations (such as procurement, inventory)

Gogoprint proceeded to contact an APAC-specific Odoo partner, Port Cities, to kickstart its implementation journey.

The company's management team entrusted Port Cities' operational expertise to embark on a project to get the most out of Odoo's business modules.

An Outflow of Positive Results
After installing Odoo's Accounting and Invoicing modules to serve its multiple locations, the team integrated its eCommerce platform, Magento, for invoicing syncing. The implementation showed signs of success very early on, as the accounting processes across the locations became easier to trace and retrieve. There was an outflow of positive results as report preparation time was cut by 75%.

In the months that followed, Gogoprint installed Odoo's Inventory and Purchase modules, and the result was impressive:

- Stock inbounding efficiency improved by 30%
- Time spent on updating stock levels was shortened by 50%

They were also able to purchase printing machines, with 0% out-of-stock situations since the implementation.

Fast forward from two years ago to today, Gogoprint's team still speaks highly of its system improvements.

"Odoo offered us the benefit of having our business operations in a single place. We are now better-equipped in dealing with clients in different countries across different times."

Adrien Ulens, Deputy CEO, Gogoprint