Abstratempenho Lda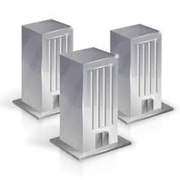 Implementato da

Rua Lino António n1 R/C Esq
2410 Leiria
Portogallo
(PT)

Sector de atividade: Serviços (Call Center e Telecomunicações)

Localização: Leiria (Portugal)




A Abstratempenho Lda é uma empresa de consultoria na área das telecomunicações, tecnologias de informação, energias e marketing. Dedica-se à prestação de serviços, telemarketing e elaboração de estudos de mercado. 

Com o Odoo, a Abstratempenho conseguiu gerir as suas leads de forma mais eficaz, aumentando exponencialmente as suas vendas. O processo ficou mais simples, mais fluído e os recursos humanos ficaram mais felizes com o seu trabalho. 




(EN)

Business sector: Services (Call center and Telecommunications)

Location: Leiria (Portugal)




Abstratempenho is a consulting company in telecommunications, information technology, energy and marketing's fields. It is an outsourcing company dedicated to telemarketing and marketing research.


With Odoo, Abstratempenho was able to manage its leads more effectively, increasing its sales exponentially. The process got simpler, smoother, and the human resources became happier with their work.

​