Rimani in testa al gioco
I fogli di calcolo sono uno gli strumenti più utilizzati in qualsiasi settore, e ora è possibile sfruttare le loro numerose funzionalità all'interno di Odoo.
Sì, hai letto bene! Le proiezioni, il calcolo delle commissioni e l'analisi dei dati supplementari con i dati in tempo reale sono ora a un clic di distanza.
FATE PROIEZIONI
Comprendete la vostra situazione finanziaria e scoprite il vostro potenziale di profitto.
CALCOLA COMMISSIONI
Devise a strong business plan and enhance team performance.
ANALIZZA I DATI
Prendete decisioni ben informate ed efficienti.
Model & Manipulate

your data
Inserite i vostri ricavi di vendita, acquisti, budget e analisi degli abbonamenti e fate una visione storica, attuale e predittiva dei vostri numeri.
Keep your


data up-to-date

A no-brainer! As new data is created within your apps, the spreadsheet continuously updates itself without having to export or worry about any integration!
Safe Bet:


Highlight Information

Con l'opzione di formattazione condizionale, è possibile individuare senza sforzo i problemi critici e identificare modelli e tendenze. Facile!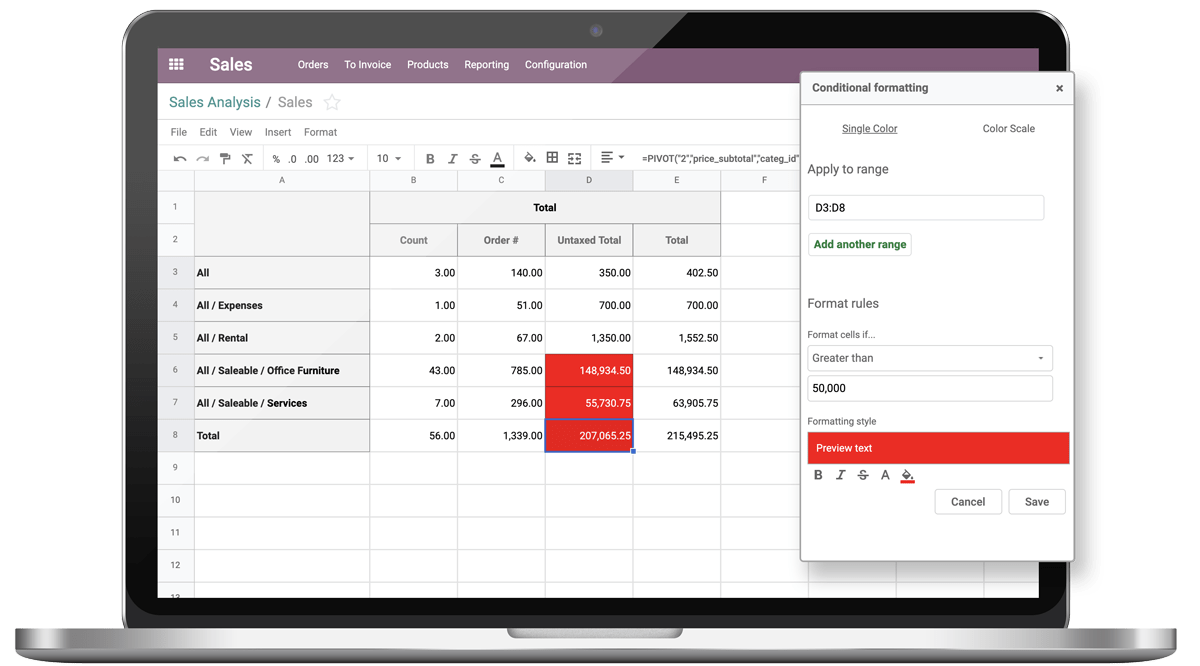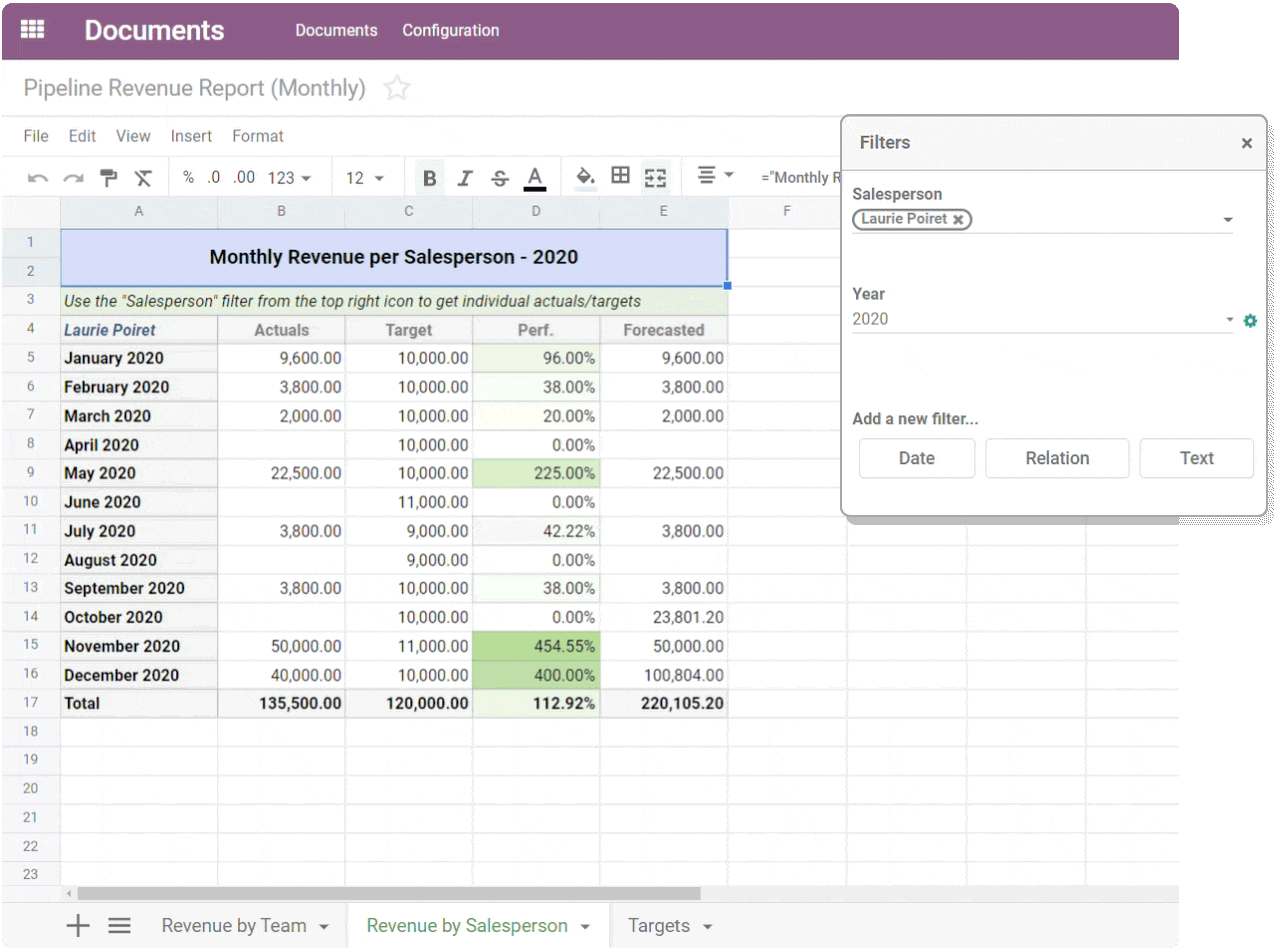 Work with


Killer Filtering Options

Add filters based on Date, Relations, or Text and always have up-to-date and customizable data, as different data can be quickly shown on the change of criteria. Powerful, right?!
Bring Data to Life:
Graphs
Visual representations help us to understand data easier and quicker. They make large volumes of data, and sometimes complicated ones, properly represented and with authority and clarity. And, with Odoo Spreadsheet, all of that is possible with live and integrated data!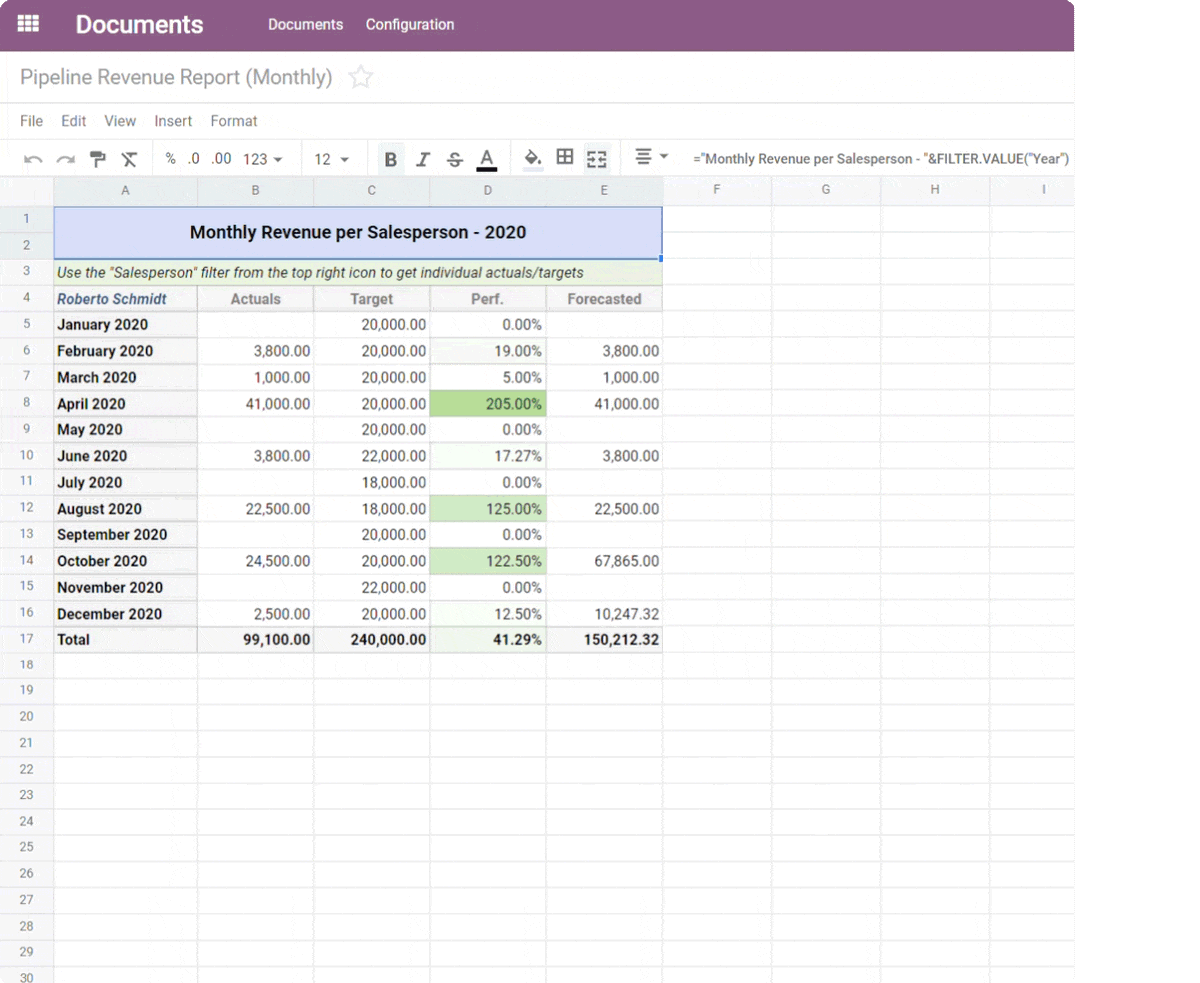 Un pianificatore di gioco.
Completamente integrate
Empower

your employees
Empower

decision-making processes
Empower

your company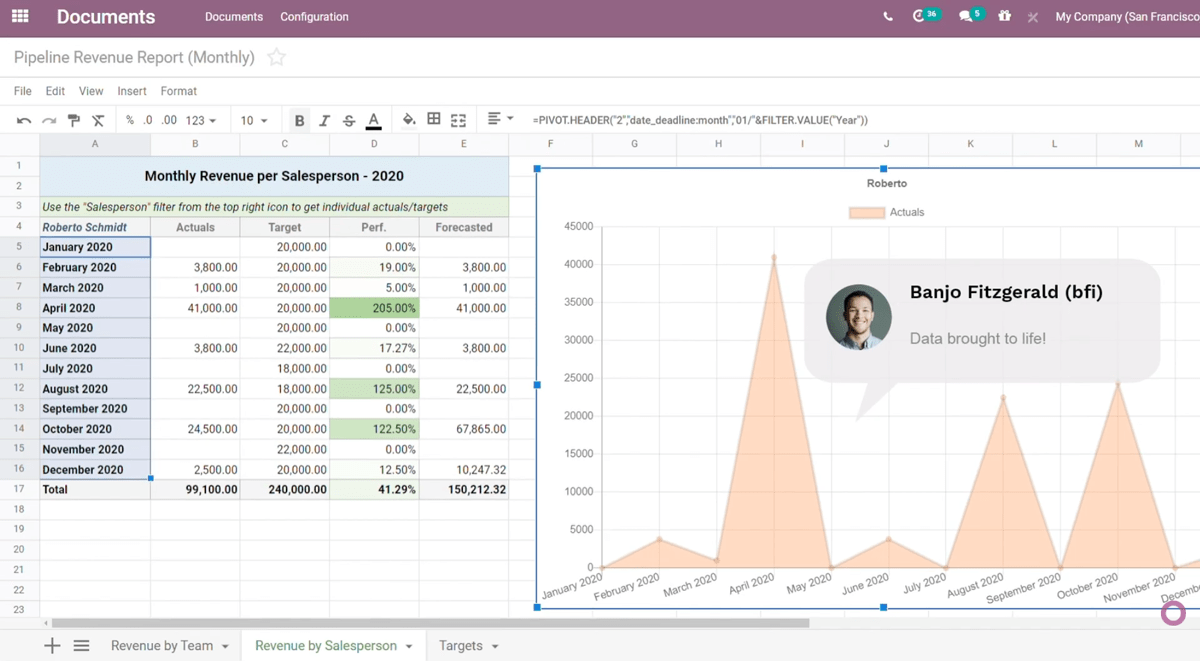 Find it in your favorite applications
Vendite
Trasforma gli ordini di vendita & gli ordini di acquisto in fatture in un click e seguili fino al loro pagamento.
Contabilità
Trasforma i preventivi in fatture professionali in un solo clic.
Abbonamenti
Fornite rapidamente contratti chiari e fatture impeccabili e automatizzate, occupatevi delle tasse senza stress e occupatevi dei pagamenti, il tutto in modo automatico secondo le vostre impostazioni.
Documenti
Condividere, inviare, classificare e archiviare i documenti scansionati. Generare fogli di calcolo aziendali e documenti come fatture fornitori, attività e schede prodotto per la produzione.
5
milioni di utenti
accrescono il loro business con Odoo
Unleash your growth potential
No credit card required - Instant access